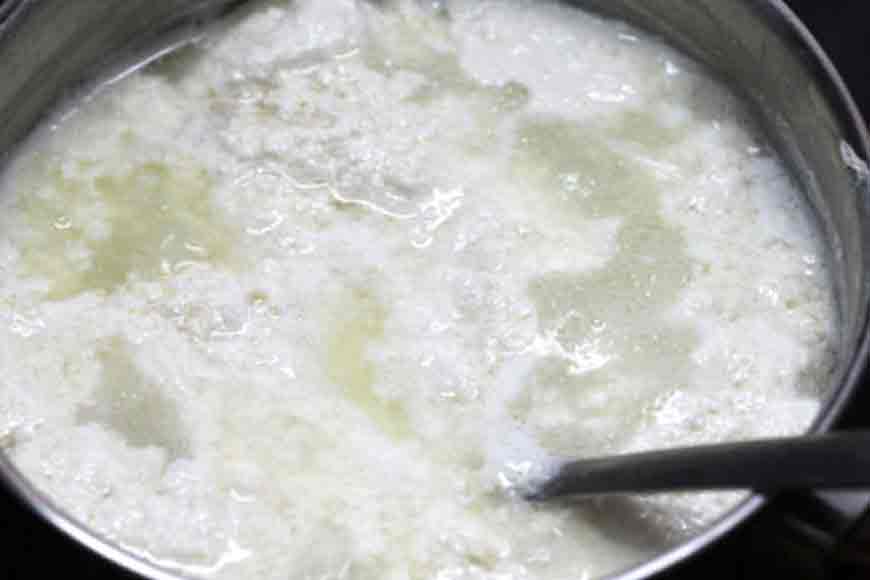 In the 18th century, some important changes came in the food habits of Bengalis. A large number of sweets, both fried and those soft ones made of posset or cottage cheese (chhana), entered Bengali cuisine. Till the 16th century, Bengalis could not be termed as connoisseurs of sweets, as they were satisfied with simple dudh-chire (milk and flattened rice), dudh-lau (milk and gourd) and monda. Some country-made crude pulses (mung) and coconut products were also available.
Many attributed the sudden development of the sweet industry in Bengal to the Portuguese. It is impossible to think of Bengali food without sweets made of posset or cottage cheese; rossogolla, sandesh and chumchum. They are inseparable parts of Bengali culture. But one does not find any mention of cottage cheese in Bengali texts till the 16th century, as among the Hindus curdling the milk to make posset and cottage cheese was considered improper. Cottage cheese made in Portugal is almost identical with the Bengali version of cheese (chhana), so many credit the Portuguese with importing cottage cheese to Bengal.
The Portuguese introduced three types of cheese in Bengal: cottage cheese, Bandel cheese and Dhakai paneer. However, one may attribute the improvement of Bengali confectionary in the 18th century to urbanization and the growth of a cosmopolitan urban culture. In this era, Murshidabad, Barddhaman, Bishnupur and Krishnanagar on the western banks of Bengal, along with Dhaka and Natore in East Bengal, became major urban centres. Naturally, professional elite (bhadralok) populace grew up there, who were not satisfied with the simple country-made products and demanded more sophisticated food products. In the early 19th century, urban centres such as Janai, Shantipur and Barddhaman came up and they were becoming well known for specific sweets like raskara, moa and ola.
But the sweets of Bengal owe a lot to the colonial powers like the Portuguese. For if they hadn't taught us how to make chhana, Bengalis wouldn't have learnt how to make sweets.