Why an IAS officer from Uttar Pradesh put to tune a Bengali song at Presidency Universities 200th year celebrations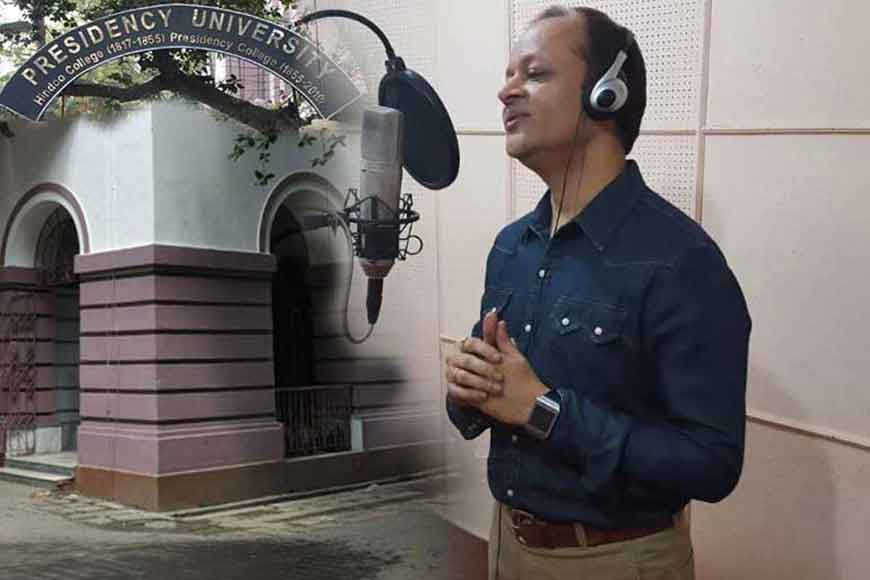 Bengali is not his mother tongue, but he loves the language that happens to be one of the world's sweetest languages. No wonder Vivek Kumar, Principal Secretary of state higher education department loves to speak and sing in Bangla, that is dear to his heart. Recently, he hit the headlines by singing a Bangla theme song at the 200th year celebrations of Presidency College.
IAS officers often are multi-talented. Hence, even if their departments are changed, they are equally adept in handling multiple tasks simultaneously. Examples of officers with electricity department transferred to the irrigation department, or to some other is galore. But wherever they are placed, they have performed with equal elan. Vivek Kumar holds on to this multi-tasking legacy of such erudite officers. He can take decisions at a lightning speed as well as sing to monsoon clouds in a mellifluous voice.
This year Presidency College and University completed 200 years. So they needed a theme song written in Bengali to be performed at the ceremony. The college authorities gave the task of writing a Bengali and English theme song to Dr Shirshendu Chakrabarti, who is also an ex-student of the instituition.They also needed a well-known musician to put the song to tune and sing the same. But soon problems arose as the musician who was chosen to set the song to tune wished to change the lyrics and was asking for an exhorbitant fees. The authorities could not afford his services. But the programme list was already released and with a few days left for the show, it was really difficult to hunt for a new musician. When Vivek Kumar got to know of this problem, he wanted to see the lyrics once. The authorities sent it via e-mail.
Within half an hour, he put it to tune, sang and sent the audio clip to the college authority. He even volunteered to give it a final shape and sing it at the ceremony if no other musician could be contacted within the stipulated period. In two weeks time, this talented officer came up with an innovative tune with the help of Nilanjana Nandi who played the background music. Finally the song was recorded in Kolkata. "I knew about the historical importance of this song. I realised it should be sung in such a way that it will have a wider reach and would be easier for the audience to understand even if anyone joined the programme later." Keeping this in mind Vivek Kumar made the tune simple yet attractive. "It is not just a tune but a versatile one, that can be sung anywhere, from an inaugural procession to a college fest."
But Vivek is a humble man. He doesn't wish to rob the limelight and says: "It is an honour to have received the opportunity to put to tune a song, celebrating this prestigious instituition's 200 years." Though he was never a student of Presidency, Kumar was magnanimous enough to sing a song in a language that is not his mother tongue and that too at a week's notice. For him, paying his tributes to an iconic instituition was an inspiration. To us, people like Vivek Kumar is an inspiration, who transcends borders and boundaries just for the love of music.