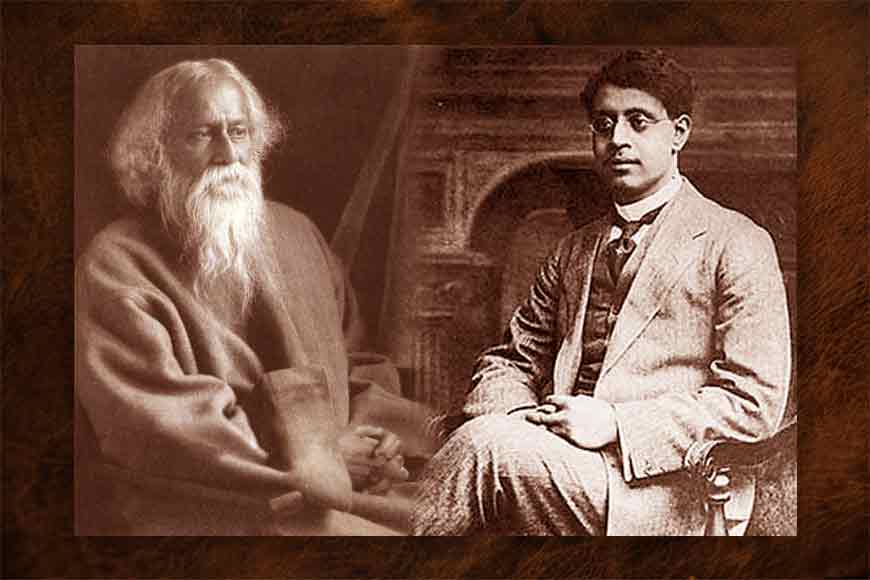 Rabindranath Tagore held Sukumar Ray in high esteem and that's because he realized this was a talent not to be found easily. The two met at Pearson's house in Hampstead. In a letter to his sister Punyalata Chakraborty, Sukumar Ray wrote of this meeting.
'Day before yesterday, I was invited to read a paper on Bengali Literature at Pearson's house. I went there and saw Mr & Mrs Amold, Mr & Mrs Rothenstein, Dr P.C. Roy, Mr Sarbadhikari and many others already known to me. There were some Europeans whom I do not know. After entering the room, I found Rabi Babu was also sitting there. You could well understand my state of mind. Anyway, I read my essay unhesitatingly. I took much labour in constructing the essay. I consulted books for material collection, borrowing books from India Office Library. Moreover, I took the help of some poems written by Rabindranath (Sudur, Parash Pathar, Sandhya, Kunrir bhitare kandiche Gandha etc.) which I translated into English. Everyone praised the translations. Rothenstein took my address and said 'you must come to our place and stay in to dinner.' Then I went to the top of Rothenstein's building and saw a beautiful sight. I met there Rathindranath also. Having seen me Rabindranath said, 'now, physically you have improved yourself.'
The translated poems of Rabindranath by Sukumar Ray were not published, but his essay The Spirit of Rabindranath Tagore, written by him with the translation of Ami chanchala hey was published in The Quest (vol-V, Oct 1913). Even when Ray was suffering from Kalazar that finally took his life, Tagore visited him. In one of the lectures at Santiniketan, Rabindranath recalled he had never seen such bright eyes of a man who was dying, referring to Sukumar Ray, who was creating prints and words even from his death bed.