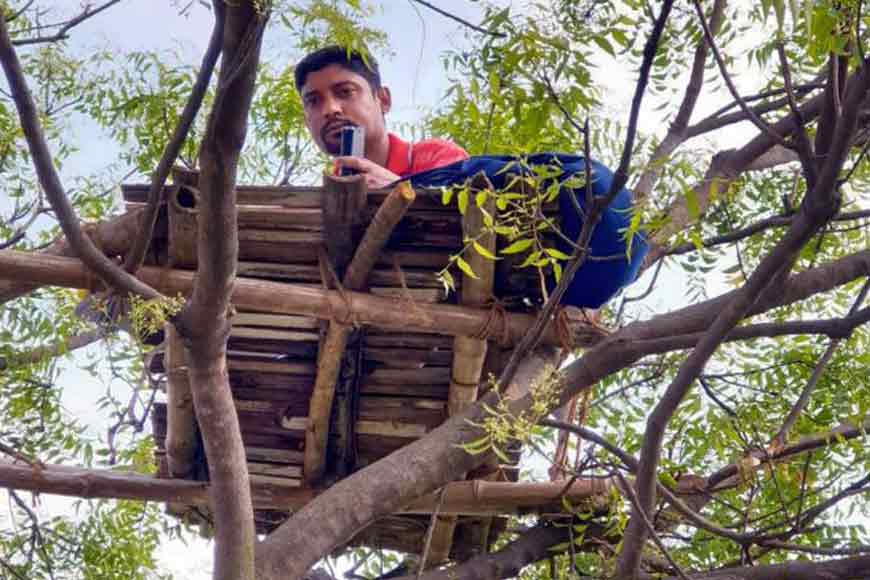 COVID-19 has indeed affected the students across India, but dedicated teachers are trying their level best to impart online lessons to students so that they do not lose or take a backseat in the new academic session. But giving online lessons from rural Bengal is not easy as the network connections are not that strong always as one gets in big cities like Kolkata. But that did not deter teacher Subrata Pati from taking regular classes of his students of a technical job institute in Kolkata, where he is a teacher.
Pati stays in Bankura's Indapur block. He had to return to his village before Lockdown. But the institute in Kolkata where he teaches has started online classes for students. Hence Pati also had to take classes, that became difficult as he was staying in a village where network is always not so strong. So, he has found an innovative way with the help of fellow villagers who made a macha or a platform for him on a huge neem tree on the fringes of the village. He sits on this macha everyday and the height gives him an advantage to get uninterrupted network.
Even the villagers of Ahanda village are happy to have helped their teacher. This is also a village where elephants get in at times and hence macha on trees to drive them out is quite common in the area. Teacher Subrata Pati has taken advantage of this technique and is taking regular classes of his students in Kolkata. No wonder, he is a dedicated teacher and has risen to the crisis hour.