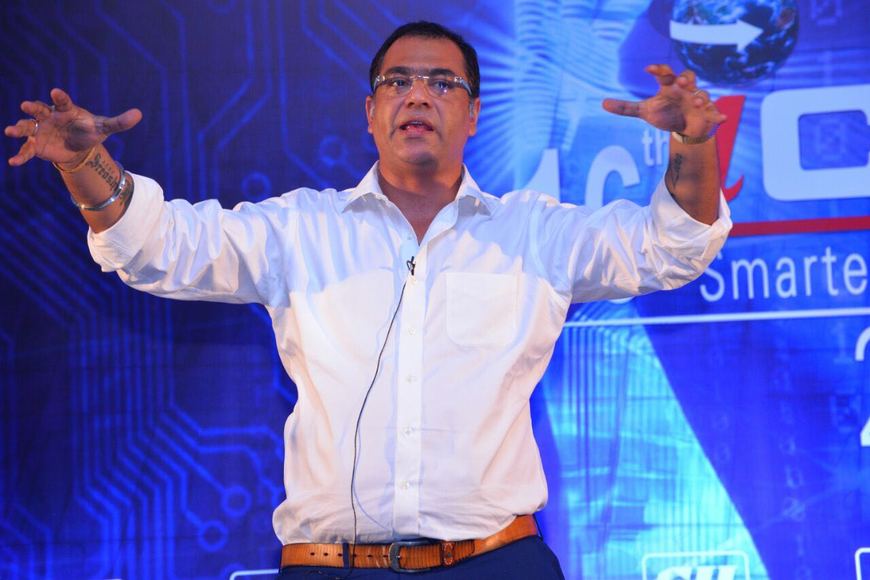 Saheli Mitra speaks to Sauvik Banerjjee, one of the top six technologists of the world with over 150 implementations globally. He is also the chief architect of Reliance Jio, Vice President Digital Initiatives of TATA group of industries and CTO of TATACLIQ. On the sidelines of a hectic CII meeting in Kolkata, Sauvik speaks to GB on his love for Bengal and the various projects he is implementing in this state.
He looked like a perfect sportsman, towering over all, while his bright eyes spoke of the brain behind that sturdy physique, that led him from one global giant to another, etching a success story of a Bengali entrepreneur. Once a Ranji Trophy player, and now the brain behind operations of several blue-chip companies across the globe, Sauvik Banerjjee, is a world-renowned techie, an entrepreneur and an architect. Within a span of just 20 years of professional life, he has been part of over 150 digital product and platform implementations. 'Stop dreaming – start visualising a roadmap. No technology is of any value, unless and until it solves an issue,' that is Sauvik's mantra.
In a bid to empower and co-create wealth, Banerjjee is back to India after his long European stint and has been deeply involved with Bengal, his motherland. It is a sort of homecoming for him, every time he touches base in Kolkata either for a conference, or brainstorming with the Bengal government to implement projects at the ground level.
A childhood split between quantum mechanics and sports, Sauvik was born to a professor father and a sportswoman mother. He has even played in the Ranji Trophy, representing Bengal and in 1993-95, and also in the Under-19 stars of India under Saba Karim which was by default the Under 19 Indian team, representing the country against England in three test matches. When asked if he still gets the time to hit the fields, he nods a yes and recalls, "I believe my man management skills, leadership quality and lessons in discipline come from my years of being a sportsman."
His interest in innovation and invention, thanks to the regular laboratory visits with his father led him to a journey of research, a PhD degree, a startup and an exit,during his entrepreneurship and research days in Europe. Interestingly, his PhD thesis was in cross language information retrieval on familiar paired languages – like Hindi and Bengali, or Spanish and French at a time when literal translation wasn't available. He says: "When we cracked the literal translation, Google was the first to come and talk to us." Sauvik's first venture was the exact opposite of Napster, that offered free downloads of music. He founded PHYDOS, first back catalogue online music e-commerce engine for non-billboard songs in UK.
Being the digital advisor to all TATA group of industries and chief technical advisor of TATA Cliq, Sauvik has always had one motto, to bring more and more opportunities to Bengal, the land that has been tainted over years as a state devoid of opportunities. His passion is palpable in his words: "I love working closely with TATA Steel as I can divide my time between Kolkata and Jamshedpur. I try to recruit as many interns as possible from universities like Jadavpur University, I also teach as a guest lecturer in PACE IIT Foundation, various B Schools and engineering colleges to motivate the young Gen X of Bengal." Sauvik is completely partial about Bengal, for he feels this land still produces the best of brains. "I do not mind pushing Bengal everywhere, in every company I work for, recruiting both Bengalis and non-Bengalis from this state and I do not care who says what."
He is right now hand-in-glove with two other Bengali entrepreneurs Kalyan Kar and Sandipan Chatterjee and on to several projects with the state government trying to bring digitization and technology to the ground level. "We are trying to bring digital education to most government colleges of Bengal and create a new age curriculum. Is there any need for lesson on AI or Artificial Intelligence? I will first ask which part of AI or computer programming language the students need to know." As part of Bengal government's Matir Katha he is trying to bring digitized Sahaj Path to the remotest of villages of Bengal, Jio handsets to more than 45,000 farmers and mentoring start-ups in Bengal both financially and with his expertise.
What's more in store? Well, he is a bit secretive, but did give us a lead. "We shall now bring back the brains from UK and USA, who left Bengal. Some 30 have already relocated. I shall coax 100 more to do so, with a fantastic digital platform that is soon to come." Bengal will for sure wait for those golden days to arrive, when children can look up to role models like Sauvik Banerjjee and move ahead.