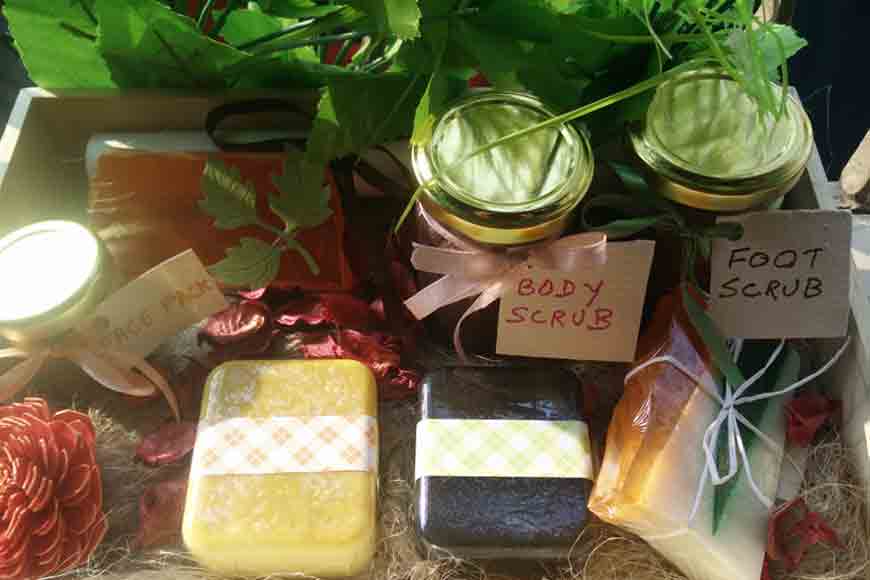 Entrepreneur Madhavi Mehta brings lotion bars to Kolkata as part of her start up venture Pranava Body Care. She gives an exclusive interview to GB
• When and how did Pranava Body Care start?
Pranava is an outcome of my passion for chemical free body care products. Pranava was originally conceived a year back, but launched just six months ago.
• Who/what was your inspiration?
The desire to retain and restore skin's natural oils and moisture provides me continuous inspiration while crafting the soaps and other body care products of Pranava.
• What kind of products does Pranava sell?
After having started with decent variety of handmade soaps, Pranava also ventured into winter care range. Besides, winter lotion loaded with skin butters and body scrubs with oils, Pranava also introduced the lotion bars to the people of Kolkata.
The lotion bars, first ever of its kind in Bengal is the winter lotion in form of bars. Unlike lotion butters, it is quite handy and less messy to carry.
• Does Kolkata and Bengal have a good market for your products? Do you plan to diversify?
As for the demand and market, people of Kolkata are conscious about using natural and organic products for their skin. The market is booming and people are now ready to spend for these kinds of products, even if the price is a bit high than their chemical counterparts.
• What are your future plans?
Pranava's vision is to create awareness about the benefits of using natural products and make them economically viable for the common man.
Pranava has plans to expand. We are planning to launch our online portal, for maximum customer base, so that they get the opportunity to use our products. Talks are also on with few clients who are into similar business and have used our products. They want to buy our products in bulk and resell them.
• What are your signature products?
As a startup venture we have more than 35 + all natural and organic products specializing more into soaps as a beginning. Few soaps which are doing good are:
Rose & Shine: Our versatile rose soap has anti-inflammatory properties. The serene rose water in it acts as a good moisturizer and is suitable for all skin types. Its priced at Rs 100 for a 100-gram bar.
Neem &Tulsi: This soap has powerful skin healing properties. Neem acts as an anti-fungal and anti-bacterial agent, while tulsi can cure skin problems like pimples and itching. Priced at Rs 110 for a 100-gram bar.
Kesar Chandan: Sandalwood is known as a one stop solution for all skin problems. Together with the benefits of saffron this Pranava soap helps in getting a glowing skin. Both Kesar and Chandan used in our soap is 100% pure and original. Priced at Rs 130 for a 100-gram bar.
Apart from these, we have activated charcoal which acts as a good anti acne agent. The soap of the month has been the specially designed winter soap which is a blend of shea butter, eucalyptus oil and grapefruit. Pranava also offers customised products in the form of gift hampers.