Did you know Bankim Chandra depicted Jagadhhatri as 'Bharat Mata?'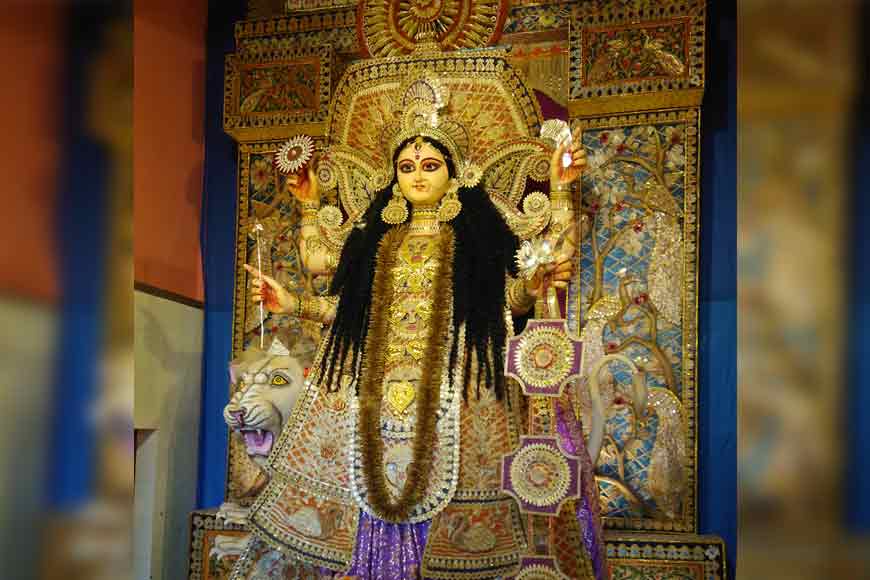 If Chandannagar's Jagaddhatri Puja has almost turned legendary, Krishnanagar's Jagadhhatri Puja first started by Maharaja Krishnachandra is not far behind. Infact, Jagadhhatri Puja is very popular in belt that runs along Krishnanagar, Rishra, Chandannagar and Bhadreswar. In Krishnanagar, Nadia, Raj Rajeshwary Jagadhhatri Puja is one of the oldest Jagadhhatri Puja of Bengal. Legend has it that once during the Nawab Raj in Bengal Maharaja Krishnachandra was arrested by Nawab Siraj-ud-Dullah for not paying tax on time.
He was released from Prison during on Bijoya Dashami, so he could not be part of the Durga Puja celebrations that year. So, the Maharaja started the ritual of this Jagadhhatri Puja. Primarily this puja was done by one Raj Rajeshwary (Raj Mata). Incidentally Jagadhhatri figures are also mentioned in the semi-historical fictional work 'Anandamath' written by Bankim Chandra Chattopadhyay. In this novel, Kali, Durga, and Jagadhhatri are depicted as three aspects of 'Bharat Mata' or Mother India. The three goddesses are shown as objects of worship by a group of ascetics who form the protagonists of the story.