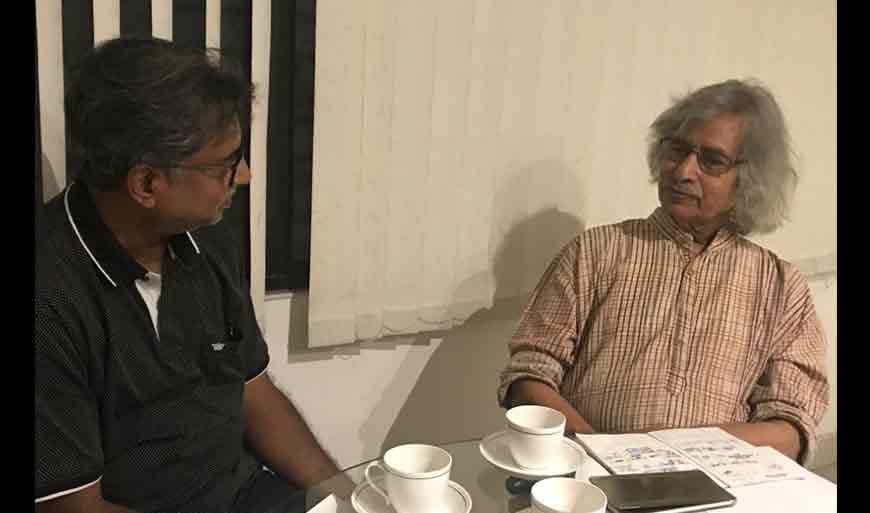 While on a customary Bijoya visit, artist Partha Dasgupta spoke to famous artist Jogen Chowdhury to find out his take on the city's Durga Puja and his association with this carnival. Here is an excerpt of the interview that Jogen Chowdhury gave to GB.
• Partha Dasgupta: Isn't this the second time you were associated directly with the city's Durga Puja circuit?
Jogen Chowdhury: (The earlier stint had slipped out of his mind. He seemed to recollect it when given a cue). Yes, now I remember. The last time, one of my relatives had insisted, so I designed the theme for a pandal in Shahidnagar in Selimpur. There, I had portrayed Durga, based on all historical references of the Goddess. The complete package would have been really impressive. The theme was very close to my heart and the myriad representations of the Goddess like the Middle-East sculpture of Mahishmardini Durga, put together, would have made a beautiful panel, but ultimately compromises had to be made due to paucity of funds and the theme fell flat. It could not be executed in the grand way it was envisaged. It is imperative, that a professionally trained artist should lead the team, when executing a monumental work of this level. However, this issue was overlooked resulting in a fiasco. This must have been in either 2010 or 2011, if I'm not wrong.
Then Behala Natun Dal happened. I had given them a draft sketch of the pandal. The frame was akin to a wood-carved temple, the kind you come across at Chitpur. The structure would resemble a chariot (Rath). The idols of the other gods and goddesses would be placed inside various compartments of the chariot. Pradeep Das, a student of Government College of Art and Craft, assisted by another enthusiastic youth named Pintu Shikdar, executed my drafted work. I wasn't fully satisfied with the result, but since the two boys were efficient and had experience, they tried to follow and execute according to my idea and visited me at every stage to consult. I gave them inputs, wherever required. Finally, what evolved, looked quite attractive and was a crowd-puller too.
But since I could not assist them hands-on during the production stage due to lack of time, I confess I am confused and I don't know whether I should proclaim the work as mine or theirs. The boys had worked sincerely and executed the project with utmost care and love. This was evident more so, when all appreciated the theme and execution of the pandal.
• Partha Dasgupta: How indispensable aresenior and influential artists like you in today's Durga Puja circuit?
Jogen Chowdhury: Assignments help contemporary artists to subsidize their financial condition. While taking up this kind of work, the artist has to curtail his personal commitments and sacrifice his me-time, to concentrate on the magnum project whole-heartedly. But this has an advantage as well: from the creative point of view, an artist's earning also provides him with an opportunity for his unbridled expression of artistic ideas and vision. However, I am barring you and Bhabatosh from this group, because both of you conceive and work for the entire project as a whole. Hence you have a colossal vision to execute in its entirety when you take up a project.
Besides, when trained artists get associated with themed-Pujas, experimental idols are created and it is also an extension of crafts. This year, I went around the city and found how craft was being used extensively by all the major artists in the pandals. This all-pervasive use is definitely useful and beneficial for skill development andcraftsmanship.
• Partha Dasgupta: Canthe huge financial support provided by Puja committees for these projects,be interpreted as a form of patronage of art in West Bengal?
Jogen Chowdhury: Yes, you may say that but in most cases, the lure of awards are so strong that creativity and expenditures are sacrificed at the altar and they become mere tools to an end.
• Partha Dasgupta: In India, the Skoda Art Prize had a very crucial role in patronizing fine arts but it was restricted to only one artist and the amount was Rs 10-lakh. But Puja committees in Kolkata come forward to support our mammoth projects and provide us with the required budget that often exceeds Rs 30 to 40 lakhs. Isn't it supporting and patronizing art?
Jogen Chowdhury: This trend has both its pros and cons. The positive side of it is that an artist gets an opportunity to practice in a wide area and experiences new materials and mediums. It also acts as a bridge and facilitates communication with the masses. The flip side is that you are forced to compromise artistically and give in to public demand.
• Partha Dasgupta: But from my personal experience I can vouchsafe that Puja organizers who hire my services, always give me freedom to work my way and cooperate with me in every possible way.
Jogen Chowdhury: You and Bhabatosh are exceptions, because both of you concentrate on theme Pujas. But I have noticed in many places, there is a kind of confused and cluttered look. The artists have compromised on the aesthetics. Instead, they have clubbed together objects that look dainty and gaudy. This conveys a sense of commotion. There is need for clarity in everything, including art. But when the entire concentration is focused on awards, naturally other creative factors either remain unnoticed or are compromised. This year I witnessed some of the works which had that bold 'on the face' over-simplified approach.
• Partha Dasgupta: If you are requested again to design a Theme Puja, will you agree to it?
Jogen Chowdhury: See it is difficult to say but if I am offered to be an art advisor, I might consider the proposal. In a majority of cases, creators and club officials work with an eye for the coveted trophy and the award seems to drive them to work. But I believe a theme puja can transcend the mundane level, if attention is given to aesthetics.
Jogen Chowdhury was however, all praise for the Puja committees which provide many opportunities to craftsmen to hone their skills. He also emphasized the vast scope for improvement in the execution if the lure of awards is overlooked.