Kala Bhavan of Santiniketan has always been the home ground of what the world celebrated as Bengal School of Art. As it stepped into its 100th year, a rare exhibition has been unveiled and opened to public. A memorial book to mark the 100th anniversary of Kala Bhavan has also been published. The paintings being exhibited at Nandan gallery include works of Rabindranath Tagore, and other popular artists of Kala Bhavan. and other creations of students as well as teachers.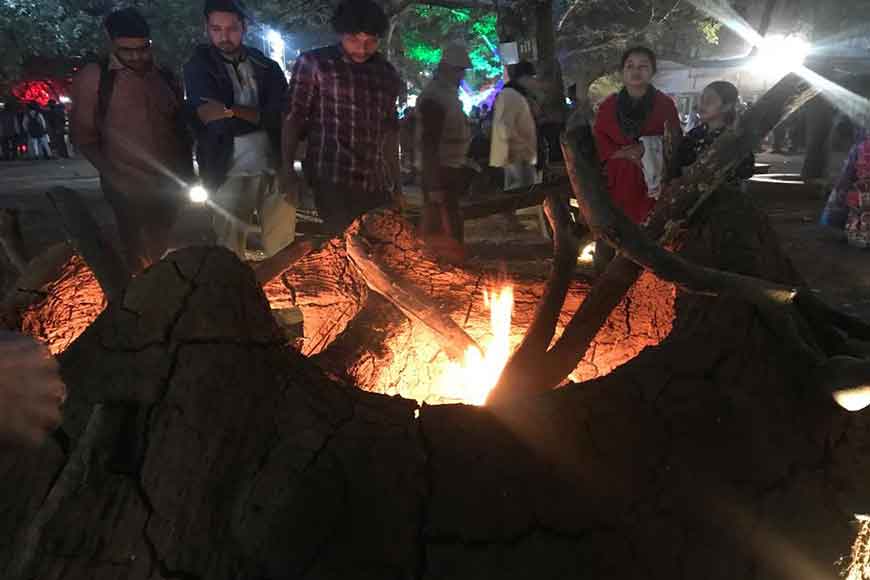 The bonfire at the campus
The memorial book is called '10 Masterpiece' and features unrevealed works of veteran artists Surendranath Kar, Dhirendra Deb Burman, Ramkinkar Baij, Somnath Hor, KG Subramanyan, Riten Mazumdar, Binodbehari Mukhopadhay, Nandalal Basu, Dinkar Koushik and Tagore himself. It includes wash painting, ink painting, oil painiting, Binodbehari Mukhopadhay's tempera, Nandalal Basu's water colour, Riten Majumdar's calligraphic art and KG Subramanyan's mural paintings. The exhibition which will continue in December will also help the artists of present generation and students of Kala Bhavan to witness the artworks of painters whose popularity is prevalent worldwide even today.
Apart from the popular works, Santiniketan's transition of other artistic artworks also find its place in this exhibition. Around 80 creations, including sculptures and paintings are on display. Apart from this, the works of women artists who have been associated with Kala Bhavan since the budding days, like Yamuna Sen, Mira Chatterjee, Sunayani Devi and Indira Devi Chowdhury are also featured. Even one gets to see works of Krishna Reddy, Satyajit Ray, Jogen Chowdhury and Vinayak Maseuzi.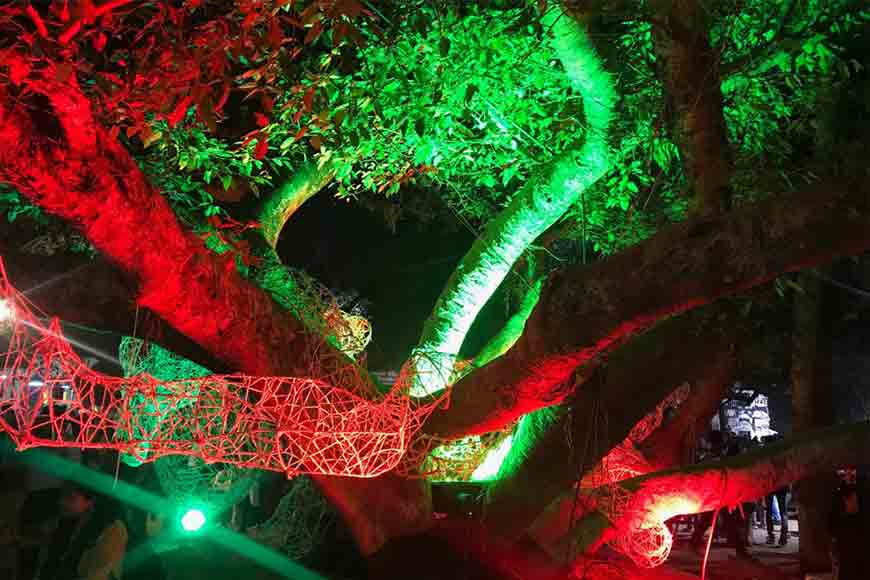 Vibrant decor at Kalabhavan
The celebration of kala Bhavan's 100th year began with a rally on November 29. Various artists who had been a student of Kala Bhavan since 1940s were felicitated. The entire day was marked with festivities and cultural events. The exhibition will go on till December 20.