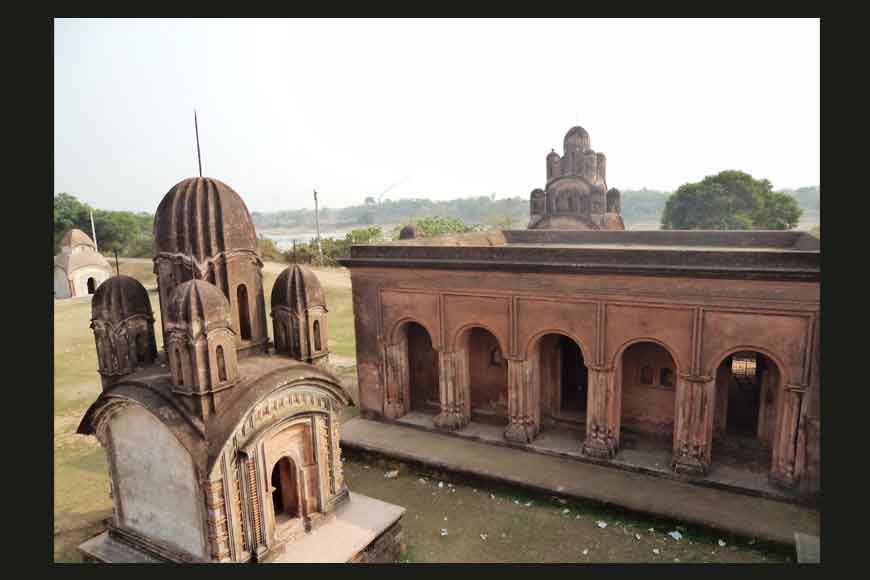 If you have traversed the muddy roads and green fields of West Midnapore, in all possibility you have not come across Pathra, a non-descript hamlet, that has hardly ever been explored. Here lives a man called Mohammed Yeasin Pathan, who is a silent crusader of communal harmony, one who has never found a place as a face of religious tolerance in a country that witnesses strife between communities on and off. Pathan has never sold himself as the face of peace and harmony, rather this old man from Hathihalka village has relentlessly worked with passion since last 40 years to restore the Hindu temples of his village, that were neglected and forgotten even by Hindu families.
Pathan himself is a poor man, still he used every penny of his earnings to restore the temples of the village and saved around 16 of the 34 temples from crumbling to dust even in the nearby village of Pathra. Many buildings in this area have been swallowed by river Kansabati.
History of Pathra goes back to the Gupta Age. This place was the hinterland of Tamralipta port, a major gateway to Southeast Asia. It was also the seat of Jains and Buddhists between 8th-12th century. Excavations revealed a majestic Vishnu Lokeshwar statue in 1961 that had both Hindu and Buddhist influences. Undoubtedly, this was a place which has a rich historical heritage. This place flourished during the era of Alivardi Khan who was the Nawab of Bengal and grandfather of Siraj-ud-Daula in the 18th century. Nawab Alivardi appointed Bidyananda Ghoshal, a Brahmin, as the revenue collector of this area and Bidyananda established temple after temple in the village, making it a major attraction for Hindu pilgrims. The Nawab however, was not too pleased with Bidyananda's work because he had spent the entire revenue generated on building temples, he was thrown into prison and sentenced to death. Legend has it that the elephant that was to crush Bidyananda's head refused to do so.
Pathan's love with temples began as a teenager. He was mesmerised by their architecture and often wrote about them in school magazines. He spent hours wandering through the abandoned temples that often became a shelter for anti-socials at night. The terracotta temples are mostly dedicated to Lord Krishna, Vishnu and Shiva. The Navaratna temple on the western bank of the river is the grandest. The 250-year-old, 40-ft high structure has nine towers and many terracotta panels on its walls. The small Aatchala temple established in 1816, stands in the same compound.
The second biggest temple of Pathra is a 40ft high Sitala temple formerly known as Burimar. The other important temples are Sarba Mangal, Kalachand, Das Mahavidya and Hansa. There's also a simple yet attractive Rasmancha, built in 1832. It has nine small towers and a courtyard where cases were dealt with.
But Pathan's restoration work was not easy. Being a Muslim, he was suspected by both communities. Hindus thought he was up to stealing statues from temples, and Mulsims thought his restoration drive was in-Islamic. But Pathan was undaunted, and his fight began in 1991, when he founded Pathra Archeological Preservation Committee comprising local residents, both Hindus and Muslims. The committee helped in forging friendships between the two communities. They also made regular visits to Delhi and met many officials of Archeological Survey of India (ASI). In 1998 the Planning Commission Chairman and former President Pranab Mukherjee sanctioned Rs 20 lakhs for the restoration of these temples.
Today the battle continues. Despite suffering from kidney and heart blockages, Pathan has been knocking on every door and making trips to Delhi to start renovation work. "I have dedicated my life for the temples but have never demanded anything in return. My failing health doesn't guarantee a long life. I would go unhappily to my grave if I fail to add life to these structures that have been my soulmates throughout life."