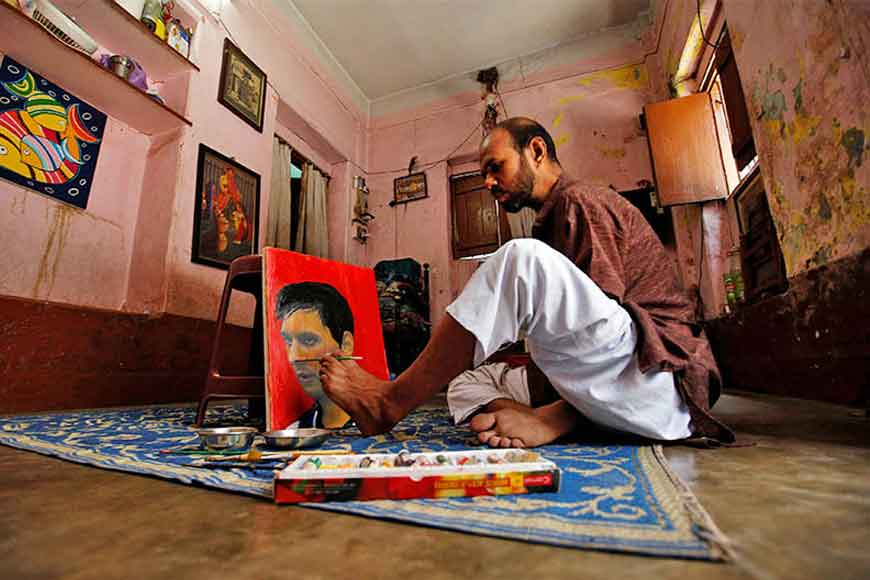 A small house in Panchanantala of Howrah. It is here that a Messi fan lives who also runs a drawing school. Apparently, nothing is extra-ordinary in this story. But once you visit this middle-class para of Howrah, you come across Ranjan Kurmi who has beat both poverty and physical disability to challenge life just like his football idol Messi challenges his opponents on field.
Unfortunately, we all missed the Messi magic this year on field, and he could hardly score. But that doesn't deter Kurmi from painting his idol's portraits. While Messi is famous for his legwork magic, Kurmi also uses his legs, but for a different purpose. He paints and draws with his toes. And why so? Kurmi was born in a poverty-stricken middle-class family with two paralysed arms that he could never use. Hence for survival he learnt how to use his legs as arms. Since childhood he loved drawing portraits but had no money to go to an art school or even at times to buy colours and canvases.
After his father's death, things turned worse. He had to look after his brothers and sisters and his mother tried hard to meet both ends with the very little she earned as a hospital ayah. May be the unconquerable spirit of football players, encouraged this soccer fan to overcome his hardships. Today he is a commercial artist and even runs a school in his house. He can draw and paint canvas after canvas with his feet, but with the World Cup fever catching on, Kurmi is busy drawing portraits of Messi in different moods. He did the same decades back when Maradona reigned the football arena. After all, he is a great fan of Argentina. Kurmi just has one wish now. If only Messi's Argentina would reach the finals, he would probably get a chance to see his favourite footballer with the World Cup. But that might be a distant dream today!