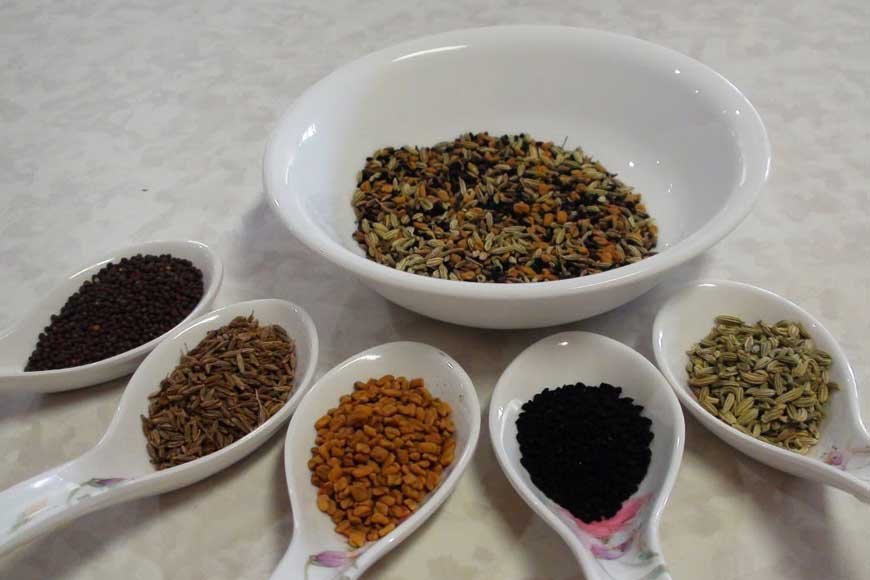 It was March 27, 1994 when Sachin Ramesh Tendulkar pleaded with his captain and manager to let him open the batting for the team in an ODI against New Zealand. A position where he had never represented India before, but as cliche as it may sound, the rest is history. It was a risky experiment, first of its kind.But after all, history's defining moments are also about consequences that last for centuries. Who was that person who thought of using Panch Phoron, the quintessentially Bengali Five Spice mix in dishes that are neither Bengali nor traditional?
Just like Julian, Dick, Anne, Georgina (preferred to be called George) and Timothy of the Famous Five had been best friends for many young minds, Cumin, Nigella, Fennel, Radhuni (sometimes substituted with Black Mustard seeds) and Fenugreek seeds have been every Bengali cook's best companion for decades. But these are the times for change and innovation. The city which is home to this explosive spice mix now has many chefs who are creating wondrous dishes with just a pinch of this Five Spice mix.
The Panch Phoron is dry roasted, coarsely crushed in a mortar and pestle and then used as a crust for Scottish Salmon - no, neither grandmother nor my mother could think of this. This is one of the many dishes that come out from Executive Chef Sourav Banerjee of The Oberoi Grand's stable. Sonar Gaon at Taj Bengal has a Panch Phoron Paneer Tikka, cooked in a clay oven and is extremely popular. Bombay Brasserie located at The Quest Mall has a Panch Phoron Chicken - roasted chicken legs rubbed with the spice. The intensity of the Panch Phoron makes it a devil of a dish.
At ITC Sonar, the Panch Phoron on Glazed Pork Belly is an adornment which elevates the dish. The combination of this spice mix and pork is simply unforgettable. There is also Lasagne Panch Phoron and Panch Phoron Fondue where the spice mix goes in with the molten cheese. A typical Bengali fish curry is often made with a Panch Phoron as a tempering spice but is Italianised by a Panch Phoron flavoured bhekti which is served with Pomodoro Ragout.
Bohemian boasts of many a Panch Phoron innovation by Chef Joy in the menu. From Panch Phoron Chicken Escalopes to Baby Potatoes tossed in Panch Phoron oil, pita with various flavours of dips including tomatoes with mustard and panch phoron and so on. But what is totally incredible is the use of panch phoron in a beverage, that too alcoholic. New Moon Over Kolkata is a creamy cocktail with homemade panch phoron liqueur, dark rum and elusive spices. The drink is outrageously fabulous and the flavour of the Panch Phoron with the creaminess of the liqueur gives it an epicurean taste.
When the eminent Bengali writer Sasthipada Chattopdhyay had written a very popular series called Pandab Goyenda, lots of eye brows were raised and it was discussed that it is deeply inspired by The Famous Five by Enid Blyton. Nonetheless, Pandab Goyenda became very popular series in Children's literature in Bengal. There will be debates whether Panch phoron should be used in traditional way or it should be seen in new light and used in innovative ways.But once accepted, what is new and innovative today, will eventually become a tradition. Here is to changing times.