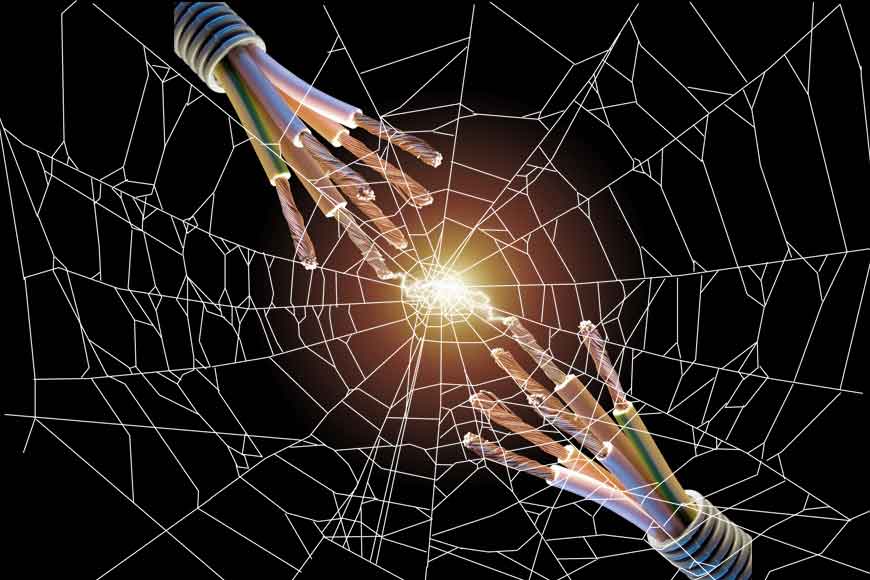 A spider web is the most common sight found in the corner of a dilapidated room which is not cleaned regularly. Until now, it had been looked upon with a lot of disgust, but now, the researchers of IIT Kharagpur have found a great possibility of source of electricity in these spider webs.
The discovery of this technology, under the supervision of Professor Bhanubhushan Khatua of IIT's Meteorological Science Department, has already found place in Nano Energy journal and has been patented on December 26. Interestingly, source of electricity has also been traced to layers of egg shells. Prof Khatua was assisted in these experiments by his students Sumonto Kumar Karan, Sandip Maity and Jin Kon Kim who is also a professor of Postech University of South Korea.
Around 1 micro ampere of electricity was produced from a spider's web, whereas egg shells produced around 1.6 micro amperes. The team of researchers hope this technology will bring in revolution in the arena of green energy in the coming days. Researchers further claimed that such power can be used to light LEDs and as replacements of pacemaker devices in human body. Every substance has positive and negative energy which exist in random conditions. But if a substance is capable of producing electricity, then it is called 'Pizzo Electric'. In 1955, Japanese scientist E. Fukda noticed the presence of 'Pizzo Electric' in wood. This team of IIT scientists were influenced by the Japanese scientist. Earlier, they successfully produced electricity from cellulose which resembled onion peals.
The researchers also discovered the source of protein of the spider's web and the source of collagen in the thin layer of an egg shell opening. Apart from not being harmful to the human body, these also mix with the environment effortlessly. Examinations have further shown that if pressure is applied, one side emits positive energy while the other side emits negative energy. The spider nets are arranged one adjacent to the other and are provided with a layer of carbon on both the sides which gives rise to electrodes. Electricity is being produced from egg shells in the same manner. But in case of spider nets, a coating of polymer is offered to one side of the spider web. Consequently, electricity is produced from electrodes on both sides with help of wires. The researchers now aim to use this innovative technology in larger areas of life.