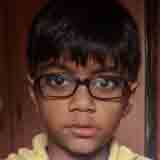 Student Jyotishko Das on Indian Museum
Indian Museum is one of the most famous historical places in the city of Kolkata. It is also the oldest museum in India. I've visited the museum three times. On my first visit, I could not understand much of what I saw. I was five years old then. But I remember seeing the skeleton of a huge dinosaur that had both scared and interested me. I had gone there with my father and my grandmother.
On one of the other visits, I had gone there with my mother and a friend of mine to attend the Children's Literature Festival. I remember writing on my favorite cricketer as part of the festival. It was raining and the museum looked very beautiful in the rains. But what surprised and excited me the most was an Egyptian mummy that I once saw, and my father explained what it was and how it came to be here. I feel proud to belong to a city which has the oldest and largest museum of India.