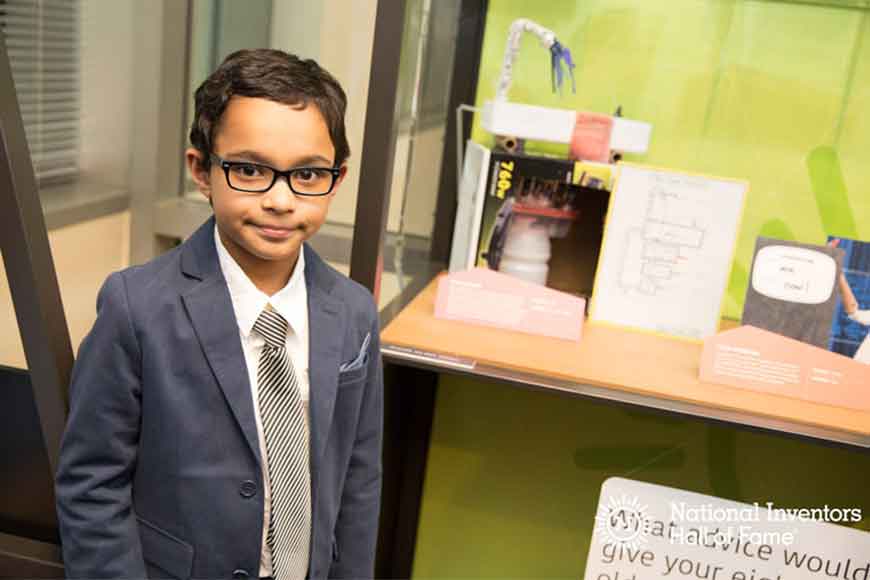 Oyon – currently living in Waltham, Massachusetts with his family – has recently won the Mighty Minds Contest which is a national competition for young inventors jointly organised by the National Inventors Hall of Fame and a youth educational summer camp called Camp Invention. Already displaying incredible prowess as an aspiring innovator with regard to environment, he has invented "The Cleaner" – a prototype which filters and recycles shower water.
The entire procedure is quite ingenious in its surprising simplicity. According to Oyon, whenever somebody takes a shower in a bathtub fitted with "The Cleaner", the water goes down the drain to reach a filter underneath which contains layers of gravel, sand and charcoal to soak in any residual pollutant. The water, thus cleaned, then goes further down to be stored in a tank before it gets pumped back up to the bathtub in time for the next shower. The ever-conscientious Oyon has also facilitated the option of cleaning a clogged-up filter by providing a little door that grants access to the filter in his design prototype.
Having won what is possibly the most prestigious national contest for young inventors, Oyon now gets to spend two days in Washington DC at the National Inventors Hall of Fame where he shall have the opportunity to interact with and consult the most gifted minds in the country including 16 new inductees to the Hall of Fame.
So, what's next for the grandson of our poet, writer late Sunil Gangopadhyay? True to his larger goal of continuing to cogitate on and materialise inventions that go towards protecting the Earth and our eco-system, Oyon's next project – tentatively termed the "Space Cleaner" – aims big with regard to cleaning up space junk or more specifically the parts of a spacecraft that fly off into space during takeoff. As he explains, the invention would entail a solar-powered robot with one arm that melts space junk and another that vacuums the melted residue.
It is truly a matter of incredible pride (and the writer means "incredible" in its literal sense as, indeed, who would've thought that Sunil Gangopadhyay's descendent would end up becoming a potential stalwart in scientific invention!) that one of the "mightiest" minds in America has his native roots in our very own Bengal. Here's hoping we keep receiving more reasons to celebrate Oyon's success in the near future.