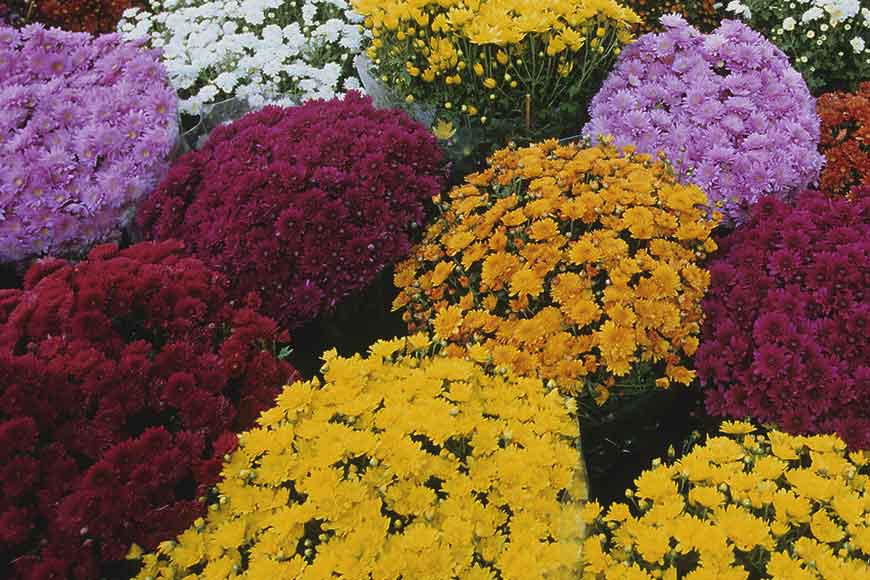 Panshkura of East Midnapore has always been well-known for its flower production. Various types of flowers, especially rose, rhizoid, gladiolas, golden rods and chrysanthemums are cultivated here throughout the year, that find place in the wholesale markets of Kolkata and other states of India. However, chrysanthemum or chandramallika cultivation has seen a sharp and steady rise, and they are now expanding horizons. The good news is that Chandramallika farmers are infusing new techniques to increase their yield.
They are moving away from conventional methods of cultivation and are using latest technologies to cultivate these flowers. When the fruit market faces recession, the farmers cultivate the flowers with the process of delayed flowering using field illumination and have been able to earn profits through this process. Many farmers of the Naranda, Mahatpur, Keshapat areas of Panshkura have been using this process with great success rates.
The Greek word 'chrys' means gold and 'anthman' means flower. The full meaning of Kristinitham is 'golden flowers.' The place of origin of these flowers is Japan and China. These flowers are highly sensitive to light. The flower production is delayed due to long exposure to light. So the farmers incorporated and mastered this method unknowingly without the help of any agricultural scientists.
Around 2004, the farmers observed that the part of the garden in front of the house which received light, had flowers that bloomed late, whereas in other parts of the garden flowers bloomedon normal time. Keeping this in mind, the farmers started thinking of using this method forChandramallika cultivation. Usually the saplings are planted at the end of the month of Ashwin. After five to seven days, light is given to the fields. The lighting is stopped 50 to 60 days before flowering.
Flower cultivators have now become adept in this method. They are now able to produce more fruits at specific times according to market demand. Statistics show that 300 lamps of 100 watt can be used per acre. But farmers are now using white-colored CFL lamps for reducing electric costs. According to farmers, if one and a half thousand rupees per one lakh rupees is spent on electricity for two months or for a little more, then more than one and a half million profit is obtained from a one-acre land.