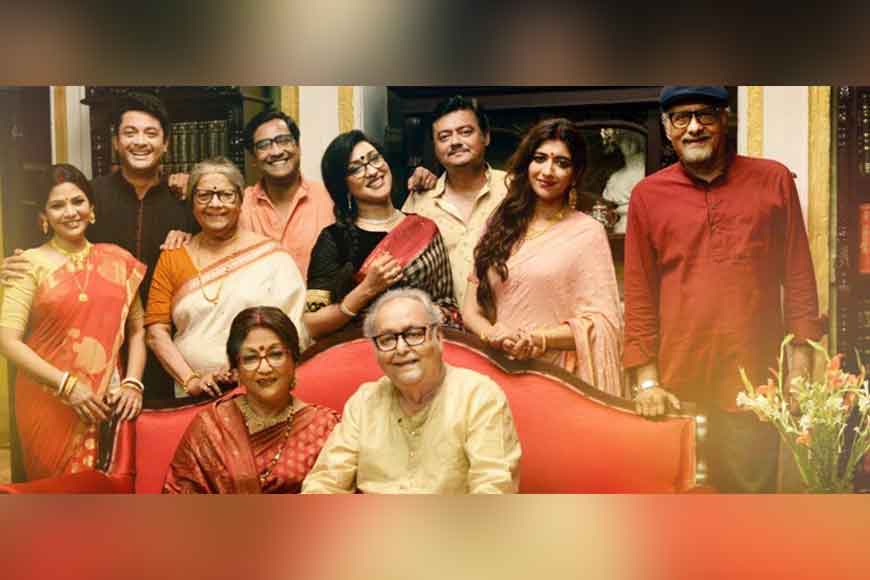 Remember the cinematic magic created by the trio Soumitro Chatterjee, Aparna Sen and Rituparna Sengupta in Paromitar Ekdin? The adda sessions over coffee seemed more like real life conversations which linger in our hearts even today. The duo is all set to recreate this magic yet again, in the directorial venture of Suman Ghosh's 'Basu Paribar.' This movie will talk about family sentiments from an unconventional angle. 'Home is where the heart is' a proverb we are well acquainted with. But for Bengalis, family is where the heart is. When it comes to families, Bengalis have an inexplicable attachment and longing, no matter where they stay, in any part of the world.
Director Suman Ghosh has decided to cast the best of the actors from the yesteryears and recent times for 'Basu Paribar.' Apart from Soumitra Chatterjee, Aparna Sen and Rituparna Sengupta, others like Lily Chakraborty, Paran Bandopadhyay, Saswata Chatterjee, Sudipta Chakraborty and Srinanda Shankar will be seen in the film as members of the Basu family.
The film might essentially deal with family bonding, but the plot is inspired from a story of the Irish writer, James Joyce. The captain of the ship or the head of the family is Soumitra Chatterjee who is a retired barrister and has the attitude of a pompous zamindar. Aparna Sen will be seen in the film as his wife. The chemistry shared by the duo has mesmerised the Bengali audience since ages. Be it Ray's Shamapti, Basanta Bilap or Paramitar Ekdin, the chemistry will be revived through 'Basu Paribar' after 19 years. Rituparna and Aparna will also be seen together in a film after ages. Rituparna will be portraying the role of the daughter while Jishu is the son. Every family member is back to their good old zamindar house to celebrate the 50th marriage anniversary of their parents. As the celebration unfurls, many issues which remained buried deep, much to the oblivion of others is unearthed which changes many dimensions for the family. What happens to Basu family when it is subjected to an untimely crisis amidst the celebratory spirit?
The movie releases on April 5.