Evolution of alpana in Santiniketan was a venture into a secular aesthetic world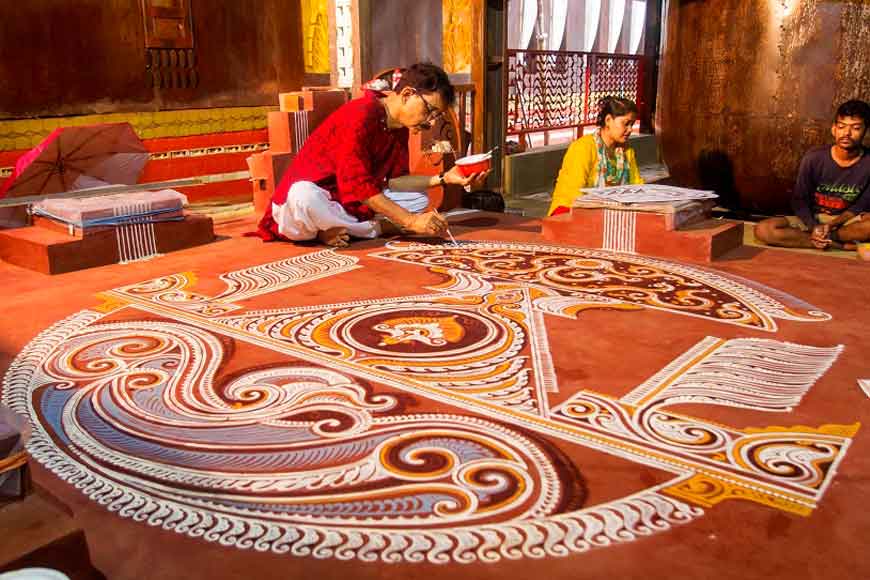 Bengal's Alpana is unique, not just for its colourful motifs, sacred art or painting done with hands, but also for the ingredients. The paste of rice and flour goes into designing those motifs on auspicious occasions. The word Alpana is derived from the Sanskrit word alimpana, meaning 'to plaster' or 'to coat with.' Traditionally, this folk art of Bengal was practiced by the women of the house. They are not just an art form, but meant to usher in prosperity, health and happiness.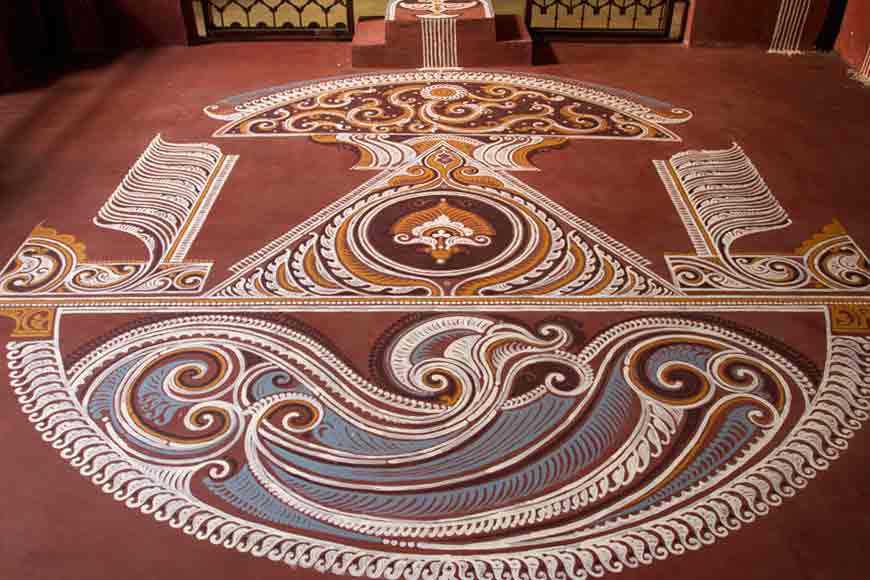 Alpona design from Santiniketan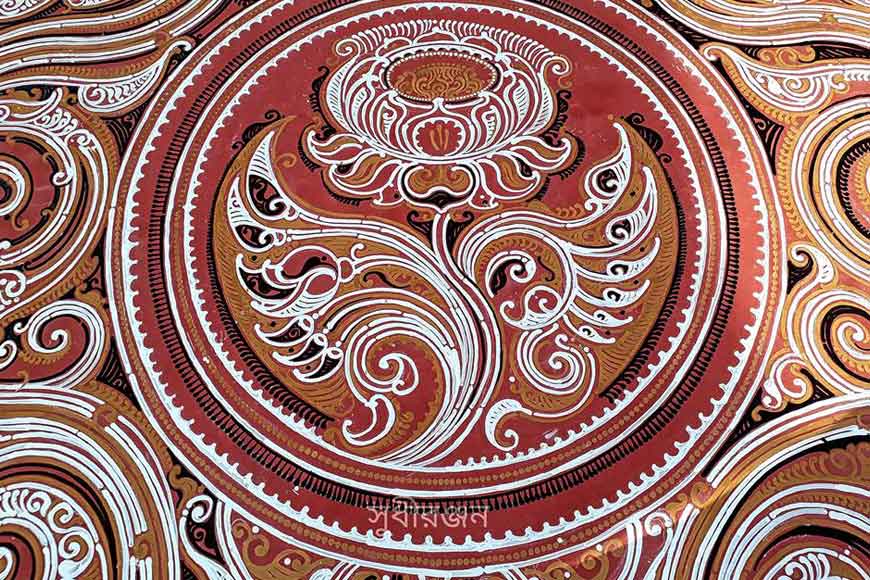 Intricate design of the Alpona
The beauty of alpana encouraged the creativity of women for its free flow of lines and spontaneous play of fingers. This is a tradition of ornamentation passed from mothers to daughters for thousands of years. Santiniketan's history on the evolution of Alpana as a distinctive fine art form is almost century-old. This art form had entered the precinct of the institution and was developing on the lines of the ancient Vedic principles propagated by Kshitimohan Sen and encouraged by Rabindranath Tagore himself. Sen's wife, Kiranbala Devi, was the harbinger of this form. Later, Tagore brought in Sukumari Devi to teach students the various nuances of the intricate art form. Sukumari Devi was widowed in her childhood. She was a brilliant alpana artist and was well versed about the traditional aspects of the various motifs in alpana.
The transformation of alpana from being part of a religious ritual to a free-flowing art form came later. In 1909, Nandalal Bose, then in his youth, and Asit Haldar were persuaded by Lady Herringham and Sister Nivedita to be a part of the first major project to produce copies of the decaying Ajanta frescoes (those by Major Robert Gill, John Griffiths and his students, Lady Herringham and Abanindranath Tagore's students).The Ajanta caves opened a new vista for Bose. It was a revelation for him. The artwork of the cave temples had a major impact on his definition of Indian artistic identity and upon the modern art movement in India. This was a time when the study and production of art in India was being relooked at and radicalized. Different art movements were trying to redefine an essentially Indian artistic and cultural identity.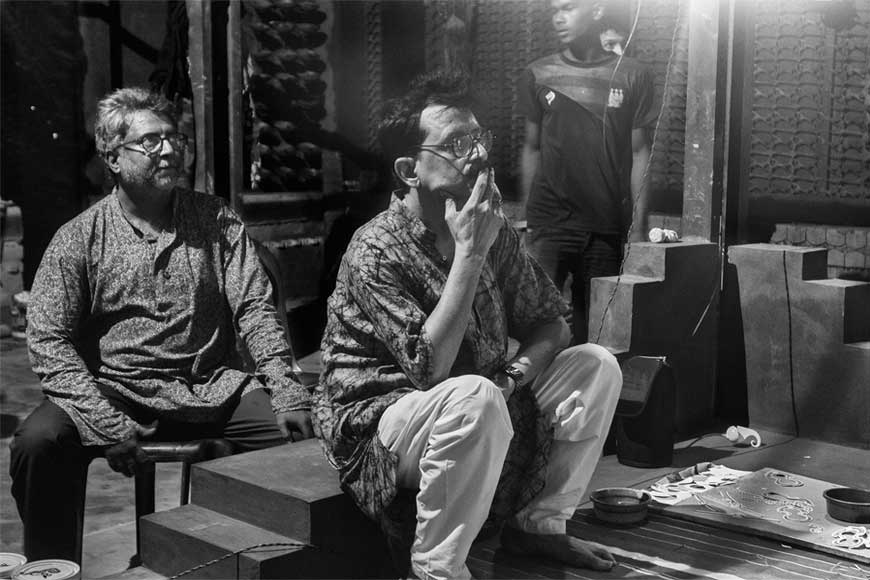 Artists Partha Dasgupta and Sudhiranjan Mukherjee

In 1919, Bose was invited to be Principal of Kala Bhavana at Santiniketan. He witnessed Sukumari Devi's deftness with her fingers and decided to expand the horizon of alpana towards aesthetic awareness. The rudimentary forms practiced by village folk of Bengal show flat drawings with figurative motifs. The motifs are often drawn from nature — a conch, a creeper, the sun and moon. The traditional structure is not formally cohesive – elements sometimes disparate, almost free-floating. The form that Bose evolved in Santiniketan is not symmetric and not repetitive. Bose insisted in having pause, through light and shade, modulation and movement. The absence of pause makes design monotonous. His designs, therefore, are more like paintings, a reflection of his inspiration from the murals in the Ajanta caves.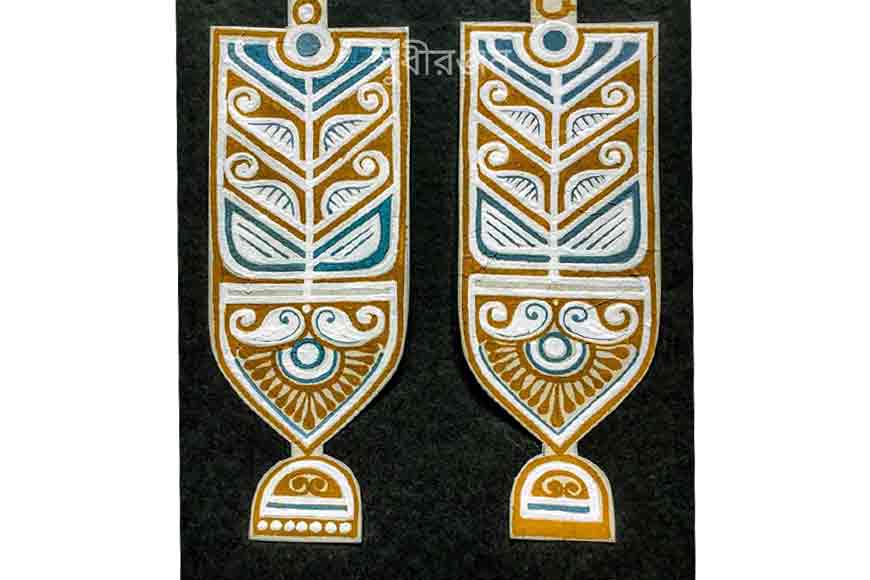 Brightly coloured design work
He also derived patterns from nature, transforming three-dimensional forms in nature to two-dimensional artworks as with the autumn flower Shiuli. When we look at the alpana evolved by Bose, it shows his synthesis to homogenous forms strengthening visual impact by design. Bose had experimented widely and then zeroed in on the symbolic power of art to make an impression. He made the transition responding to the need of the hour, moving art from a place of appreciation to a language that could enter other arenas and speak persuasively.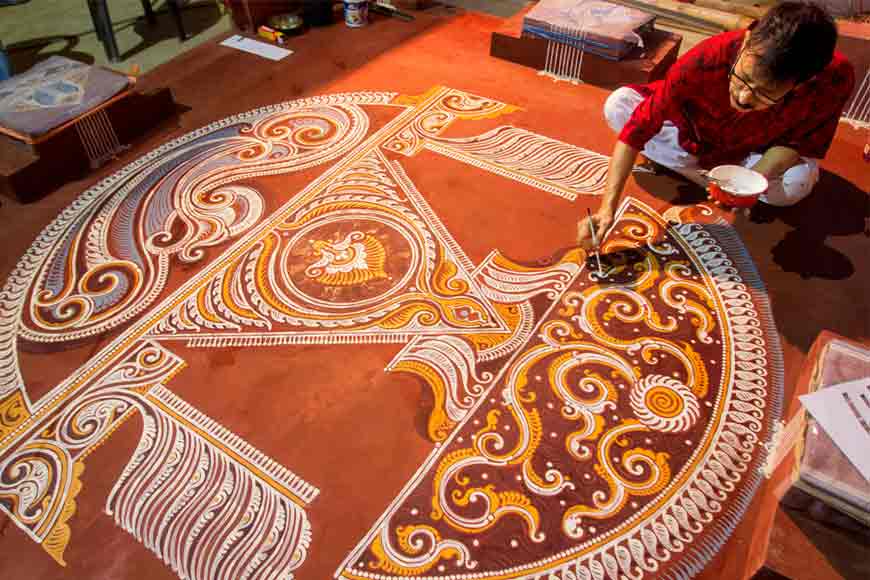 Sudhiranjan Mukherjee at work
The true power of alpana plays out when men and women gather to draw uninhibitedly at Santiniketan, a community joined through patterns. Art as a unifying experience was Bose's singular contribution.