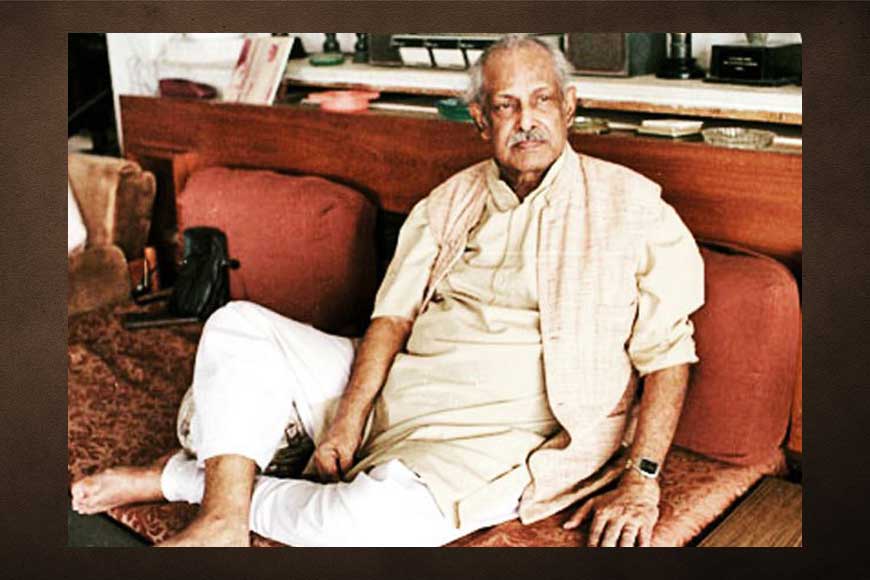 Hrishikesh Mukherjee (1922-2006) was a friend of both my parents, so he practically watched me grow up from a teenager right until I became a wife and mother. His completely unassuming and earth-bound disposition showed itself in the way he patted my head and asked what I was doing every time he saw me.
His bond with my father was based on my father's enviable collection of 78 rpm records that comprised of music from New Theatres films, Tagore, Kazi Nazrul Islam, Rajanikanta, Atul Prasad, Western classical pieces and so on. Another thing in common was homoeopathy.
Years later, we would sometimes meet at film festivals where he was always surrounded by hangers-on and helpers. His arthritis had almost crippled him and he had to use a walker. But whenever we came face-to-face, he would flash his mesmerizing smile and ask me what I was doing right then.
Way back in 1995, the editor of a Hyderabad paper commissioned me to do an interview. I arrived at his Turner Road residence in Bandra, where he practically lived alone. It saddened me to discover that he was almost totally bedridden, a side-table filled with medicines. His children had grown and flown away and his wife had passed away in Kolkata. I was a little afraid of the dogs in his house but they were safely removed.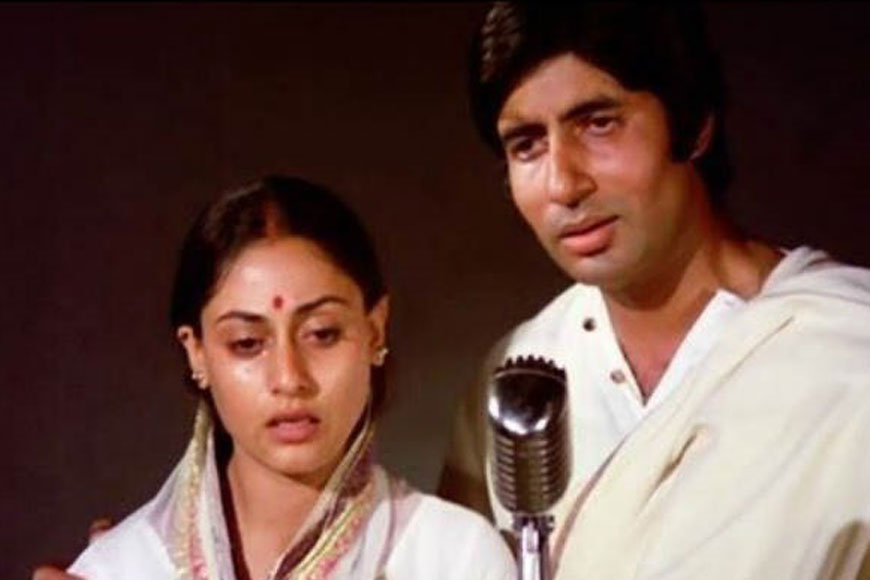 Abhimaan
The interview was to coincide with a new television series that Hrishida was making. He had been going into depression because he had stopped making feature films completely. You could not see the depression on his face or in his attitude, but it was there in his voice. Much later, he broke his promise to himself and made Jhoot Bole Kauwa Kaate with Amrish Puri, Anil Kapoor, Shiamak Davar, etc. but the film bombed at the box office, sending him into self-imposed exile until he passed away in 2006. Thankfully, he was awarded the Dadasaheb Phalke Award in 1999 and the Padma Vibhushan in 2001.
Hrishida belonged to an era where film people did not wear that imaginary halo of stardom around their heads, which alienated them from their audience and from the media. Few know that Hrishida was a close friend of both Raj Kapoor and Satyajit Ray. The story goes that Raj Kapoor named his second son Rishi after Hrishikesh.
Hrishida began his career in 1945, when he learnt film editing on the job at New Theatres in Calcutta. "There was no FTII (Film and Television Institute of India) then and we learnt mostly through observing others at work, or while working ourselves. Those who could have taught us did not. World War II brought a slump in film production and then, those who were willing to teach, could not."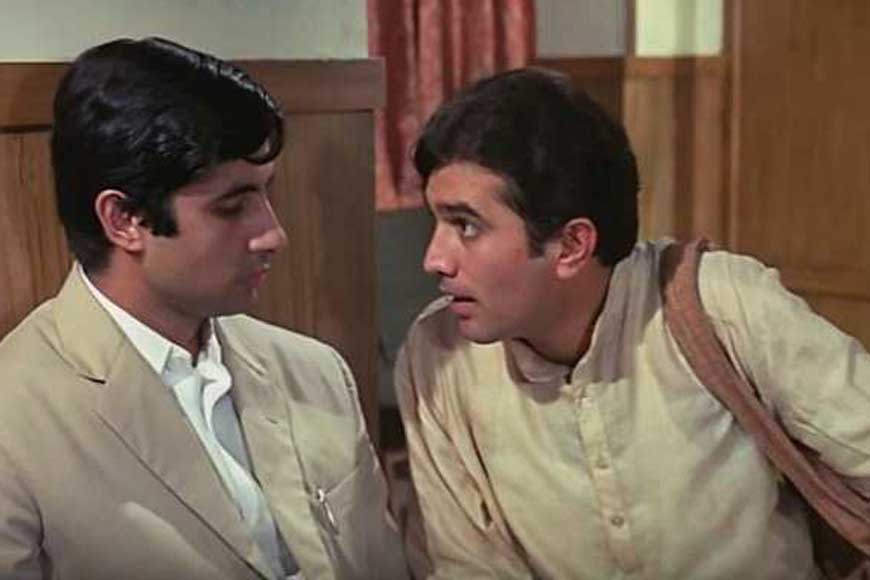 Anand
His first independent work as editor was for the Bengali film Tathapi. "I came down to Bombay in 1951 to team up with Bimal Roy who too had just migrated." He edited films like Maa, Do Bigha Zamin, Parineeta, etc. By then, he was determined to get into direction seriously, and his first effort at producing and directing his own film was Musafir. This anthology featured Dilip Kumar and Usha Kiran in the first of three stories, in which Dilip Kumar lent his own voice to a song for the first and last time in his career. "I think I am the only director to have directed the triumvirate of Hindi cinema – Dilip Kumar, Dev Anand and Raj Kapoor," Hrishida told me proudly.
He was once chairman of the Central Board of Film Certification. Did he agree with the concept of censorship for Doordarshan? "In a welfare state, some kind of control is definitely called for. But it depends on who exercises that control. If it is exercised by a bunch of nitwits, then it means nothing. What credentials do these so-called controllers have? So, just as food is adulterated despite laws against it, drugs are adulterated despite drug control, it is natural that entertainment also is adulterated. This is sad because of the impact it has on children."

Looking back, Hrishida lamented the changes that made it impossible for a filmmaker like him to work any longer. "My first film Musafir, shot in black and white, was released all over India in 1957 for a meagre sum of Rs 6 lakh. Today, the ambience has changed. Our times have come to an end. We must make way for the new cinema culture defined by new symbols like MTV, rap, uncensored videos on which a child can watch a blue film for ten rupees. I am not part of this scene and I don't wish to be. Besides, in my seventies, I do not have the patience to work with a large team. I am easily annoyed and irritated."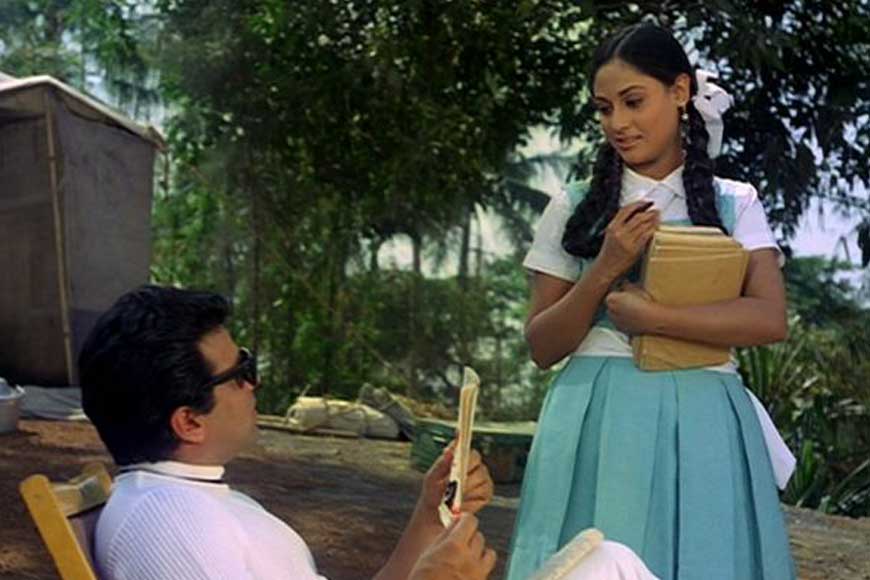 Guddi
Honesty has been the hallmark of his films right from Anuradha, which topped the list at the National Film Awards so many years ago, through Satyakaam, which was a flop despite a star cast of Dharmendra and Sharmila Tagore, to a sentimental tear-jerker like Anand, or an interesting take on adolescent hero-worship like Guddi. Clean entertainment with lovely music enriched by rich lyrics are common to films as diverse as Namak Haram, Khubsoorat, Abhimaan, and Anupama.
He drew heavily from Bengali literature, which made his films "humane", as Gulzar put it. Each film bore a subtle social message, be it the neglect of the girl child in Anupama or the unscrupulous capitalist vs the toiling, starving worker in Namak Haram. "Your art is your attitude to life," he'd admitted once. But he always rated the National Award-winner Satyakam as his best film, which was produced and acted in by Dharmendra, who also rates it as his best.
Hrishida had a wonderful ear for music and chose his music directors and lyricists with great care, though almost all the music directors of his time worked in his films. Alaap had music by Jaidev while Rahi Masoom Raza wrote the lyrics and dialogue. Bawarchi's music was scored by Madan Mohan while Chupke Chupke and Mili's music was by S.D. Burman. Bemisaal, which did not do well but had melodious songs, had its score done by R.D. Burman. Naram Garam did not do well commercially, but it was a hilarious film with mind-blowing music by RD. Lakshmikant-Pyarelal composed for Satyakam while Hemant Kumar wrote the music for Majli Didi and Anupama.
Pandit Ravi Shankar did the music for Anupama with lyrics penned by Shailendra. This film was edited by Das Dhaimade. Hrishida's first film Musafir has Salil Chowdhury's name as music director while Ritwik Ghatak is credited with the three stories. Chowdhury was also instrumental in the success of several other Hrishikesh Mukherjee films, such as Chhaya and Memdidi. Anari, Aashiq and Asli Naqli had music by Shankar Jaikishen. Incidentally, Motilal, one of the most outstanding 'gentleman' actors of Indian cinema, portrayed a memorable cameo in Asli Naqli. Vasant Desai scored the music for Aashirwad which has the unforgettable Rail Gadi song – actually a poem – recited to a beat by Ashok Kumar.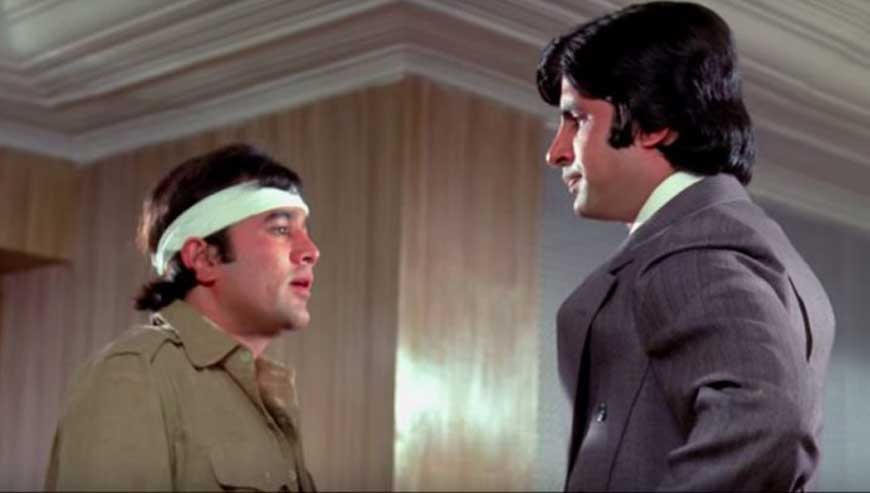 Namak Haram
Hrishida could also extract completely out-of-the-box performances from actors used to only certain genres of cinema. So action man Dharmendra delivered his best performance as a poet and a lover in Anupama opposite Sharmila Tagore, who had the rare opportunity of playing a very low-key character who hardly speaks. Shashikala had a radical makeover in the same film. In Chupke Chupke, Amitabh Bachchan came out of his slot and added spice with his comic take as a fake Botany professor. Bachchan also came up with mind-blowing performances in Alaap and Namak Haraam. Alaap flopped, but it was one of Hrishida's best-made films, exploring the multiple layers that make a father-son relationship, with Om Prakash embellishing the father's character with a moving performance.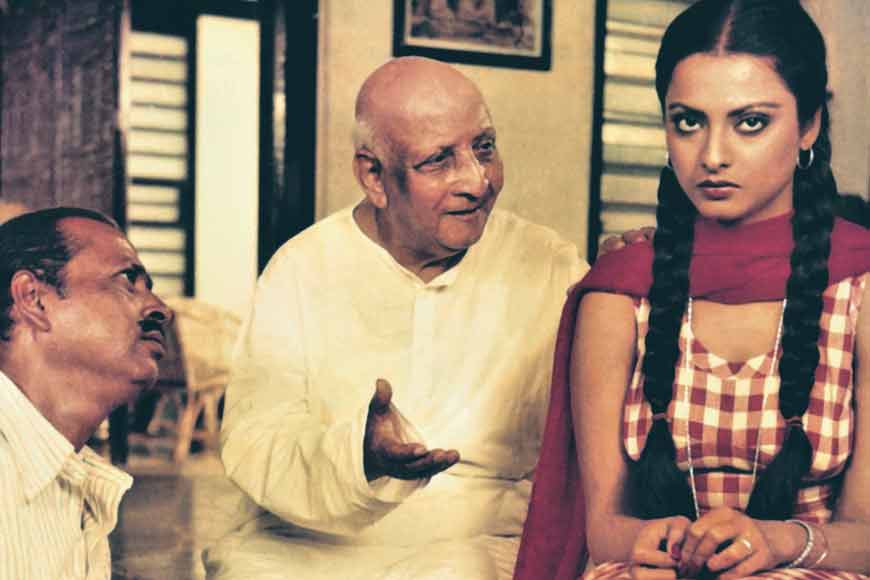 Khubsoorat
Khubsoorat gave a completely different perspective to Rekha's hidden talents, while veteran Ashok Kumar marked one a milestone performance in Aashirwad. Mili presented Bachchan in another dimension in a character that evolves from a pessimistic, unfriendly man who hates kids and avoids socializing to an empathetic and enlightened lover while Jaya Bachchan complemented him as only she could. Arjun Pandit presented Sanjeev Kumar in a very unusual role in a plot based on a novel by noted Bengali litterateur Banaphool. Rajesh Khanna never repeated his performance in the title role in Anand where, dying of cancer, he spreads hope and cheer among people who have a long life ahead of them. Johnny Walker perhaps got his greatest break in a small cameo in the film. Rajesh Khanna did a completely against-the-grain character in Bawarchi, adapted from Tapan Sinha's iconic Bengali film Golpo Holeo Shotti.
Bachchan rates his films under Hrishida's directorial baton as among his best. He performed in Anand, Abhimaan, Mili, Alaap, Chupke Chupke, Namak Haram and Bemisaal, each film throwing up a different aspect of Bachchan's versatility.
Nonetheless, Hrishida was keenly aware of the power of the small screen too. "Television has enabled me to work with some of the best talents, from Neena Gupta to Alok Nath, from Pankaj Kapoor to Renuka Israni, from Rajendra Gupta to Harish Patel, actors from the National School of Drama I might never have got to work with had I not got into television," he told me.
Hrishida had one serial on primetime Doordarshan in 1995. Ujale Ki Or had an impressive line of artists, from the small and big screen. Content-wise, it was a hotchpotch of stories about government schemes promoting rural development. In true Hrishikesh Mukherjee tradition, it was clean drama with power-packed performances. For reasons known only to the powers-that-be at Mandi House, the series was taken off air, though it touched upon preservation of the environment, the revival of indigenous medicine, widow remarriage, employment schemes for rural youth and so on. Somehow, the Mukherjee magic was missing. But the philosophy that lay behind all his works – wholesome family entertainment – never changed.