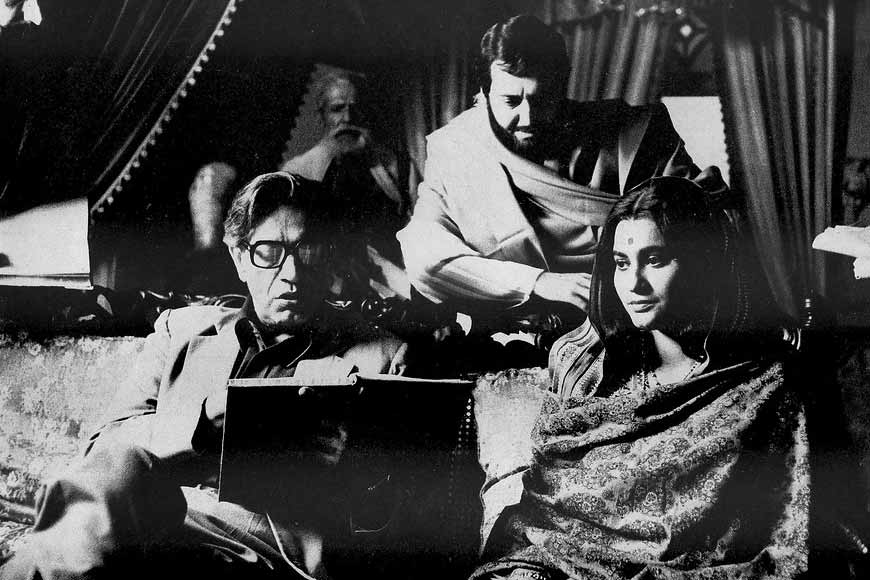 During the shooting of Ghare Baire, I had come across a picture book of Alfred Hitchcock at work. I thought perhaps a similar book could be produced with Manikda's photographs, that is, if I could capture every moment of the making of Ghare Baire – perhaps bring to light the continuity of my photographs in the form of a book as an alternative commentary.
We were shooting in Bardhaman. After one particular shot, something crossed Manikda's mind. He stopped shooting and seemed to be engrossed in his thoughts. Perhaps he was thinking of ways to improve the shot. The outdoor location was teeming with people. I had an impression that he was looking for some solitude, and so it was. I saw Manikda make his way through the crowd. I followed him. Soumendu Roy (Ray's cinematographer) asked me not to. Paying no heed to his advice, I continued to follow Manikda, albeit from a safe distance.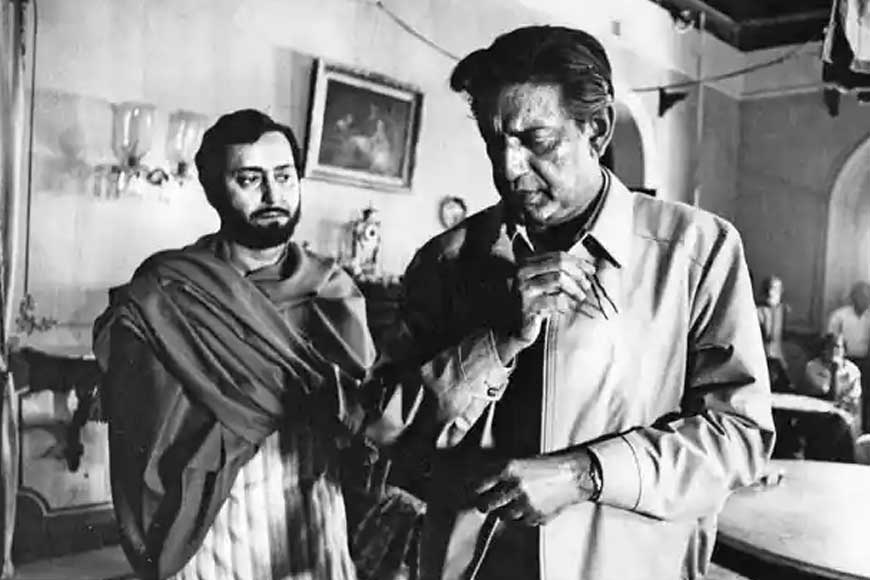 I saw him take a few long strides and sit by a pond. His chin cupped in his palm, a group of boys shouting around him. But in such deep contemplation was he that nothing seemed to disturb him. He appeared like a rishi in a state of peaceful meditation. I captured this moment on camera.
Manikda had his first heart attack during the shooting of Ghare Baire. The excess workload and many uncertainties of filmmaking against all odds seemed to have taken their toll on his health. Doctors advised complete rest, which he complied with. One day, he suddenly said he wanted to shoot the last scene of Ghare Baire himself. All the arrangements were made in a hurry. I was given the responsibility of escorting him safely to the shooting spot in Bardhaman. That was one of the toughest tasks of my life. On the way, Manikda wanted to have a cup of tea at a roadside dhaba. I arranged for an earthen cup of tea for him.
A feeling of great sorrow overwhelmed me as we made our way to the location. Manikda had been an almost god-like personality to me – my inspiration, the source of my strength. Many a time in the past, I had faltered trying to keep pace with him, and today, here I was having to escort him like this. Ultimately, I escorted him safely to Bardhaman and breathed a sigh of relief.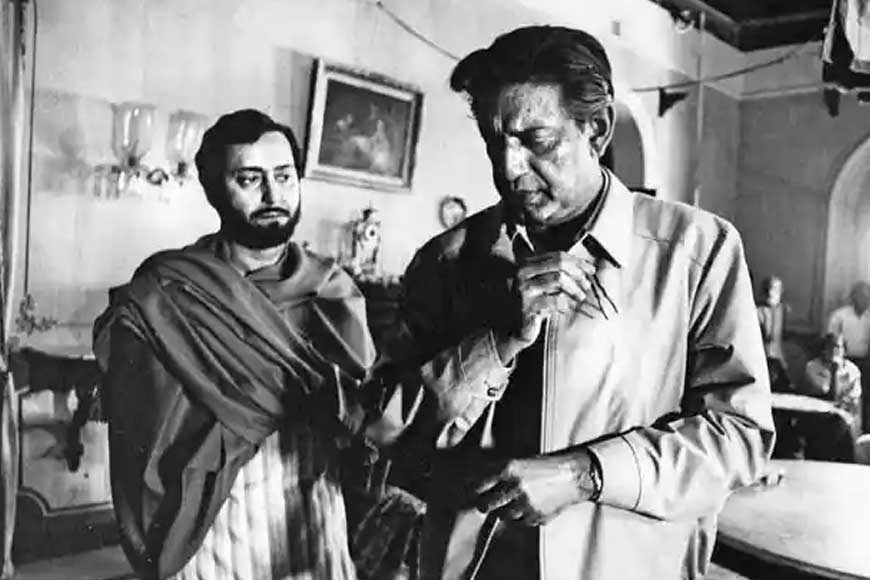 For me, Ghare Baire remains a memorable film for an entirely different reason. For the first time since I had asked for a rupee so that I might be considered a professional during the making of Asani Sanket, this was the first time the production controller told me I would be paid a fee of Rs 7,500. I was delighted, because though I had worked as a professional photographer in many other films by then, being a part of Manikda's film was an entirely different experience.

However, Manikda grew very weak after his attack, and used to complain about his health to Dr Subrata Bakshi. I remember Dr Bakshi being very enthusiastic about my photography. Even as Manikda went through a long period of recovery, I would click his photographs whenever he looked a bit fresh.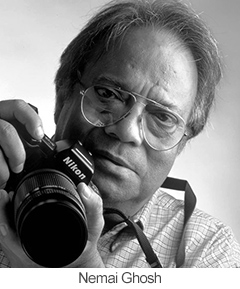 Dr Bakshi would show him the photographs and say: "Come now, you do not look ill at all." Manikda felt happy seeing those photographs. This was the greatest gift to me. At times, I used to feel greatly disturbed – as if his illness had rendered me an orphan. I did not know what to do. I used to go to his house but could not enter his room as freely as I was accustomed to earlier. I would just peep in and enter only when he called me. This was the time someone who I do not wish to name tried to create a rift between Manikda and me. But try as he might, he could not succeed because of the affection and love I enjoyed from boudi (Bijoya Ray) and Babu (Sandip Ray).

(Source: Manikda by Nemai Ghosh)