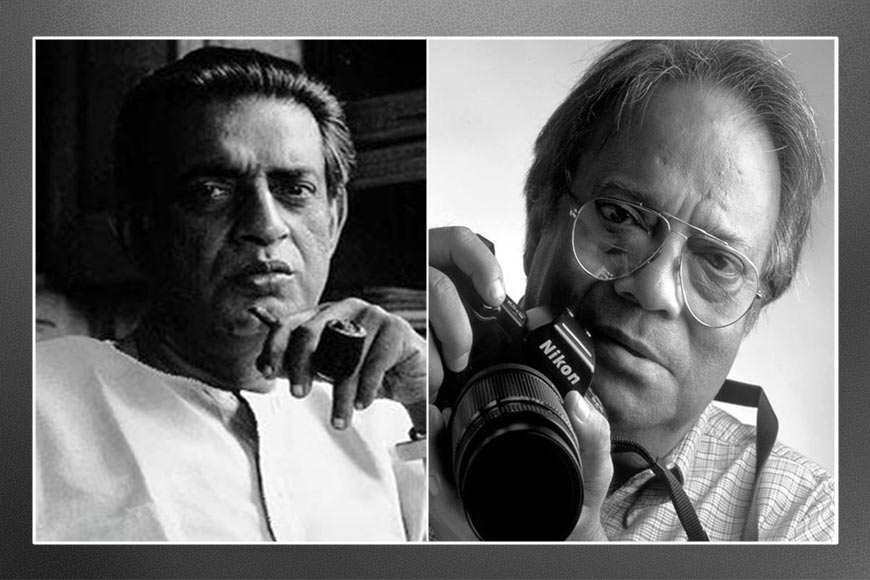 'He was one of the best actors in the world,' Nemai Ghosh on Satyajit Ray
Adapted from Nemai Ghosh's book Manikda – Memoirs of Satyajit Ray, this GB series highlights on different unknown stories about the great director as told by photographer Nemai Ghosh who worked closely with Satyajit Ray. In this part Ghosh tells the story of how he landed on the sets of Goopi Gayen Bagha Bayen
Meeting Manik da on the sets was like a dream for me. But there was a big gap between they dream and reality. I was the eldest of my brothers and was married about ten years prior to my first meeting with Manik da. As the head of a joint family, married and having children of my own, I had many responsibilities. I was always worried whether I would ever be able to devote myself fully to the fulfilment of my dream. On the other hand, there was my stable, ten-to-five job which would sustain my family, and on the other hand was my first love --- theatre.
Even in the face of such harsh realities, I visited Manik da's set whenever I had spare time. When Bhanu da told me that Manik da had framed the photographs I had taken and hung them in his bedroom, I was greatly motivated. After that first meeting when I showed him my photographs, I met Manikda again on the sets of Goopy Gyne. I was there for about seven or eight shoots. But even within such a short span of time, I saw the man in some of his lonelier moments.
Usually, Manik da never left the sets during lunch time. Since I was not a member of the unit, I couldn't accompany the others during breaks. As a result, I studied him from a distance, through my lens. Once I saw him standing alone and playing a dundubbi (kettledrum). On another occasion I saw him lying on the floor and looking at the ceiling; at times I would see him raising his hands above his head in deep contemplation. I noticed that a sign of his deep anxiety or serious contemplation was biting a handkerchief or the pipe. Sometimes he would whistle a tune, oblivious to the surroundings.

For my photographs of Manik da which show him laughing heartily, I am deeply indebted to my actor friend Kamu Mukhopadhyay. While I would take different positions --- sometimes sitting, sometimes lying, or even standing at precarious angles --- Kamu would stand behind me and imitate my pose, making Manik da break into a loud guffaw.
One morning I came to know that he was leaving for Santiniketan the next day by an early morning train, travelling first class. I bought a third class ticket and boarded his compartment. He was deeply engrossed in reading a book, I was sure he hadn't seen me. I clicked away. It was much later that I realized that he had seen everything. When the train halted at a station, he alighted, bought two earthen cups of tea and offered me one.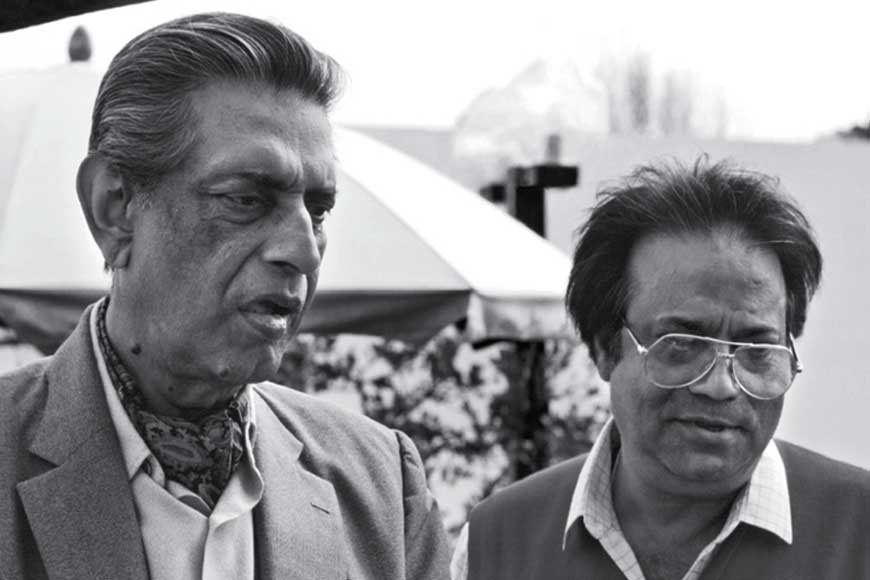 Manik da was an early riser. I used to visit him at his place at six-thirty in the morning. In fact that was the only time he was free and did not have visitors. Later on, of course, there was no fixed time for me to visit the house. His door was always open. He was always at work. I hardly ever saw him sit idle. Mani da would get ready by six and come to his drawing room where I would present him with all the contact sheets of my photographs. He would scrutinize these and mark the ones he liked. I still retain those contact sheets. There were occasions when Manik da would not tick certain photographs that appealed to me. When I asked him he would explain like a teacher instructing a student, why those were not good in all respects. Some shots might have been good but the background was not proper. This is how I learnt the art of perfect photography from him.
One thing surprised me then and it strikes me even now. Despite all the name and fame he had attained, he had an uncanny ability to guide any newcomer towards his goal. But he used to get annoyed if someone wanted him to demonstrate how to do something. His mantra was to 'do it yourself,' though he would act as a guide every step of the way. He would judge a man through his attempts and then guide him in a manner that he could easily follow. In my judgement, he was one of the best actors in the world. I can prove it through my photographs.
(to be continued)