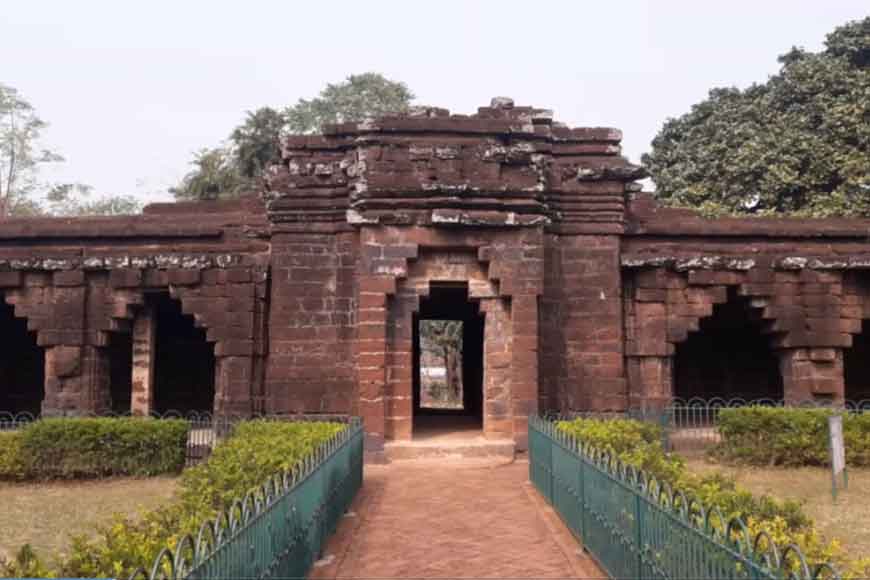 Normally, you would have little reason to visit Keshiary community development (CD) block. Located 40 km from Medinipur, the district headquarters, Keshiary forms an administrative division in the Kharagpur subdivision of Paschim Medinipur district. However, when we say you would have little reason to visit, we mean those who don't know what makes this area so special.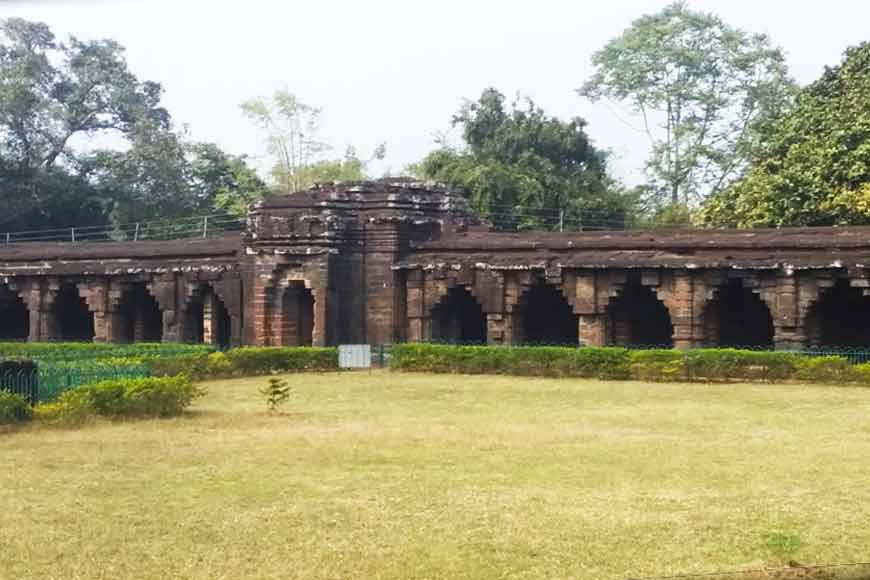 As you drive down the state highway, about 27 km from Kharagpur en route to Keshiary, turn left towards Belda and you will reach a village junction called Kukai, which is about 2 km from Keshiary. Turn right onto a concrete road, and drive on for another 2 km until you reach the village of Gaganeshwar.
It is here that you will find Kurumbera Fort, a fascinating example of the patchwork quilt that is the history of Bengal. With its small quarters and temples, the fort is a protected monument under the Archaeological Survey of India (ASI) and the Ancient Monuments Act. As you enter, you will come across a huge courtyard bordered by a pillared corridor and three spherical domes. There is also some kind of an altar in the middle of the fort, probably for sacrificial purposes.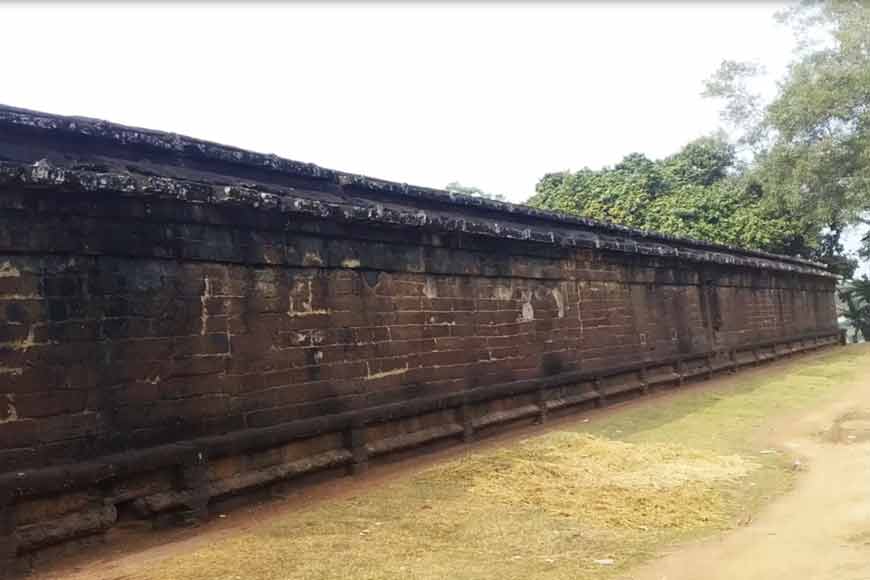 On the face of it, the entire monument resembles the architecture of ancient Odisha. According to an Odia inscription at the fort, it was built between 1438 and 1469, during the rule of the Surya Vamsi king of Odisha, Gajapati Kapilendra Dev. However, Kurumbera also has structures built during the Mughal emperor Aurangazeb's reign (1658-1707) by one Mohammed Tahir, according to another stone inscription.

Despite its protected monument status, however, there is practically no other data available about this fort. History tells us that in 1568, the Afghan Sultanate of Bengal and Bihar invaded Odisha, which at that time included the undivided Medinipur district, which became part of Bengal in 1752. After the Battle of Tukaroi in 1575, in which the Mughals defeated the Afghans, Odisha came under Mughal rule. The province (or subah) was divided into five 'sarkar's and the part that included Kurumbera went to the Jalesar 'sarkar'. A century later, acting on Aurnagzeb's orders to plunder and destroy temples, Mughal generals attacked many temples of Odisha, including those of Medinipur. Inevitably, it appears that the Kurumbera fort and temple complex was attacked and at least partially converted to a mosque.
The thing is, nobody can even say for sure why this structure is even called a fort. It contains a three-domed structure over a platform, along with the altar. The external pillars support a roof shaped like a flower. Circular pillars were used to the rear of the left-dome. The architecture does share some similarities with other medieval forts of Odisha, but lacks the basic characteristics of a fort, such as a safe storage space for weapons or ammunition, a fortified main entrance, layered walls, bastions, moats, watchtowers, or secret exits. It is difficult to see how soldiers could have hidden here for self-defence, nor is there any obvious place from which to launch a strategic attack.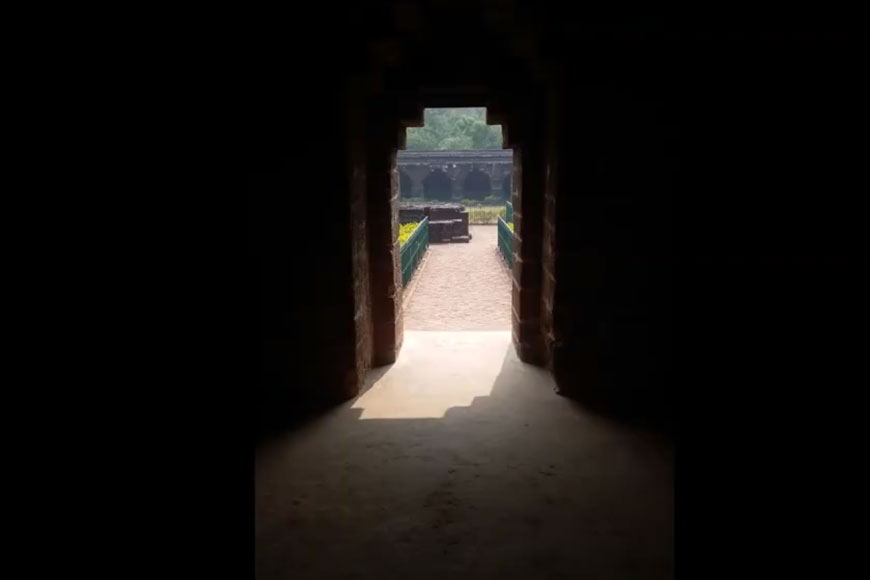 In fact, the structure appears more suited to public gatherings. In some ways it resembles a mosque, where the altar is placed at the western end so that the entire crowd may face in the same direction. But there is no documentary evidence testifying that it was ever used as a mosque, let alone a fort.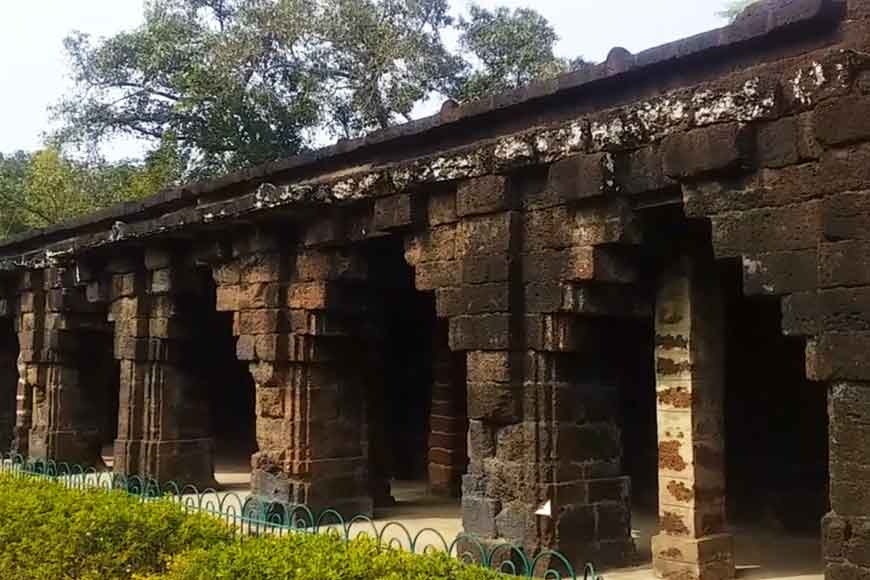 What we do have is a fascinating legend popular in these parts, dating back to the late 19th century. One summer evening, so the story goes, the 'zamindar' (landlord) of Keshiyari village, Padmolochon Dutta, was on his way back from a tour of inspection when it began to rain heavily. He took shelter in the abandoned fort named Kurumbera, old and dilapidated as it was. Waiting for the rain to stop, the zamindar was curious and began exploring the place. Coming across a room with its doors shut, he pushed them open to see three wooden idols - Jagannath, Balabhadra and Subhadra - inside the room. Asking around among the residents of Gaganeshwar, he found that nobody had an answer as to who might have placed the idols inside the room.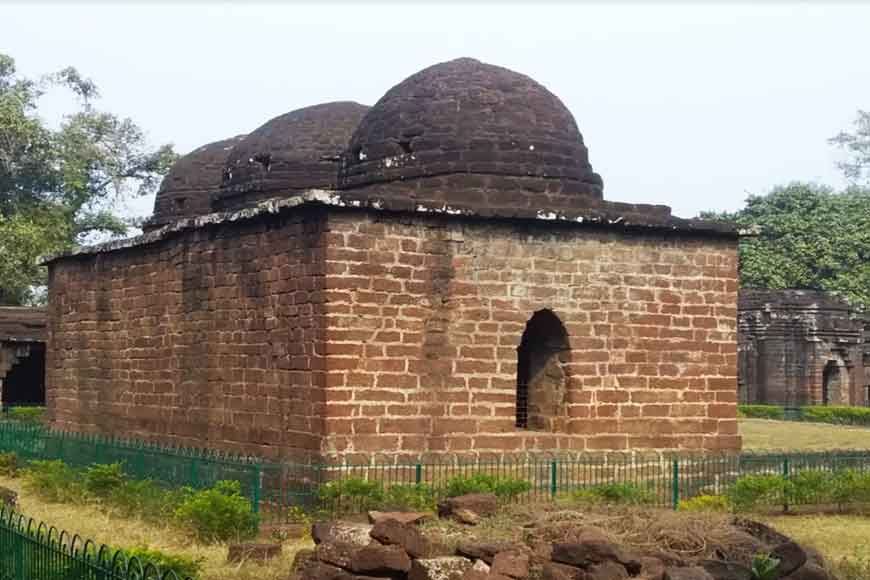 Deciding that the deities were sending him a message, Padmolochon took the idols back to Keshiyari. He constructed a temple for them and from then onward, they have been worshipped by the villagers and succeeding generations of the Dutta family. In fact, they are the center of a most unusual Rathyatra too, but that is another story.
Today, Kurumbera Fort is one among Paschim Medinipur's many tourist attractions. Why not visit it for yourself and decide what it could have been built for? The Mrittika Tourism Property (earlier Rani Shiromoni Paryatak Abas), run by the West Bengal Tourism Development Corporation, offers very good accommodation. For bookings, contact +91 97325 10074 or tourismcentrekolkata@gmail.com.