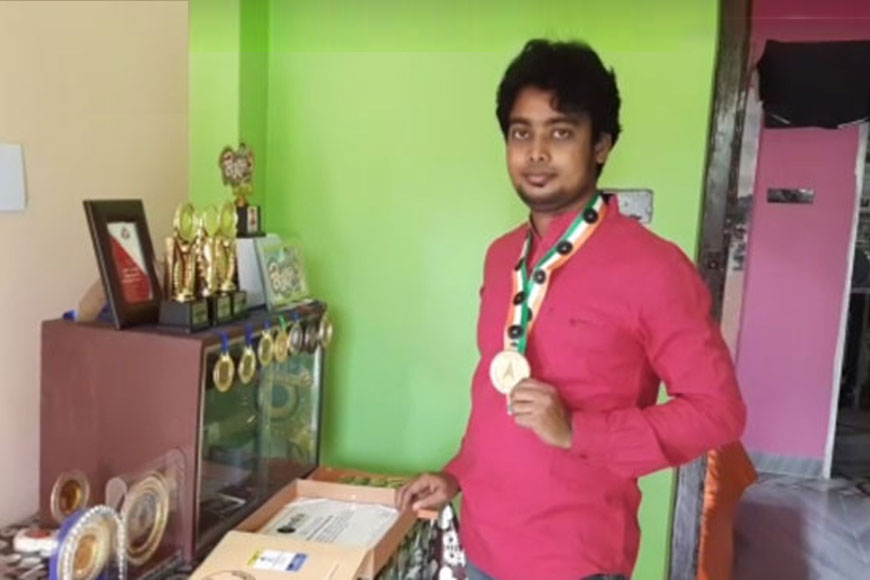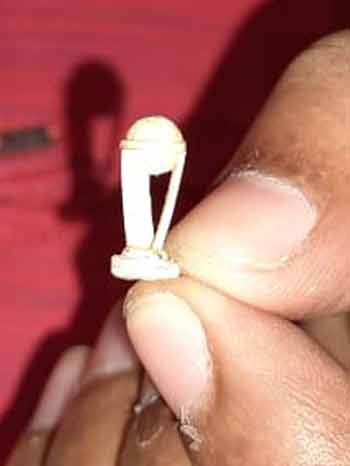 As the world reels under corona virus pandemic and despair and despondency are the reigning moods across homes amid lockdown, Suman Manna's feat has ushered in a whiff of fresh air and has given Bengal a cause to rejoice and celebrate. Manna, a school teacher from Thakurda village in Belda, West Midnapore district, has created the smallest replica of the ICC World Cup with a single matchstick – an achievement that has confirmed his name in the India Book of Records. The height of the replica is only 12 millimeters and it took him only 50 minutes to carve out the miniature replica perfectly.
Although Manna is a school teacher by profession, he has always been dabbling with art and craft and has been aiming to create something unique. He wanted to study fine arts but could not pursue due to financial constrains in the family. But he did not let any impediment come in his way to fulfill his dream and do something different. He first tasted success as a comedian. He represented his district, West Midnapore, as a stand-up comedian in a popular vernacular television channel. He utilized his writing skills and contributed to dish out a number of scripts for various channels.
One day he was dabbling with a match stick and started carving it out in the shape of the ICC World Cup. Once he completed the entire replica, he decided to inform the Indian Book of Records (IBR) and sent an e-mail. Manna took up the challenge and made the replica live in front of a camera, following the guidelines provided by IBR. He completed his task in 50 minutes flat. The height of the replica was measured and it was found to be 12 millimeters or 0.47 inches. He promptly dispatched all other documents he was asked to send for review. IBR confirmed Manna's work was officially recognized and registered in the Book of Records. As a recognition of his unique creation, IBR sent a medal, a certificate and a letter of recognition reached Manna on April 29 via post.
Manna was happy that he could do something that made his family, his district and his state proud. He says his mother has been his pillar of strength and always encouraged him in his various endeavours. But not one to sit on his laurels, Manna has already moved on to plan his next project, this time on an even larger basis. He is working on two projects simultaneously and this time his eyes are set on the Guinness Book of World Records.