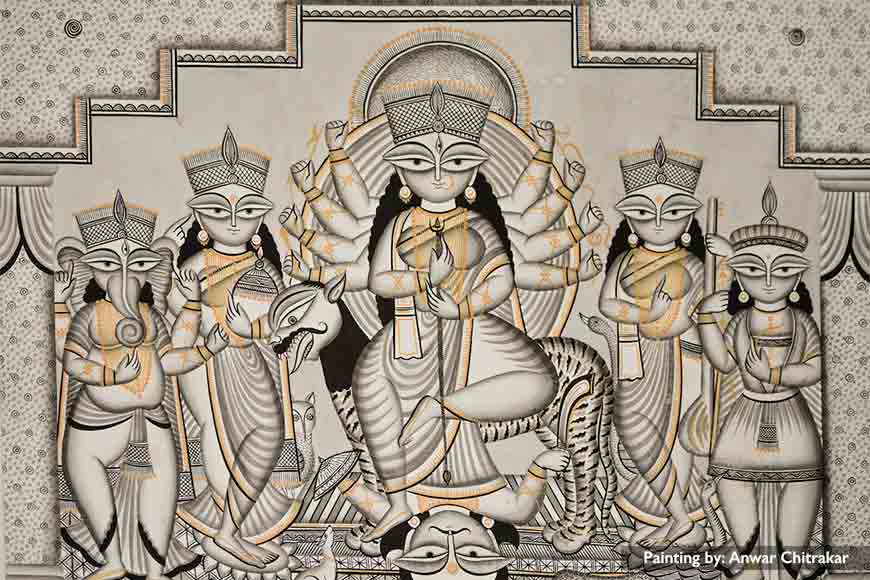 When a religious festival goes beyond the concept of idolatry, then it is the rustic touch of Mother Earth that weaves a connect through the extravagance of celebrations. Every part of Durga Puja had for ages celebrated that distinct call of the soil, the essence of homecoming. So, it is not surprising, that a rare and eclectic folk idiom flourished in Bengal during the Mughal era, know as Durga pata painting. The bright earthen colours of the pata presented a visual grandeur and a rustic charm, that was so much an intrinsic part of the festive essence. Unfortunately, the pata tradition is almost on the verge of extinction, with a few artists in different districts still holding on to this rare form of painting and some royal households to their ancient traditions of worshipping Pata Durga.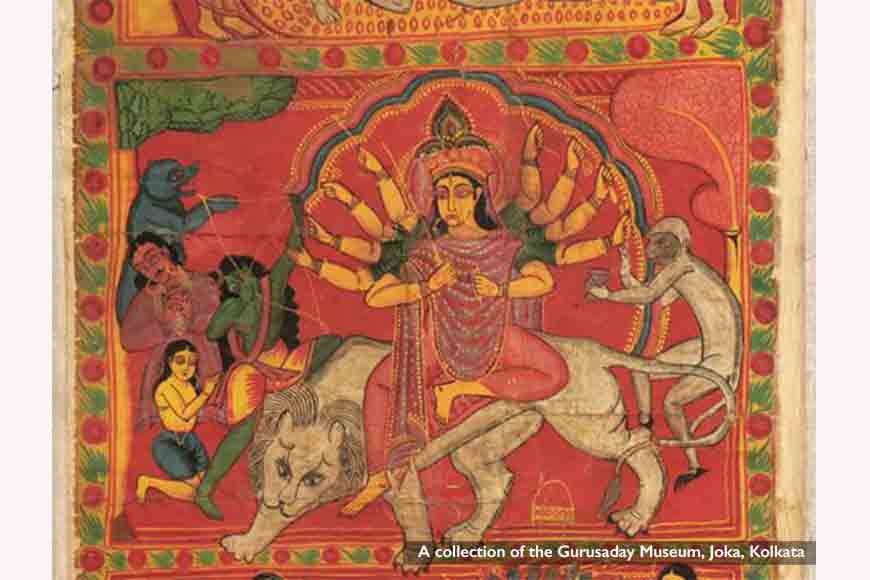 Durga in the Ramayana pata
A stream of dynasties, ruling locally and over India, consistently influenced the sociological and religious existence of art forms of Bengal. Though Bengal's pata paintings have a comprehensive and unanimous character, they do differ in their approach and local essence. The patas express an invariable intermingling of religious teachings and sentiments, that synthesized with the sociological matrix of different districts, such as Midnapore, Bankura, Birbhum etc. The subjective dispositions of these patas are also versatile --- they have elements of different religions existing in harmony in India, including Hinduism, Islam and Christianity. They are testimony to a plethora of local Gods and Goddesses who originated as a part of sociological existence of locals and their faiths.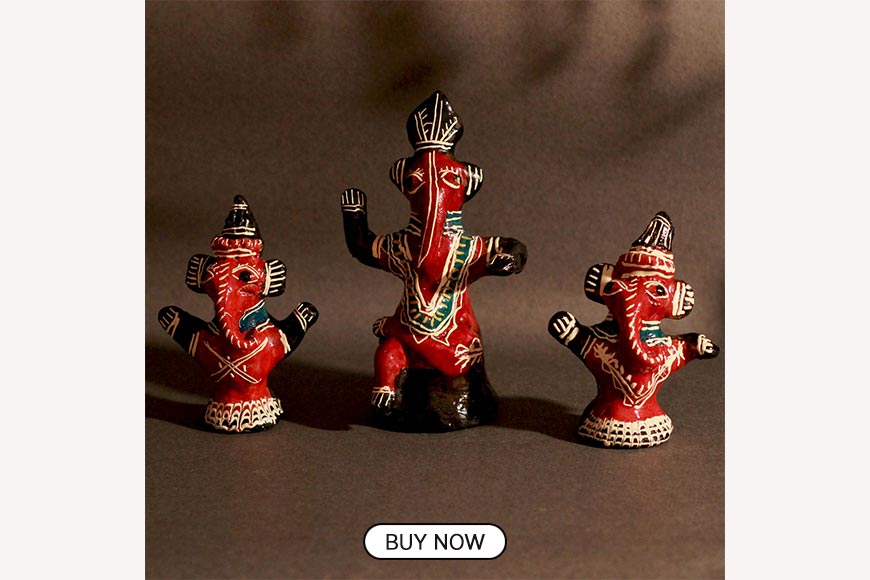 Interestingly, this art form has a secular mosaic and reflected political upheavals as well as social intricacies of the times. Patas like Jishu Leela, Ramayana pata, Pir Gazi pata, patas related to Hindu deities were in vogue in ancient Bengal. Durga pata painting is conventionally interwoven with celebration of Durga Puja in Bengal and its key element lies in the Bengali culture of revering Mother Goddess. Characteristics of Durga pata differ as time and location change and even according to family beliefs of patrons and artistes.
Patachitras simply amalgamate with the chalchitra and contain least number of figures. Here Lord Shiva is seen in a reclined position and occupies maximum space, hence reducing space for other figures. Such patas gave birth to a new genre of exclusive chalchitra style, known as Hatshderandi chalchitra, where artists play with blue colour and use them in the background, while for glamorous ornamentation, they take to colourful ribbons. Colour filling process is apparently flat here. At times, they draw Lord Shiva in a sitting posture, surrounded by spirits, who are his followers.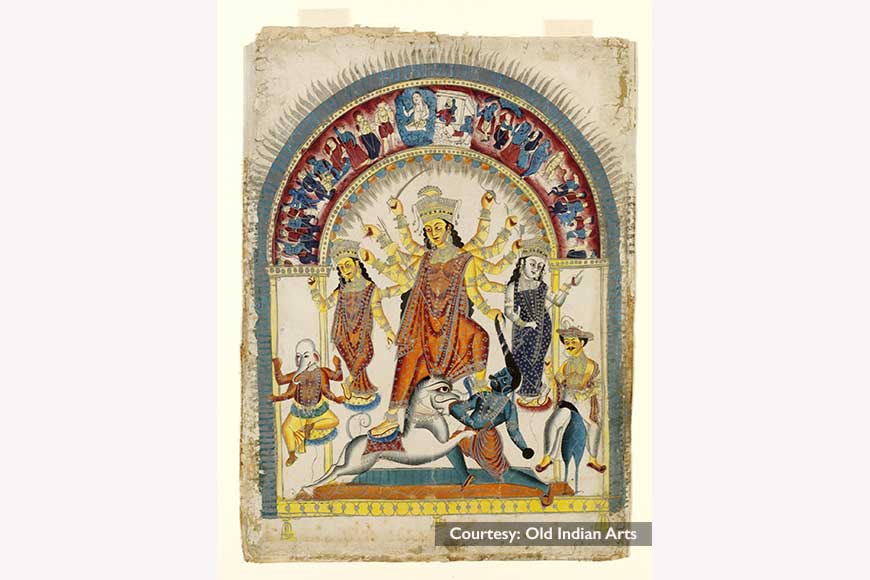 Durga with Mahisasura
Another unique pata worshipping ritual discovered in Bishnupur, came from the royal household of the Malla kings. Painters of this form of pata belong to Fauzdar sect, who were sent by Mughal emperors to Bengal on military duty. Here Devi emerges in three different forms: Bara Thakurani, Mayitan Thakurani and Chhoto Thakurani. Bara Thakurani is dressed glamorously in a Lakshmi Bilash saree. The patas also have Dasavatar painting, and Goddess Durga is set in a niche, that is in the form of an engraved arch, very similar to Islamic architecture. The Fauzdars were famous for making Dasavatar Tasa (Dasavatar cards) and received great patronage from Mughal rulers as they continued the tradition of making of Ganjifa Cards, a game brought from Persia by Mughal emperor, Akbar. Their Durga pata has distinct resemblance to Mughal miniatures, in their formal delineation.