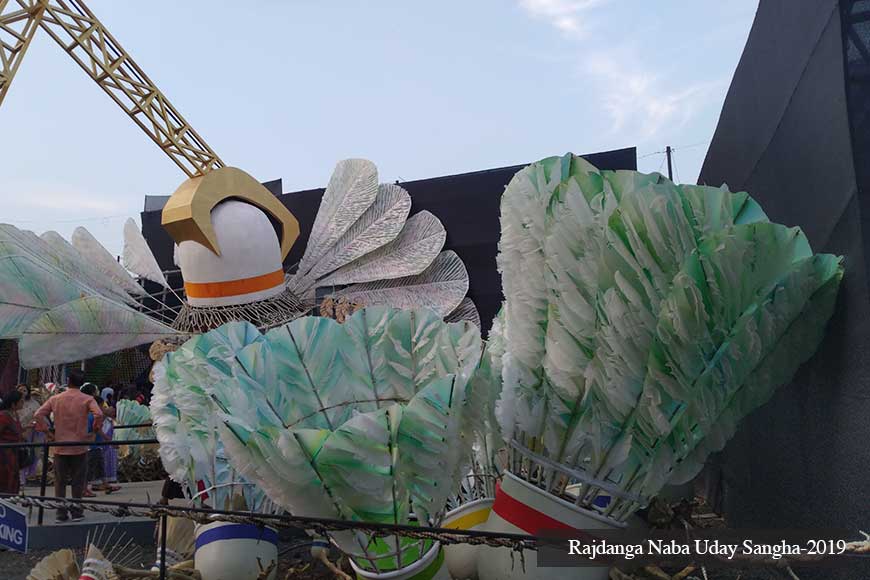 Economic boom during 1990s, regulated inflow of sponsorship and investment of the corporate world in Durga Puja. More money meant more glamour and original flavour of tradition finally gave way to turning Durga Puja into the world's largest public installation art form with a separate identity. Durga Puja took the form of a carnival, rather than a festival. Carnival as a term denotes a mixture of rituals, games, symbols and various amplification of carnal, which represent an alternative of 'social space' for freedom, adequacy and equality. All participants at a carnival are equal: rich or poor, young or old, devoid of any sexual discrimination. Carnival removes disparity between people at large and they mingle beyond caste, class and religion. In Bengal, carnival comes with entertainment, social and cultural activities, display of folklore, music, dance or other performances, celebrating the festivities and seasons of Bengal. This idea of a carnival is often reflected through the artist's eyes as he conceptualises a theme puja pandal. The class less religious fervour of Durga Puja helps an artist to look beyond a 'structured society' and celebrate life, a concept that takes Bengal to a global platform.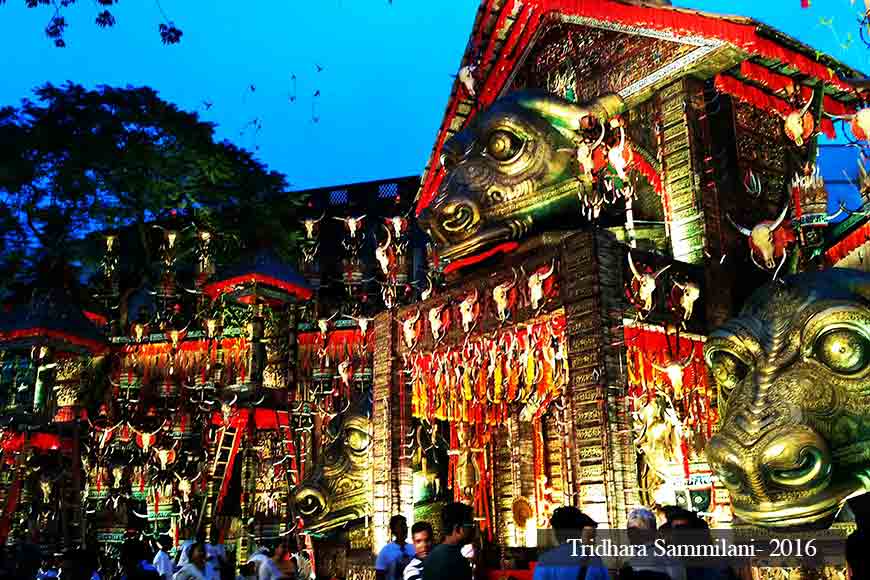 The mingling of hearts during puja irrespective of any divide, creates that longing for the puja to arrive. Be it an informal para Puja or a traditional Bonedi bari Puja. Since time immemorial it has been a venue for the conglomeration of masses from different social strata and has become Calcutta's biggest public art event, riding on a wave of commercialisation and corporate sponsorship. The city takes enormous pride in this new artistic profile of the festival.
By the beginning of 20th century, innumerable clubs burgeoned in the neighbourhoods and colonies of Kolkata, primarily leading the national movement, against British rule. These Baroyari clubs acted as minor catalysts in accumulating huge strength among Bengali milieu in fighting imperial British rule. To approve their significance within societal matrix, they celebrated Durga Puja or worshipped Shakti. After independence, they became important centres of social activities, helping in the development of a new nation.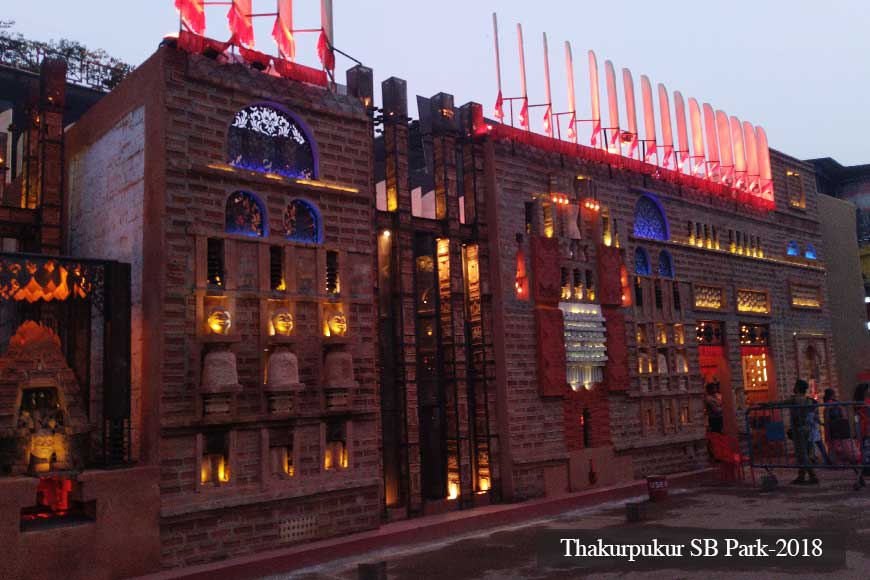 Since late '80s, pandals are no more simulation of lavish villas made of cloth and bamboo, but innovative display of art work. Along with its religious and mythical identity, Durga Puja always had a strong secular aspect, that helped it to turn into a carnival, rather than a religious celebration. A theme pandal made by a professional artist is not always synonymous to installation art. Installation is a mode of representation in modern art, that emerged at a specific art-historical moment in the discourse of the avant-garde. As the festival was for public viewing, one's artistic freedom in designing a pandal was significantly compromised.
Along with transformation of pandals, came revival of folk art and incorporation of indigenous designs and patterns such as Alpona, scrolls or patachitra, age old folklores and traditional religious performances such as Gajon of Lord Shiva, Puran Path, Chandipath, 'Durga panchali' etc. Artists are inclined to folk art idioms and experimentations with different languages of expression of modern art. For example, amalgamation of patas from Midnapore with clay idols known as Dweeplaksmi putul with traditional dolls from Rajasthan. At the famous Bakulbagan Puja, city's well-known artists had once created a new order of art idols. These days, a wide range of artists and designers not just design a pratima, but get involved in the conceptualisation and execution of the entire tableau around it.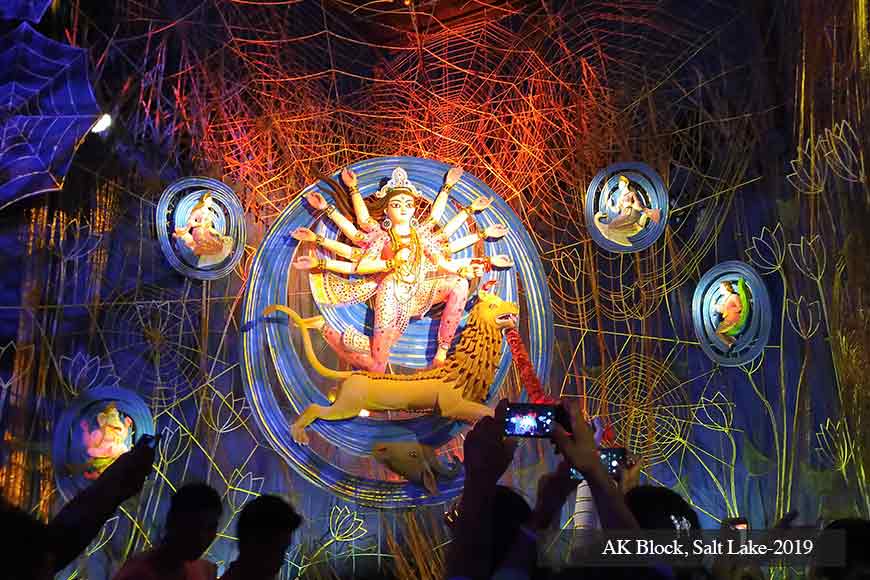 The subject and execution of theme pandals exhibit a profusion of talent, where every conceivable material is transfigured in the hands of skillful artisans. Something as commonplace as sheets of tin turn into an artistic masterpiece, when twinkling lights are placed on intricate patterns. Clay pots, plants, lamps, grain, dolls, vinyl records, masks and even soap and biscuits have embellished pandals over the years, with word-of-mouth attracting throngs of onlookers to the most ingenious ones. However, over the years, the craze for competition, awards and publicity have invaded the true essence. The festival has now turned into Kolkata's biggest consumerist carnival and public art event.
Story Tag:
Durga Puja, Festivals of Bengal