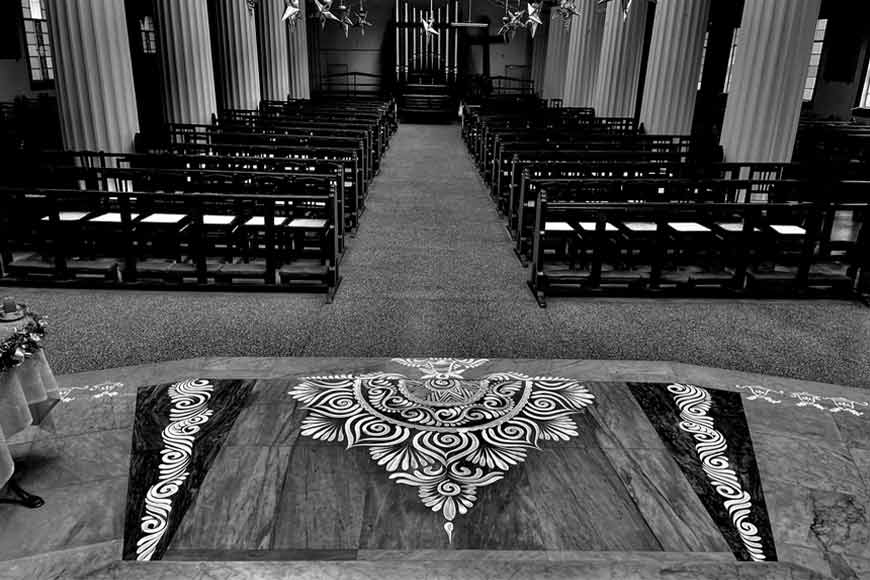 Conceived by a Muslim. Carried out by Hindus. On church property. All the activity centring around a quintessentially Bengali art form.
Confusing as it sounds, the explanation is simple. Veteran journalist, communications consultant and social activist Mudar Patherya has quietly begun yet another campaign to not only beautify our city, but to drive home a few messages about art, heritage, social harmony, and togetherness that we could all do with.
Those familiar with his earlier campaigns will know of the electricity boxes which Patherya and his team turned into their canvases, covering them with murals of Bengal's greatest cultural icons.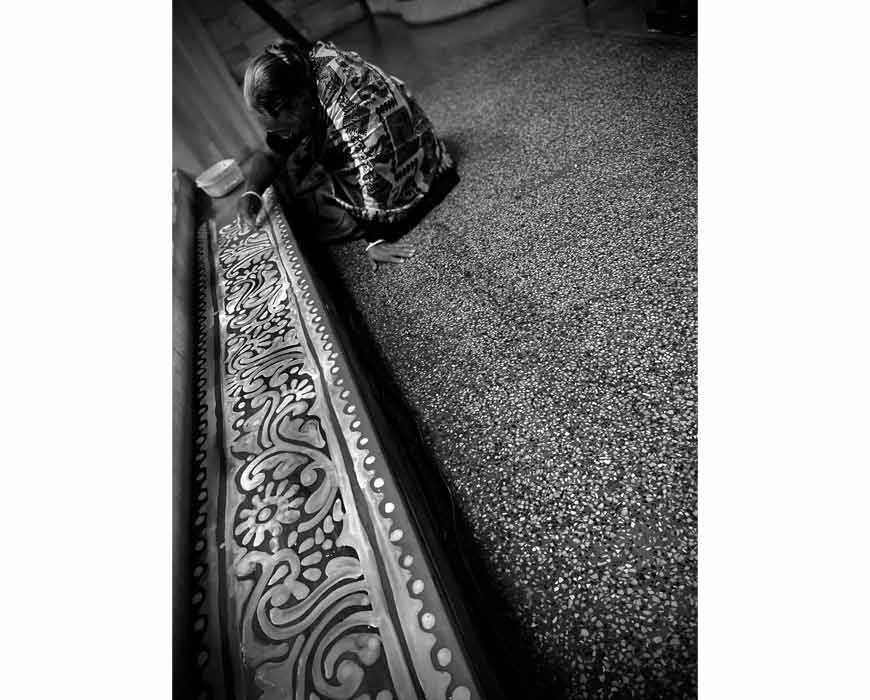 Now comes the alpana attack, Patherya's mission to cover as many parts of the city as he can with this most traditional of Bengal's art forms. Like most of his other projects, this one, too, is a citizens' initiative. For those not in the know, the 'alpana' (or alpona) is the equivalent of the north and south Indian rangoli, though predominantly white in colour unlike the rangoli, with designs drawn on a hard surface using a thick liquid paste made of rice slurry.
In the lead up to Christmas, Patherya and his team comprising artists Ratnabali Ghosh, Prasanta Sain and Lipika Mookerjee have decorated the altar of Sacred Heart Church in Dharmatala with alpana motifs that have transformed the church's interior into a magical blend of traditional Christian symbols and Bengali folk art.
"We thought we would ask Father Hansel (De Souza) for permission to draw outside the church or maybe along the sides. But he took us right to the altar!" a still astonished Patherya exclaims. "And as you can see, the effect has been stunning."
Stunning indeed. So much so that Sunil Lucas, the friend who connected Patherya to Sacred Heart, then suggested the same be done for St Thomas' Church, Middleton Row. And happily, this heritage church is about to get its own alpana tomorrow, just in time for its Christmas Eve midnight mass.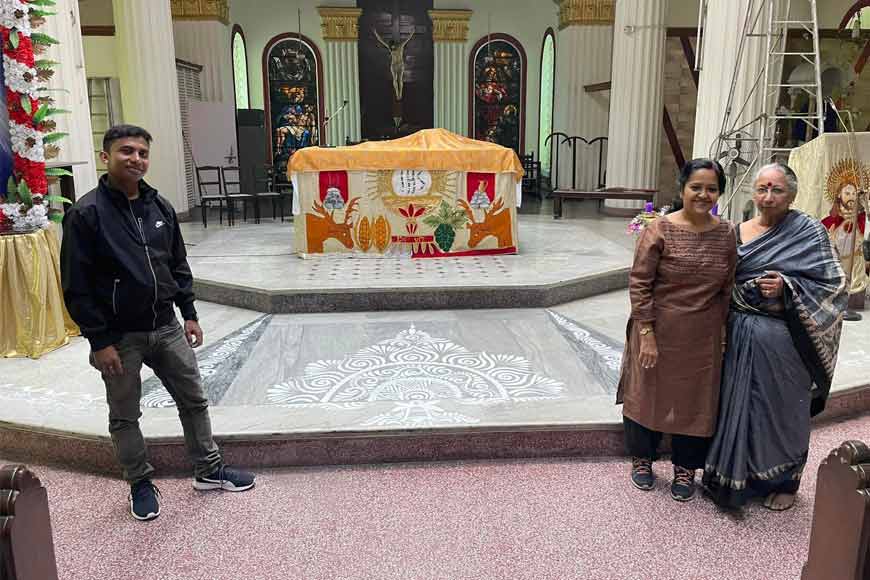 As Patherya points out, the issue is not merely one of religious harmony. To begin with, no matter how strong the association between alpana and Lakshmi Puja and/or Hindu weddings, for instance, the alpana has historically been a predominantly non-religious symbol which adorned village homes on various festive occasions.
The idea of using the alpana as a means to bind the city together came to Patherya after watching neighbours get one done for their home. He then got one for his own home, and then, as he puts it, "I thought shucks, if I can have one outside my house, why not other people's homes too?"

Typical of his dynamic, pragmatic, bustling nature, Patherya got his team together and began painting alpana outside random homes in the city, including one for a neighbour as a birthday gift. "She was so moved! She said nobody had done anything like this for her before," he says. "So much better than a thousand rupee tiramisu cake or something." And he laughingly adds that things have reached a point where neighbours whose homes he has not chosen are beginning to feel left out.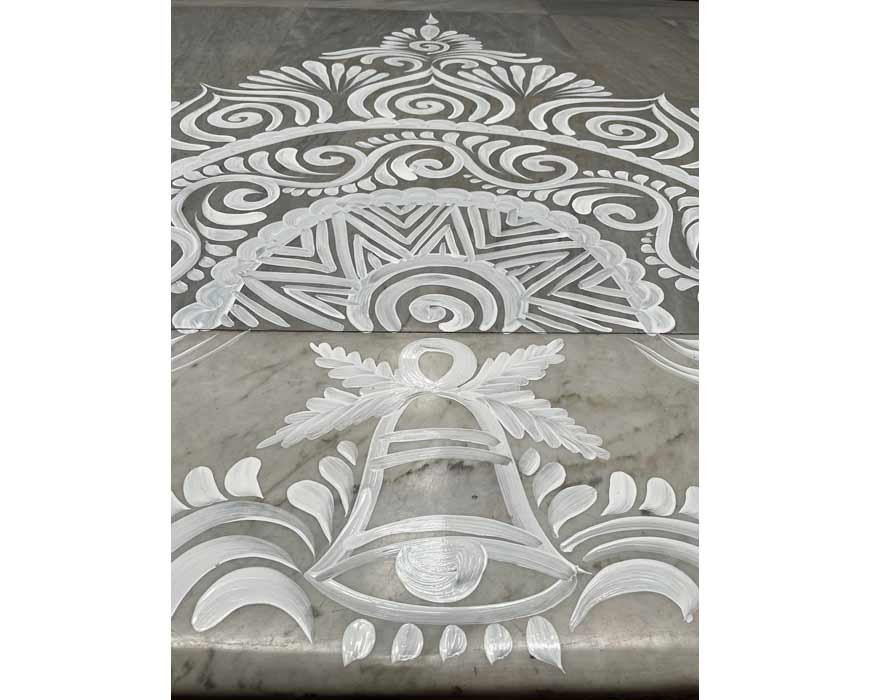 Much the same sentiment was echoed by Father Hansel for Sacred Heart Church. And this response has not merely validated the initiative, but encouraged the team to think of ways to upscale it.
For the foreseeable future, Patherya plans to introduce the alpana into the city's annual cultural calendar, starting with Swami Vivekananda's birthday and Republic Day in January and going on to festive occasions like Poila Baisakh and Eid. "As the Bengalis say, 'baro mashe tero parbon' (13 festivals in 12 months). I cannot imagine any city other than Kolkata where this initiative can be possible," he declares.
Has there been no opposition at all? "Nine times out of ten, no. People are initially surprised, then amazed, and then they call us in for a cup of tea," he laughs. Once again typically, Patherya is self-financing the project, as he has done on other occasions in the past, notably for the replanting of trees uprooted by Cyclone Amphan in Rabindra Sarobar and Subhas Sarobar in 2020.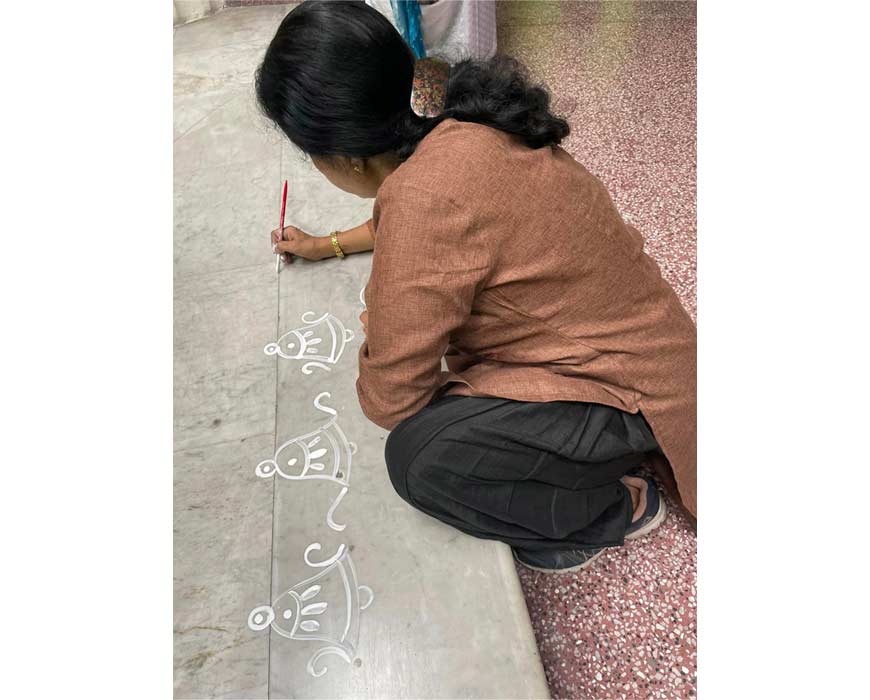 This is not merely an activity to engender religious or social harmony. It runs far deeper – encouraging us to change our ways of thinking, and to be proud of Bengal's artistic traditions. "We've done alpana with Mickey Mouse, we can do ones with Santa, we can do geometric designs for Eid, customise it any way we want. But I want people to be proud of this heritage. This is art that lasts, and it costs practically nothing." Patherya explains.
Long live to that.