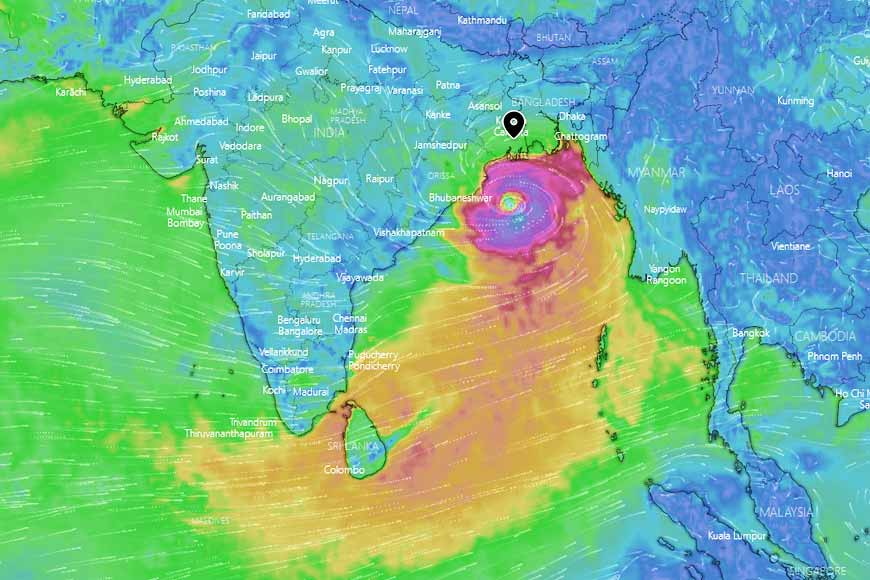 Cyclone Yaas may have changed course slightly to take in more of Odisha and less of West Bengal, but it is still expected to bring winds ranging from 65 to 75 km per hour to Kolkata, Purba Medinipur, and South 24 Parganas today and tomorrow. For much of today, it has been advancing at a speed of almost 16 km per hour. As per a weather office bulletin at around 2.30 pm today, Yaas was centered over the Bay of Bengal approximately 320 km south south-east of Digha and 320 km south south-west of Sagar Island.
So while fears of Yaas being bigger than last year's Amphan may yet prove to be groundless, the point here is different. While tropical cyclones arising in the Bay of Bengal, such as Yaas and Amphan, have always been part of life in our part of the world, they seem to have noticeably increased in both frequency and strength in the past few years.
Why are these storms becoming so frequent, and so intense?
In March this year, scientists from the National Oceanic and Atmospheric Administration (NOAA) and Princeton University in the USA, and University of East Anglia in the UK, reported that the intensity of cyclones, hurricanes and typhoons (all different names for a tropical cyclone depending on which ocean gives birth to it) might increase in the next century owing to global warming.

The scientists said their study had found that there could be a five per cent increase in maximum cyclonic wind speeds if the world warmed by two degree Celsius by 2100. Last year, Cyclone Amphan attained wind speeds of up to 190 kmph as it made landfall in West Bengal, and the prediction for Yaas is similar.
The other feature of these storms has been rising storm surges in the sea owing to increasing seawater levels. Digha and other coastal regions of West Bengal and Bangladesh have already witnessed such surges brought on by the gathering strength of Yaas. These storm surges heighten the destructive impact of a cyclone because the seawater floods coastal areas, damaging the soil and both animal and human habitats.
Among the other alarming impacts of global warming on tropical cyclones is the speed with which they intensify, which makes them unpredictable and difficult to track, as is currently happening with Yaas. Rapid intensification is broadly defined as an increase of maximum sustained wind speeds by at least 55 km per hour within 24 hours.
Last year, Cyclone Amphan displayed the same pattern of rapid intensification when it developed from a cyclone (wind speeds of 70-80 km per hour) to a super cyclone (wind speeds in excess of 220 km per hour) in just about 40 hours. Similarly, Yaas is expected to go from severe to very severe in just about 36 hours.
In his 2016 book 'The Great Derangement: Climate Change and the Unthinkable', renowned writer Amitav Ghosh wrote about the possible impact of a tropical cyclone on Mumbai, which is completely exposed to the sea and thoroughly unprepared to tackle the kind of brutal damage that such storms can inflict. Well, his prediction has begun to come horribly true with Cyclone Nisarga last year (Mumbai's first cyclone in 129 years) and Taukte this year.
According to Ghosh, a 2012 paper published by a Japanese research team predicted a 46 percent rise in the number of cyclones in the Arabian Sea, and a 31 percent decrease in the Bay of Bengal. Wherever they occur, the increase in their ferocity and rain-bearing capacity will remain a cause for worry in the foreseeable future, until world leaders get together to take serious steps to combat global warming.