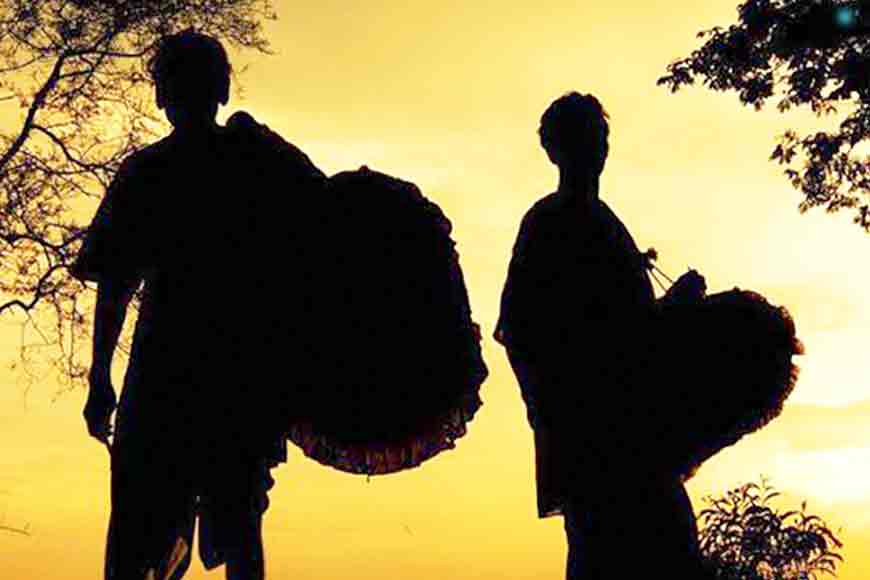 Against the dim lights of the Kalighat bridge past Kolkata's Poto Para, where decked up prostitutes hover around every afternoon, one gets to see these days hordes of dhaaki families couched under shades of old houses with their dhaaks. One can also hear the reverberating drum beats, welcoming notes to set the path for Maa Durga's arrival. Customers crowd around, fixing rates, just like during any other part of the year, one can see a few men here and there loitering about the prostitutes standing in a row. Puja organisers do a baina or a token advance to book the dhaakis for their Durga Puja. Little do we know at what rate, for the bargain is hard and the dhaakis are probably among the worst paid of all skilled workers who serve organisers during Durga Puja. They get anything between Rs 20k-30k depending on how big the Pujo Committee is and this is for six days of playing drums. For three people to survive in this city for six days, even if one sleeps within the pandal itself, requires atleast 5k. No wonder, this community is fast vanishing with the younger generation refusing to take up the lessons in drum beating as it is no more financially rewarding.
Haladhar Manna, a dhaaki I met last year at a New Alipore puja pandal made it clear the money does not even sustain them on their days in the city, let alone make a profit. Such people do not get any bank loans to carry on their profession, or even to make a good dhaak. But the sheer need to carry forward their forefather's profession keep them going. The history of the drum or dhaak of Bengal, goes back to Joy and Bijoy, two celestial brothers who are said to have descended from heaven and invented the drum. In Bengal, these drummers were important messengers as kings made announcements in villages and elsewhere through beating of drums. The drum also was used during hunting of wild animals by the king's game hunting team. Interestingly, Bengal's musical platform has seen evolution of twelve kinds of percussion instruments, of which dhaak has undergone little change. Interestingly, the body of the bulky dhaak is usually made from the trunk of a mango tree, or from Babla, Shirish, Neem trunks. Dhaak is purely a work of craft, and it can never be made industrially. That probably sets it apart and also sets apart master artisans from villages of Murshidabad and Birbhum known for making the best dhaaks.
Most puja organisers bother little to know about the identity of the dhaaki family that come to play every year. The bigger puja mandaps have their own dhakis who play every year, smaller ones come over to Sealdah station or Kalighat to take these men for four-five days on a contract. Unfortunately, like many other folk artists and craftsmen who are being recognised these days, dhaakis are performing artists who hardly ever got any recognition. The work is seasonal and most of them take up other jobs in their villages like farming, small trade, rickshaw-pulling or any other odd job. Yet they perform during the festive days and wear no sign of poverty on their faces. They seem to get into a trance while playing on their drums along with their little ones beating the kashor-ghanta with all their might. I remember meeting a shirtless boy on the fringes of a well-known Ballygunge Puja. When I asked why he was not wearing a new shirt like the others are doing, he said: "It will get spoilt in the sweat and grime when I start playing. I will go out with my grandfather who is the head dhaaki after the puja is over to the zoo and other interesting places of Kolkata." His name was Madhu and he was from Birbhum. His dark and thin body reflected every bit of poverty, but his eyes betrayed his situation, for he was smiling just like the pujo revellers were in their new dazzling attire and in the pride of playing an instrument that few can do.

Image Courtesy: RailYatri Blog