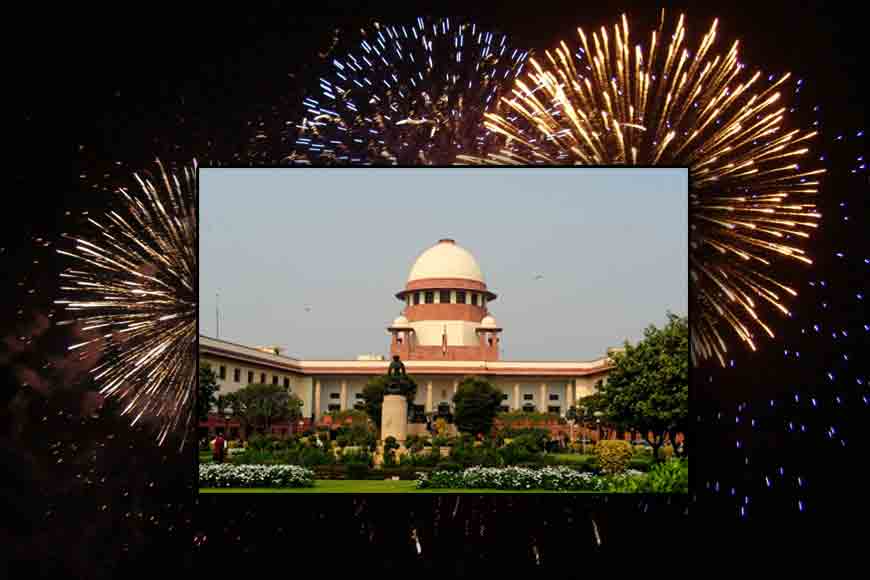 With the Supreme Court of India banning use of sound polluting fire crackers over past few years, Diwali in Bengal and specially in Kolkata has become a quieter affair. But if we are happy thinking, we have killed demons of noise pollution, hardly many of us know that the colourful sparklers and the 'lesser devil' tubris and charkis are spewing venom in the environment, that can be more lethal to your child's health.
As Kolkata based paediatrician Santanu Ray says: "Given the kind of situation Kolkata is in right now, the cutting down of time limit wouldn't help much. Crackers have already started making noise. If someone wishes to, they will do it in the days before Diwali, as they have already started to. If one would have lit 2 tubris before, he'll try to light 4-6 at a go in order to have the same fun. Until and unless people become more considerate and aware, nothing much can be done. Children are already falling sick. Breathing trouble is increasing with every passing day. Kolkata has almost become like Delhi. Unless there is a complete ban, no one can stop the distress of children and elderly people."
The smoke released by vibrant lights of sparklers contain a deadly concoction of chemicals (see table for details) that could be detrimental to the environment and to a child or adult's health. According to environmental experts, every year during Diwali, air pollution goes up by 50%. The sound pollution created by explosives is a temporary problem, but the air pollutants released by silent crackers remain suspended in the air for a long time and cause severe health issues in the long run, even weeks after Diwali is over.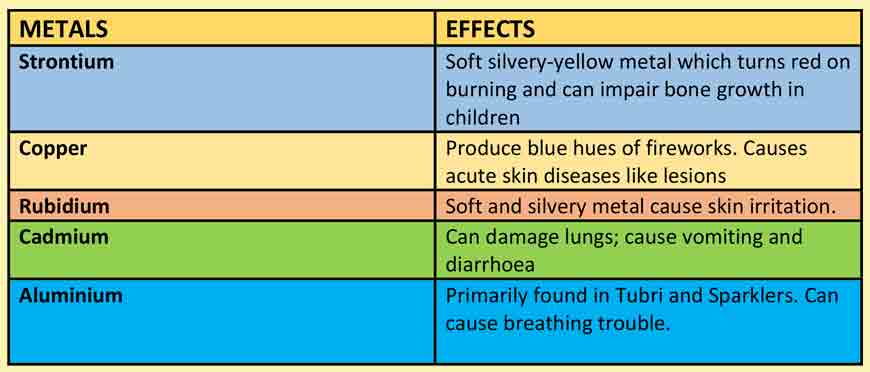 Take for example fuljhuris and rang mashals, their red colour is due to toxic chemicals such as strontium nitrate, sulphate and carbonate. Strontium is a silvery-yellow metal which when burnt, turns red and is highly reactive with air. Copper compounds offer blue hues and even if those dazzling lights are a treat to your eyes, they have severe impact on the respiratory tract and eyes. While, the green flame caused by Barium salts, cause gastrointestinal disorders and weakness in the muscles. Cadmium is another element in silent crackers which damages lungs and causes severe breathing problems. Even the muted white and silver hues of sparklers are due to magnesium and aluminium that can be carcinogenic when oxidised in presence of air. The smoke that hangs in the air is of deadly sulphur dioxide that are a sure causative agent of lung cancer.
Pune-based environmental activist Karuna Mehta, says, "Firecrackers must be avoided as they cause a number of health hazards. The smog after Diwali is an evidence of how much pollution it caused. People often suffer from respiratory problems such as asthma and bronchitis." According to a recently conducted scientific research, it has been deduced that the Snake Sting, popularly known as Saap Baazi in Bengali, is the most dangerous among silent crackers. And since it is quite popular among children, it is even more worrying. It takes about twelve seconds to burn and harms the vulnerable lungs of kids. No wonder, paediatricians in Kolkata observe a sudden spurt in respiratory diseases among children post Diwali and many have to be put on nebulisers too.
The magnitude of the problem thus is more than we can ever envisage and can hardly be stopped by court diktats. It's our awareness that can put to rest the smoke demons.