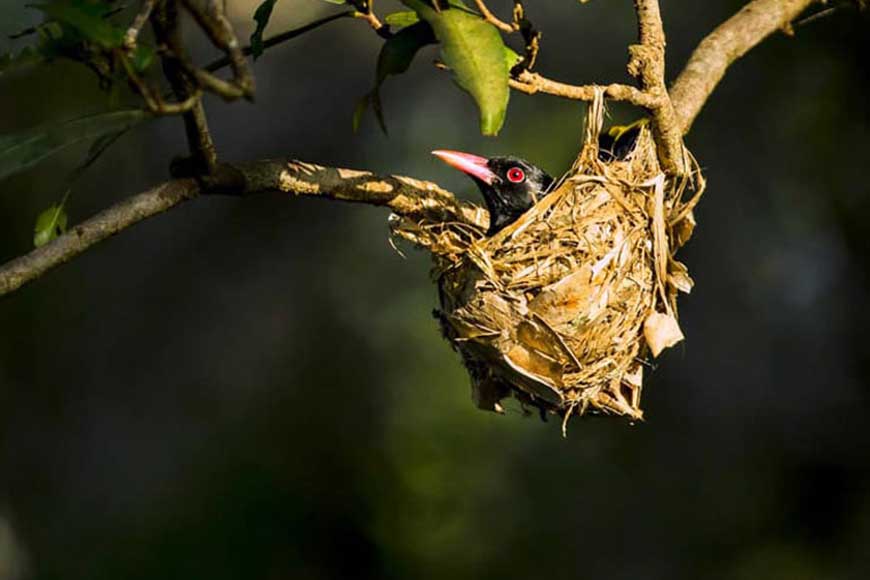 Cyclone Amphan did not only affect humans, and fell trees, it also caused a major damage to the birds of Bengal. Usually the nesting time of birds begin in Spring and continues till Monsoon. As a result many nests were already built on major trees of every locality. With the trees toppling due to the cyclone, the birds also lost their nests. To help the feathered friends get back their nests, Howrah Zilla Paribesh Mancha throughout the district carried out a nesting programme.
The nests are primarily made with earthen pots and leaves and twigs have been kept inside to closely simulate a natural nest. Many such nests are today hanging from trees in Bagnan, Amta, Shyampur. The locals with the help of this organization will also plant 10,000 trees in the area and will make more nests for birds. But such artificial nests are not new. Several organisations across India have tried to bring back birds to the urban landscape in this method. Take for example the famous Faridkot-based organisation, BEERH (Birds Environment and Earth Reviving Hand), that had taken up such a mission of building these artificial nests in rural and urban areas since 2011 and has built over 8,000 nests.
Such artificial nests provide a platform to common bird species for breeding. The bird collects the rest of the material and puts them in these nests. Usually such nests are a good breeding grounds for species like House Sparrows, Pigeon, Parrot, Myna, some species of Owl, Robin, and Indian rollers. The clay nests are not very costly. They come between Rs 50-100 depending on their sizes and different birds need different sized nests.
Various forest and environment ministries of different states are also using these nests as a lasting solution to the dwindling number of birds in urban spaces. As of now the people of Howrah are keen to bring back their feathered friends through such artificial nests.