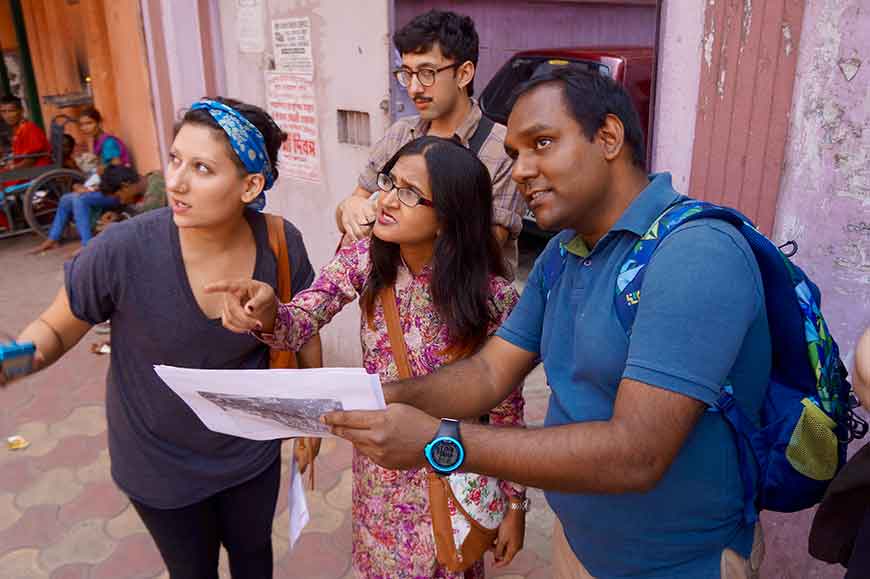 I finally broke the news to my mother a few days ago. I told her that I am leaving my stable job as a faculty member in archaeology at Kerala and moving back to Kolkata to start my own company which will raise community awareness about heritage through walks and workshops. She did not understand of course, and the result? Absolute P A N I C! How will I get money to live on? What will I eat? How can I support the family? More importantly, why am I doing this after working hard for years doing my MA and PhD in England?
The idea of doing something combining my skills and passions to benefit the community was not new, though. I have always wanted to do something like this. My education in England introduced me to the concept of community archaeology and sustainable, community-focused heritage management projects. I loved the idea of experts working with the communities and empowering them to identify record and protect their local heritage through targeted training. When I returned to India after receiving my Master's degree in 2010, I got an opportunity to lead a project under the West Bengal Heritage Commission and INTACH-Kolkata, in which we recorded the location and conditions of built heritage sites in 13 districts of southern Bengal. During this nine-month project, we recorded and reported more than 700 potential heritage sites, many of which were in alarming conditions. The scale and magnitude of how much was at stake struck me head on. I also realized that, although the intentions of the Heritage Commission, INTACH, the State Archaeology Department and ASI were good, there was a lack of funding, infrastructure and experts needed for large-scale conservation projects. If there was interest among the local communities about their heritage, they lacked the necessary training and expert support to document and conserve these structures or oral histories.
Ruins of Hetampur Rajbari in Birbhum. This was recorded during the 2011 survey of South Bengal's heritage under West Bengal Heritage Commission and INTACH-Kolkata
My PhD research exposed me to a different kind of heritage facing an even more alarming future. The research took me to small groups of surviving iron-smelter communities in the remote forests of Adilabad (Telangana), Netarhat (Jharkhand), and the Nilgiris (Tamil Nadu). In all of these places I found that lopsided and rapid development, coupled with the loss of an ancestral craft, has rapidly eroded the sense of heritage among these communities. Hence there is a chronic sense of loss of identity. As identities are constantly reshaped and redefined faster than ever in today's world, are we not all affected by the erosion of our connections to our personal, family or community heritage?
My vision behind Heritagewalk Calcutta is precisely this. Launching in February 2017, Heritagewalk Calcutta will serve as a platform for community outreach through heritage walks for the general public and capacity-building workshops in schools and other organizations. At Heritagewalk Calcutta, we believe that awareness about heritage must begin from an early age, and can be achieved through fun, interactive, experiential sessions. Children will be more interested in learning history if it can be personalized and made more alive. That way, a genuine interest and skill can be encouraged.
With our heritage walks, our objective is to encourage the people of Kolkata and beyond to explore the city's immensely attractive and complex history first hand. The prices for the walks are intentionally kept low so that they are affordable for a large section of the community. The walks will be personally led by me or by other historians who are knowledgeable and enthusiastic about Kolkata's history. Although we are starting with Kolkata, we eventually want to make our workshops and heritage walks available in the rest of West Bengal as well. I sincerely hope that this initiative will make a significant impact in empowering our communities to protect our local heritage.