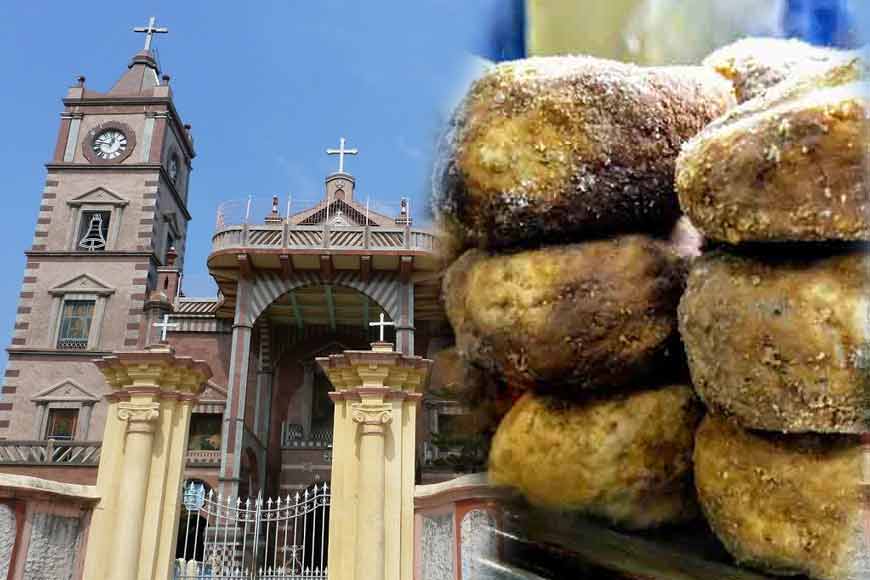 The European country of Portugal and Bandel, the beautiful town of Bengal, may be separated by continents, but are united by their gourmet taste! And that missing link happens to be 'Bandel Cheese,' that originated in in this town on the banks of the Ganga when it was under Portuguese rule. Almost a century after Vasco da Gama reached the west coast of India, the Portuguese started making inroads into Bengal. Soon, settlements came up along the rivers and the area around present-day Hooghly turned into a Portuguese stronghold. By 1599 a church was constructed on the banks of the Hooghly at Bandel, making it the oldest Christian Church of West Bengal.
But what makes this cheese so special? Bandel Cheese happens to be the 'mother' of famous Bengali sweets made with Chhana including sandesh and rosgolla. Traditionally, orthodox Hindus considered split milk unholy and not fit to serve Gods. The Portuguese settlers employed locals as cooks. Over the years, these cooks amalgamated local cuisine with continental fare and it was during this phase that the curdling technique was discovered. Further experiments led to the invention of Bandel Cheese which was probably made by the Mog or Burmese cooks under Portuguese supervision. Although the Portuguese were among the earliest of Europeans to arrive in Bengal, they never succeeded in establishing a stronghold here. But the they did enrich the land and taught the art of cheese making which has survived over centuries despite all odds.
Available in two varieties — plain (white in colour) and smoked (brown in colour) — Bandel Cheese comes in small rounds and is well-salted to be stored. It is made by separating the curd from whey with lemon juice. It is then moulded and drained in small baskets and smoked. Bandel Cheese is known for its dry, crumbly and smoky flavour. Also, it is highly aromatic and fresh as it is sold in circular flats, straight from the production house. They are great for a salad, pasta or risotto. As bizarre as it may seem, Bandel Cheese is both crumbly and delicious. Today, the production of this variety is concentrated in the towns of Tarakeswar and Bishnupur in Bankura district.
Connoisseurs of cheese may find different varieties of cheese at different malls and niche shops but Bandel Cheese is not easy to come by. Two stores in New Market, J Johnson and Mallick & Sons, both of whom have been selling cheese for generations, continue to sell both versions of the Bandel Cheese. Stacked in glass boxes, both versions still compete with global heavyweights like the Danish blue cheese and Dutch edam and not to mention the ever-popular cottage cheese (paneer).