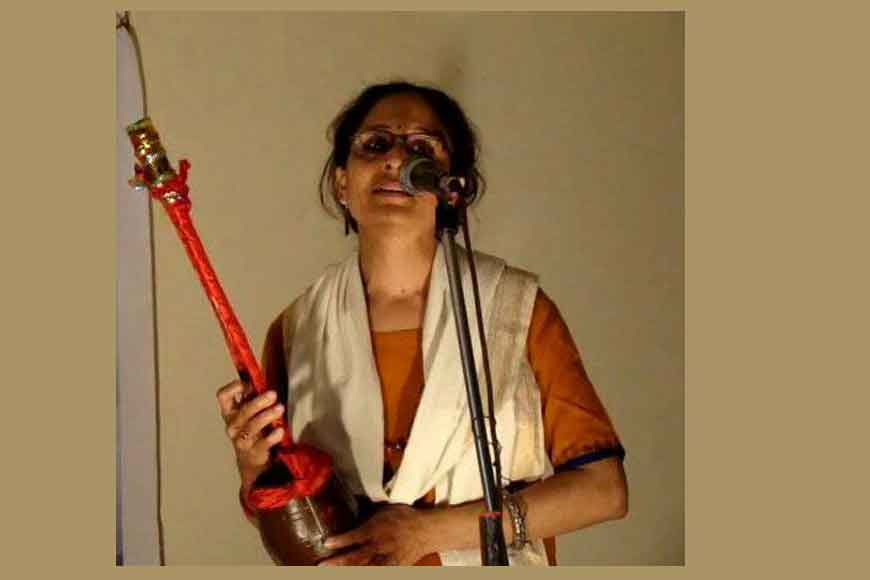 • What drew you to Bengal's folk art and songs?
Being a resident of Santiniketan, folk art comes naturally to me. I started learning music at the age of 6. My first teacher was a folk singer in All India Radio. Later, I moved on to Indian Classical Music and Rabindrasangeet. Baul songs came much later.

• When did you start Baul songs and why? Was it a form of inspiration?
Rabindranath Tagore's Gora, where there was a mention of a Baul, singing, khnachar bhitor ochin pakhi, gave me the inspiration to learn baul songs. As a student of Visva Bharati, I would listen to the great Baul musicians, such as Purna Das Baul, Sanatan Das Baul, Basudeb Das Baul, Paban Das Baul and others. But the thought of learning this particular genre did not occur to me, may be because I was into academies then. It was a calling that awaited some maturity.
I started learning baul songs ten years back. Basudeb Das Baul was my first guru. I was mesmerized at the philosophy and thoughts that lay deep within the simplest of lyrics of the songs. Gradually I came to understand that the deepest of allegory in the spiritual journey remained in the songs composed by Lalon, Hason Raja, Gagan, Haurey Gosain, Radha Ramon and others. That was the point when I felt Mahajan Padi gaan composed by Baul philosophers would be my subject. I started visiting gurus in different parts of Bengal. I went to meet Sanatan Baba in Khayerbuni, Bankura, Mansur Fakir in Nadia, Baul sadhus and gurus in Kushtia, Bangladesh, Sadhan Bairagi and Maki Kazumi, Bhajan Das Bairagi, in Haat Gobindapur and Amrul, Bardhaman. I met Parvati Baul in Santiniketan. Joideb Kenduli annual fair in January every year has been my pilgrimage long since. This is where I met Tun tun Shah and Bidhan Baul of Bangladesh, Bedana Fakirani, Halim Fakir and others who are into the Baul life till date.
• How do you think Bengal's dying folk forms such as baul songs can be revived?
Folk arts of Bengal is dying due to over urbanization. This is inevitable. The least we can do is to stop the Bauls from migrating to cities and urban set ups. For this they need to be supported and encouraged to stay in their place of origin and follow their way of life. Researchers of folk art and music and funding organizations need to visit them in their akharas and villages. Funding agencies for folk forms need to be generous in supporting this music form. The authentic resource persons and Baul gurus should be invited to share their philosophy and thoughts in seminars and fairs and encouraged to maintain the originality of their art form.
• Are you doing anything to help bauls?

I try to promote Baul, Jhumur and other folk musicians in my own small way. I too see to the fact that they maintain their originality in their form and musical accompaniment to the extent it permits. We often have to compromise on the use of folk instruments in our performance, which I don't like. I also work towards the promotion of tribal art and craft, which has a rich tradition in Birbhum, Bankura and other districts of Bengal. I support the movement of the revival of folk art and music in my capacity as a humble learner and seeker.
• Where exactly do you perform? Do you stay with bauls?
I perform on stages, in akharas, Baul and folk fests, seminars on folk art and music, at private gatherings, art camps and elsewhere in Bengal, India and abroad. I stay in close proximity to Baul houses in Santiniketan in my private residence. I frequently visit their homes.
• Are you trying to popularize baul songs in other states of India and abroad?
I am trying to spread the beauty and the originality of Baul songs in India and abroad. I have performed in different states of India, such as Mumbai, Bangalore, Auroville in Pondicherry. I have rendered Baul and Rabindra Sangeet in many universities of Thailand.
• What do you suggest to revive Bengal's folk art, dance and music?
Talented folk artists struggle today, Kitsch art, copying of folk art, cheap versions of original folk art should be discouraged at every level of marketing. This has become widespread due to mushrooming of semi urban fairs and stalls and business ventures. The infiltration of urban artists and artisans copying folk art, dance and music, without putting their soul into it, is the greatest threat to folk art, music and dance. Folk art and craft is being destroyed by heartless and thoughtless over popularity. Extensive research on the form, the practitioners, the composers and artists need to be done. This needs involvement in a serious manner.