An unschooled singer who had no classical training, Kishore Kumar was God's gift to mankind - GetBengal story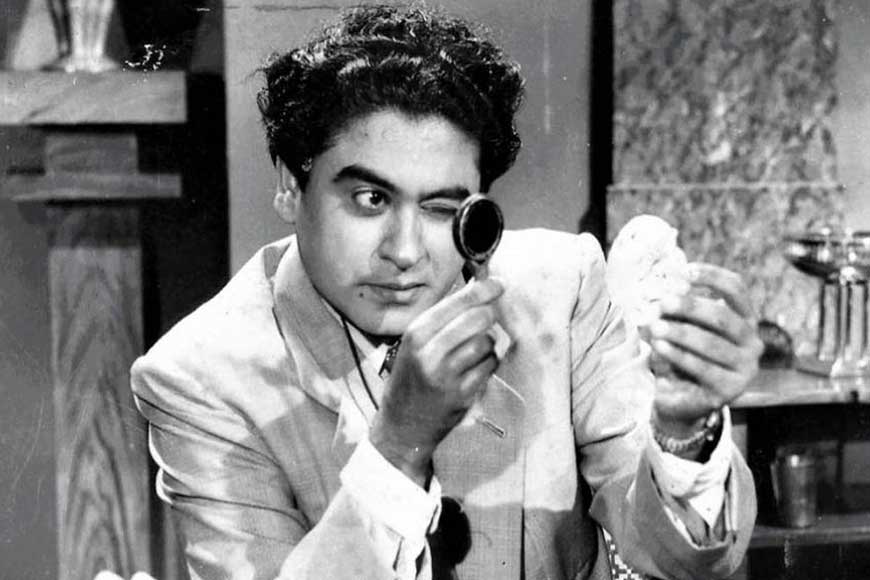 There are singers, great singers and then there is Kishore Kumar, God's gift to mankind. An unschooled singer who had no classical training, Kishore Kumar was a genius, a master of all trades — be it his mellifluous, deep baritone voice that could breathe life into any song, his quirky antics while recording those songs, or his charismatic onscreen presence that gave him the epithet of an actor who excelled at comedy. Though he is best known as one of Indian cinema's greatest playback singers, the multi-faceted Kishore Kumar was also a lyricist, composer, producer, director, screenplay writer and scriptwriter.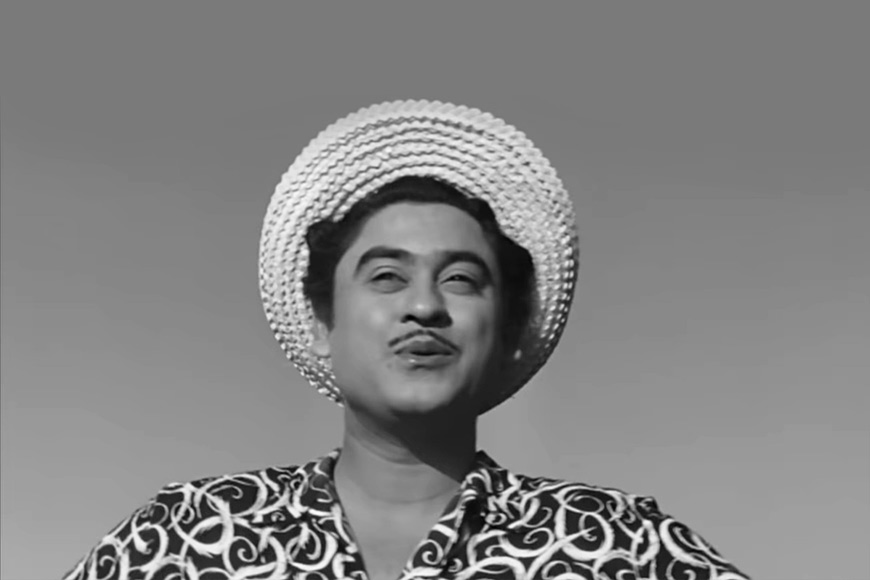 The gifted musician - Kishore Kumar
Apart from donning many hats in his successful career, Kishore Kumar lived an enigmatic life. His four marriages, eccentric behaviour and histrionics behind the scenes bear testimony to this. He was born into a Bengali Brahmin family on August 4, 1929 at Khandwa in Madhya Pradesh. His father, Kunjalal Ganguly was an esteemed lawyer and mother, Gouri Devi hailed from an aristocrat family. Kishore Kumar also known as Abhas Kumar Ganguly, was the youngest of four siblings. His eldest brother, Ashok Kumar, was a matinee idol in his prime and later reigned Bollywood as a successful character artiste. Anup, his other brother stayed away from the limelight although he forayed into tinsel world for a brief period. Sati Devi was their only sister.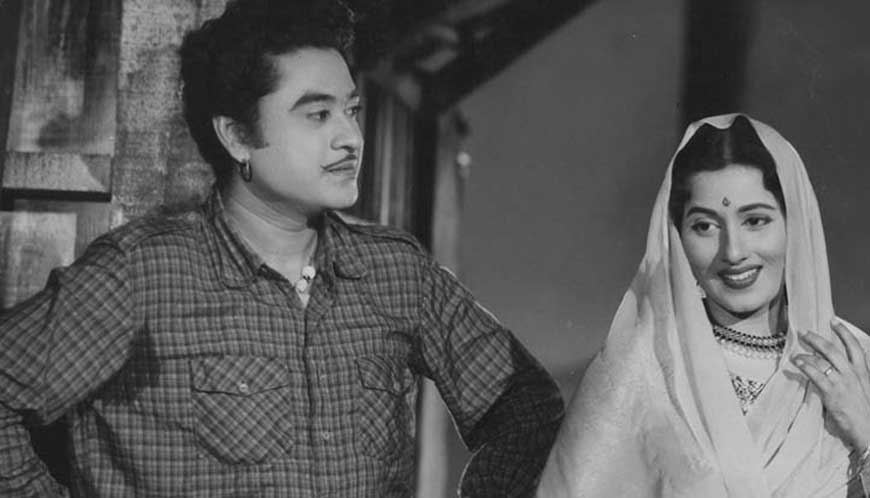 Kishore Kumar and Madhubala
Kishore Kumar was always a mischievous kid but he was extremely intelligent and his pranks were good humoured . When little Kishore was a student of Class V, he had his mathematics exam but he was not prepared at all. When he was given the question paper, he did not know anything. So, instead of submitting a blank answer sheet, he scribbled it with jokes, limericks, doodles and smiley faces for his teacher and submitted it!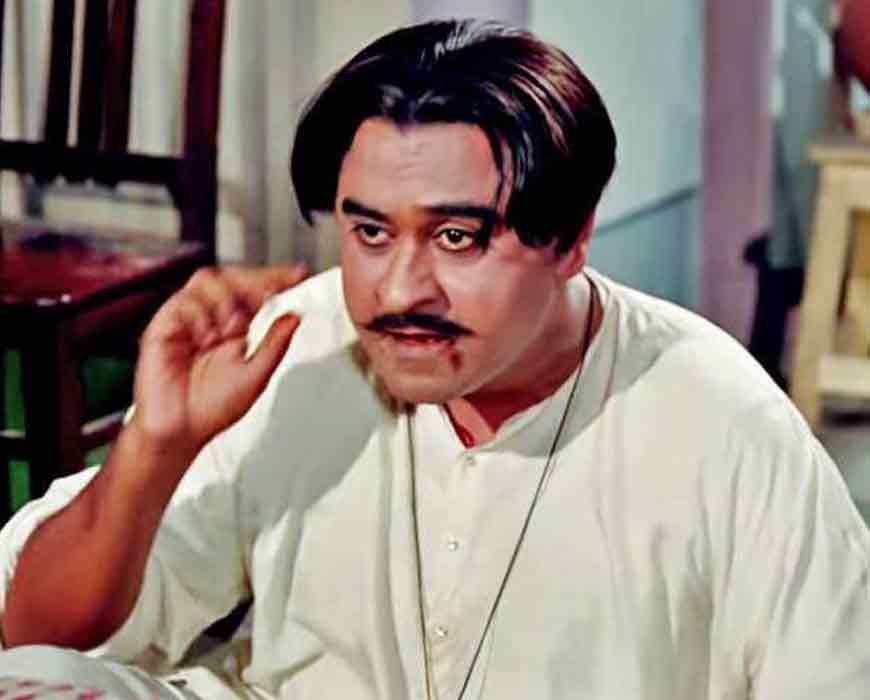 Kishore Kumar in Padosan (1968)
Kishore Kumar went to Christian College in Indore after his matriculation. During his college days, Kishore would often use his bench in the classroom as a tabla. This displeased his civics teacher who angrily told Kishore to stop wasting time with antics like these. Kishore promptly replied, music was going to be his future career. The teacher was zapped. . His college continues to remember the exploits of the actor-singer who was a prankster at heart. Few are aware that Kishore Kumar owed five rupees and 12 paise (he immortalised this fact in the famous song Paanch Rupaiya Barah Anna from the 1958 film, Chalti Ka Naam Gaadi) to his college canteen.

After college, he was packed off to Bombay where Ashok Kumar was creating waves with his brilliant acting skills. Kishore Kumar had a natural flair for acting so Askok Kumar literally forced him to don the greasepaint and face the camera. He had to obey his elder brother but his pranks with his producers and directors often made things difficult for Ashok Kumar, a much revered star in the industry, to handle. Within a short time, Kishore became renowned for his eccentricities. He once put up a signboard on the door of his Warden Road flat that announced, 'Beware of Kishore'. Another time, he reportedly kept shaving off parts of his moustache and hair till he was paid his entire fee by the producer who was forcing him to shoot without paying his remuneration that was agreed upon in the contract before the project began . At the doorstep of his home in Madhya Pradesh, he once put a board saying 'Mental Hospital' instead of the family name plate!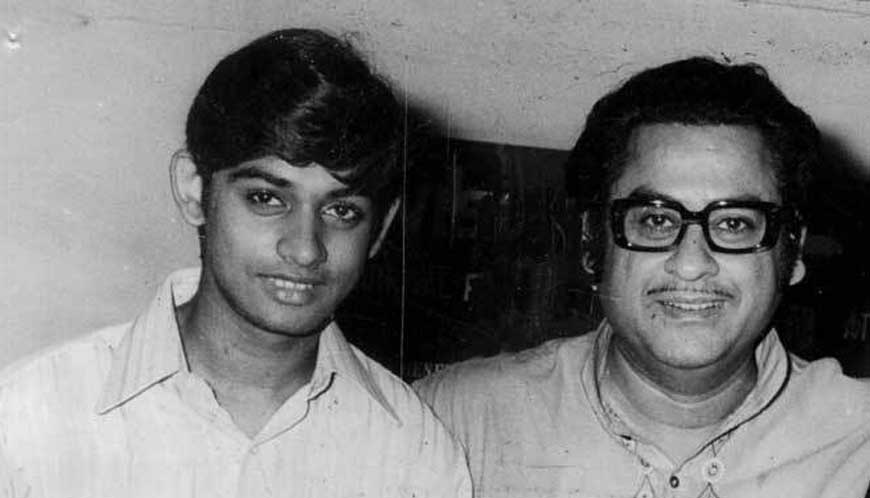 Kishore Kumar with his son, Amit
Once, when a director dragged Kishore Kumar to court for not following his instructions on the sets of a film, the singer decided to take him very seriously. One day, the director was shooting a scene in which Kishore Kumar was driving a car. Kishore Kumar continued driving till he reached Panvel because the director had forgotten to say 'cut'!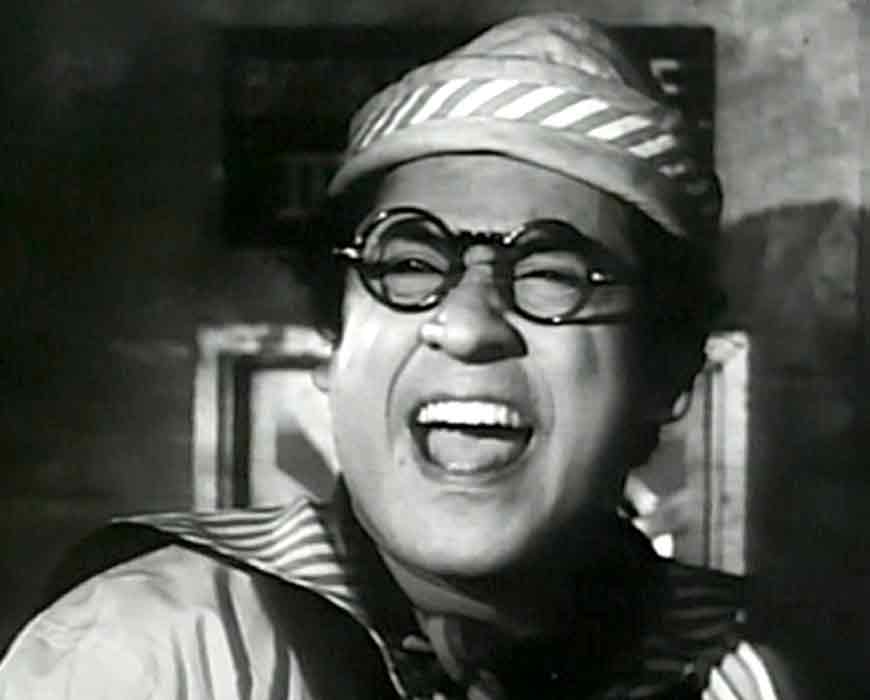 A scene from Half Ticket (1962)
He got his break as playback singer in 1948 when renowned music director Khemchand Prakash made him sing 'Marne Ki Duayen Kyon Mangoon' in the film Ziddi. Kishore Kumar was enormously gifted and could render any kind of song deftly although he never had any formal training in music. But not many are aware of Kishore Kumar's stage fright syndrome. He dreaded live shows and avoided them under any pretexts. During a fund-raising stage show organized by the Playback Singers' Association, it was made mandatory for every singer to be present at the show. Talat Mehmood was assigned to convince Kishore Kumar and fetch him to the show.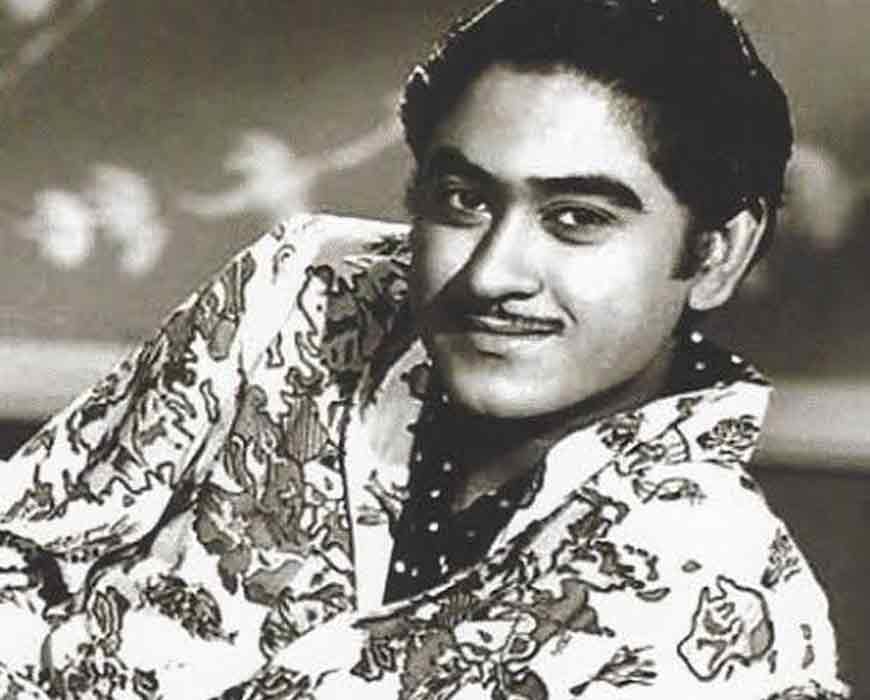 The evergreen personality
A devout fan of K.L. Saigal, Kishore Kumar deeply respected Rabindranath Tagore and was an ardent admirer of Hollywood actor-singer Danny Kaye. Portraits of these three idols hung at his Gaurikunj residence and it was his daily ritual to bow before the photographs in the morning. Interestingly, the singer considered the trees in his garden his closest friends and even had names for them! Kishore Kumar's unique style of yodeling was inspired by Jimmie Rodgers and Tex Morton. Despite the fact that he had no formal training in music, Kishore Kumar was nominated 19 times for Filmfare and won eight of them!
A musical genius who made insanity fashionable, Kishore Kumar left behind an unmatched legacy and a void that can never be filled or replaced.