Isn't it amazing that out of the many severed body parts of Goddess Sati, almost 13 fell in West Bengal and gave rise to revered holy pilgrimages? Shakti peeths (In Sanskrit Shakti refers to power and energy) are significant shrines and pilgrimage destinations in Shaktas, (the stream or sect of Hindus who are devotees of the Mother divine, Shakti). This Goddess of Power is the incarnation of Adi Shakti and is known widely by her three chief manifestations: Durga, Goddess of strength and valour, Mahakali, Goddess of destruction of evil and as Gouri, Goddess of benevolence.
Most of these shrines are in India, but there are a few scattered in the neighbouring countries of Nepal, Bangladesh, and one each in Tibet (Mansarovar), Sri Lanka and Pakistan. Numerous fables about how these peeths or shrines came into existence often do rounds. The most popular saga is about Lord Brahma's son Prajapati Daksha, who sought a boon, to get Adi Shakti as one of his daughters and she was born in his home as Sati. Though living amid luxury, Sati was a devout follower of Lord Shiva and wanted to marry him. Her father was dead against this match, but Sati defied him and married Shiva. This infuriated Yaksha, who organised a massive yajna in his kingdom and invited all important celestial dignitaries, barring Shiva. Sati felt insulted as his husband was not invited and committed self-immolation. When news of her death reached Shiva, he was devastated and furious. He took Sati's corpse on his shoulder and started his Tandava, as the destroyer of the universe. Lord Vishnu came to salvage the situation and he cut Sati's corpse into 51 parts with his Sudarshan Chakra, which fell in different locales. These places are now regarded as holy pilgrimages.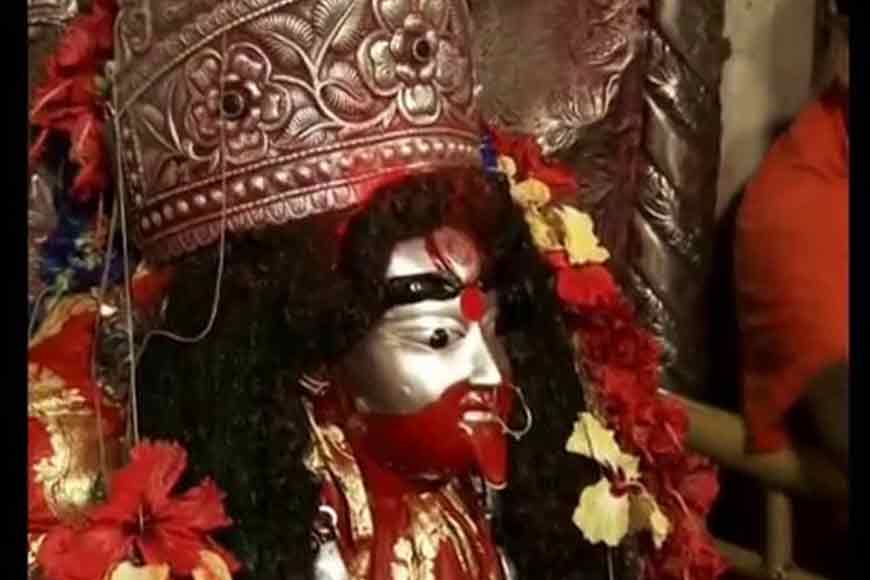 But what is surprising is out of 51 holy pieces, almost 13 fell in various parts of our state. Even more surprising is the fact that out of these 13, majority of the Goddess' body parts fell in the district of Birbhum! In a small village in Dakshindihi, Labhpur, the temple of Attahash is situated. According to lore, Sati's lips fell here. She is worshipped as Phullara and her consort is Vishvesh (Bhairava or Shiva). While, in the temple of Bahula on the banks of Ajoy river in Ketugram, close to Katowa in Burdwan district, she is worshipped as Goddess Bahula and her Bhairav is Bhiruk. Sati's left arm is supposed to have fallen here.The temple between the eyebrows fell at Bakreshwar on the banks of Paaphara river, seven kms from Dubrajpur station in Birbhum district. Here, Sati is worshipped as Mahishmardini and her divine consort is Bakranath. Sati's right toe at Kalighat in Kolkata is worshipped as Devi Kalika.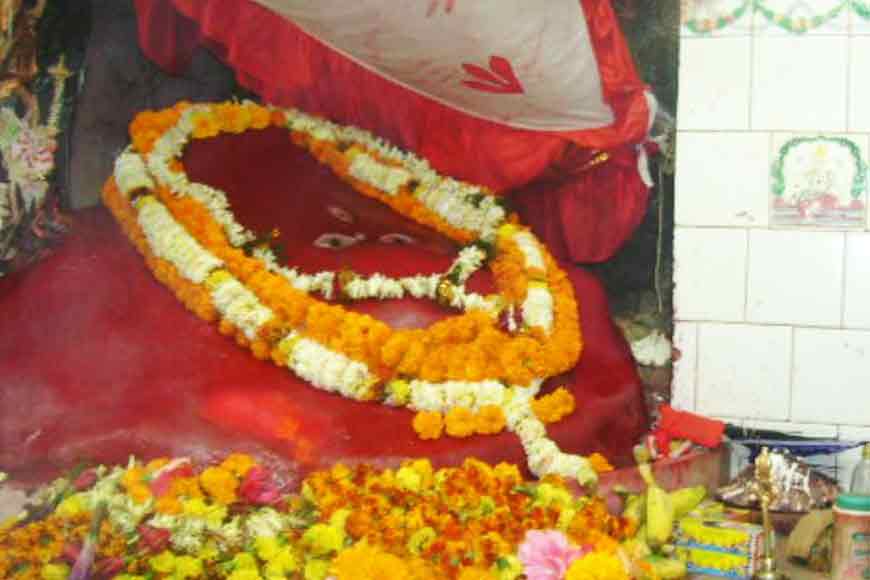 On the banks of Kopai river, the temple of Kankalitala houses the skeleton/ bones of Sati. Situated 10 km north-east of Bolpur station, her deity is not an idol, but just a picture known as Kankaleshwari or Devgarbha and her Bhairav is Ruru. At the temple of Kireeteshwar at Kireetkona village situated barely three-km away from Lalbag Court Road Station in Murshidabad district, Sati's crown fell and she is worshipped as Vimala. Accompanying her is her Bhairav Sanwart. Sati's right shoulder fell at Ratnavali on the banks of Ratnakar river in Khanakul, Krishnanagar in Hooghly district. Kumari and Shiva are the presiding deities of the shrine and is locally known as Anandamoyee Temple.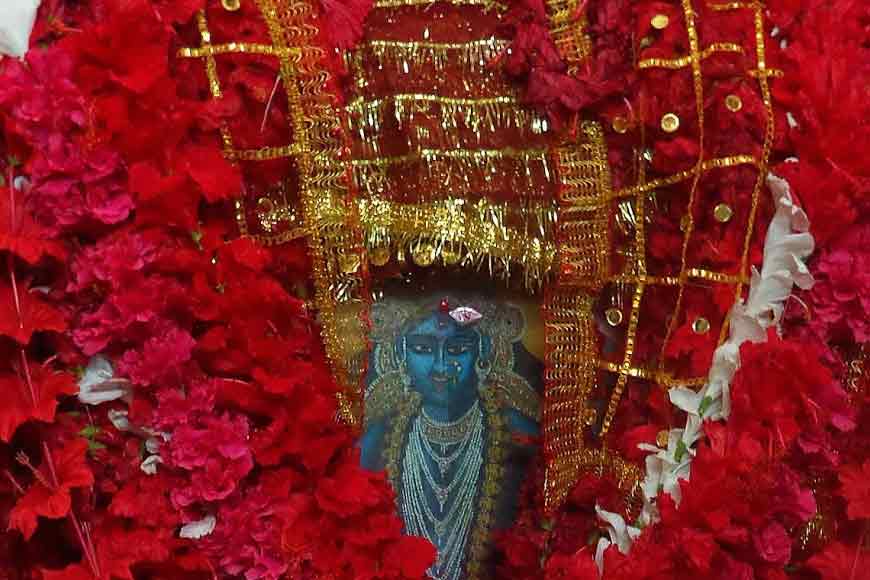 Bhraamari Devi and Ambar are worshipped at Trisrota on the banks of Teesta in Boda, a small village in Jalpaiguri. Here the Devi's left leg fell.A huge banyan tree provides shade to Nandikeshwari temple at Sainthia in Birbhum district that houses Sati's necklace. Situated almost 16 km from Gushkara station in Burdwan district, lies Ujaani where Maa Mangalchandi is worshipped along with Kapilambar. Her right wrist is believed to have fallen here.
At Vibhash in Tamluk, East Midnapore district is the temple of Kapalini aka Bhimarupa and Sarvanand. Here the Goddess' left ankle is supposed to have fallen. Jogadaya in Khirgram under Burdwan district houses a temple of Devi Jugaadya and Ksheer Khandak. Here Sati's severed great toe fell. Presiding deities of Nalateshwari temple at Nalhati in Birbhum district are Devi Kalika and Yogesh. It is believed that Sati's throat fell at this spot.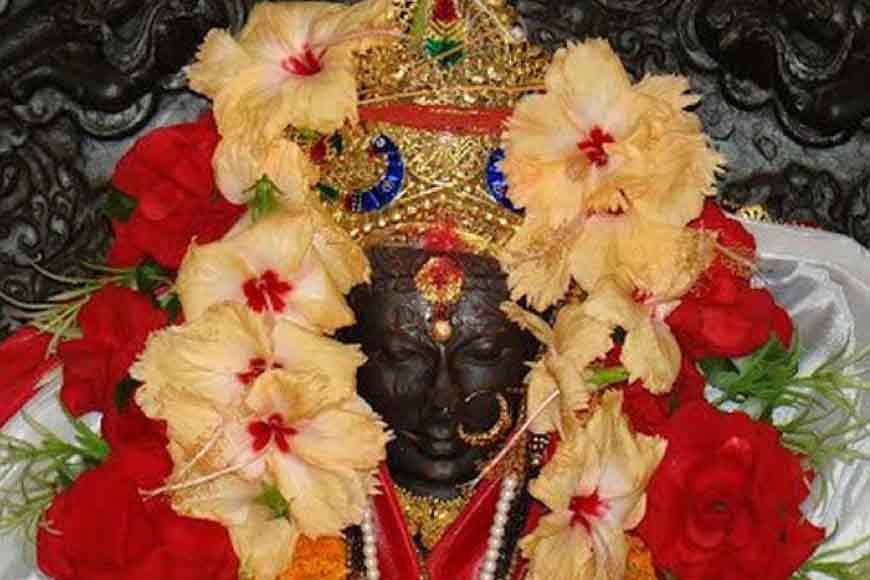 All the Shakti Peethas are very well-connected by metalled roads and rails. One can plan a short expedition to any of these temples or a round trip trailing the holy path to all the 13 sacred destinations of Bengal. Arrangements for offering Puja without any hassle and enjoying Maa er bhog are also arranged by many private and government tour operators. The tours can be enriching for those who are keen on anthropological research or art and sculpture because each temple, its architecture, the lore surrounding the deities etc are fascinating. Hence, an excursion with a mission is worthwhile indeed.