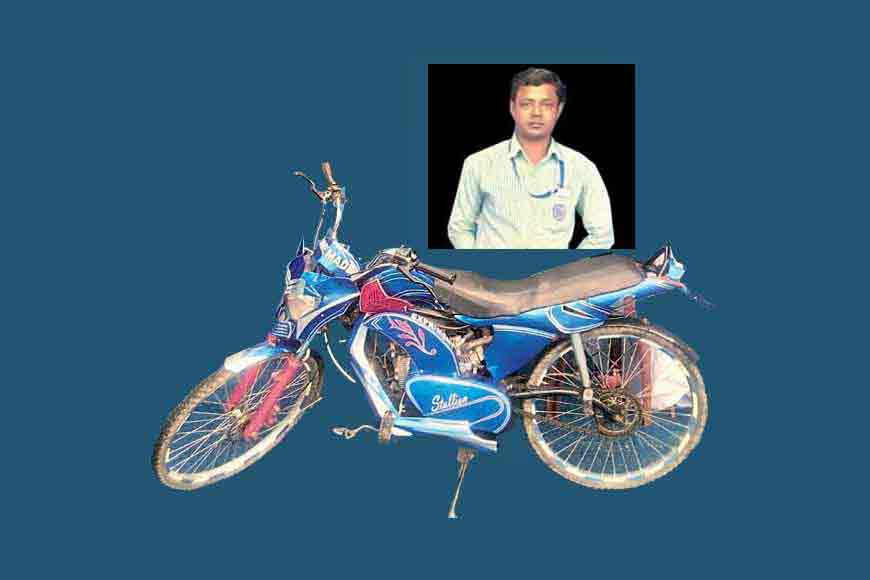 "When there is a will, there is a way," Subhendu Kuchlan, an ITI student of Raghunathpur has proved this age-old proverb to be true. Subhendu, a resident of Kenjakura of Bankura always wanted to buy a motorbike but did not have enough money to make his dream come true. The only weapon that he had was his intelligence which helped him to convert a cycle into a motorbike. Moreover, the outcome of his tireless endeavour did not give rise to an ordinary motorbike. His bike came first in a model exhibition conducted by The State Technical Education Office where both government, private and polytechnic colleges participated.
Twenty-three year old Subhendu claims the efficiency of his bike has already been proved and it has impressive features. It is essentially a multi-fueled motorbike, can run on kerosene, petrol and diesel. The bike can run for 25 kilometres on only a litre of kerosene. Most importantly, it does not cause pollution. Subhendu's father runs a cycle repairing shop. Subhendu helps his father whenever he gets time. He has remodeled the cycle into a motorbike sitting in his father's shop. He did not have enough money to buy a motorbike. So, he decided to make his own bike only with an investment of Rs 15,000. He made the engine out of generator, water pump and certain parts of a scooter. He has also equipped the bike with powerful tyres which will enable him to ride the bike effortlessly even on hilly terrain.
Subhendu is a student of world trade in ITI. He got a lot of support from the faculty of ITI, who gave him necessary advice and equipment. The entire faculty is overwhelmed with his achievements and decided to felicitate him. In his own words: "One can easily convert my motorbike into e-bike if one replaces the motor with a battery." He dreams of introducing his bike in the commercial market in the days to come.