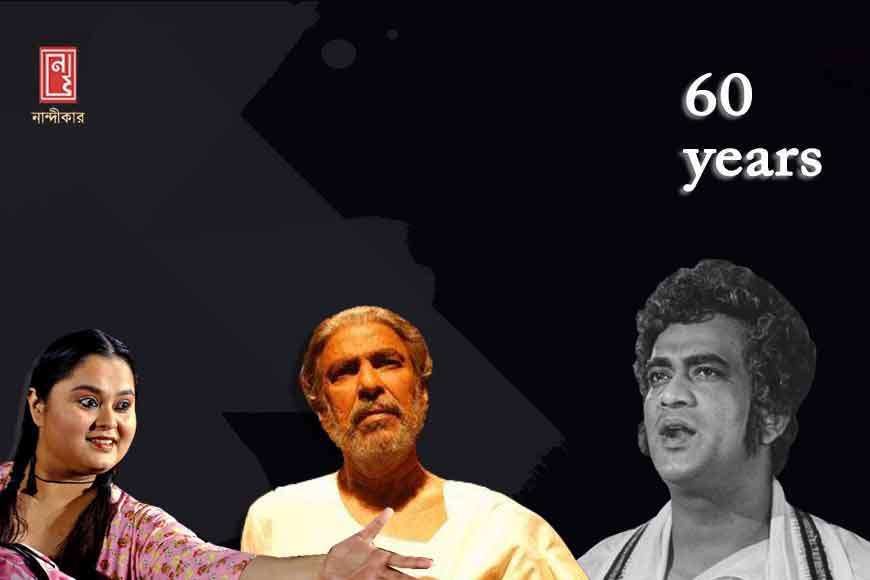 While talking about theatre of Bengal, Nandikar is an indispensable name which inevitably surfaces in our minds. This famous theatre group, which began its journey on 29 June, 1960 completes its 60 years today. Ajitesh Bandopadhyay, Asit Bandhopadhyay along with other sincere theatre practitioners gave birth to this iconic theatre group that gave a unique dimension to the concept of theatre in Bengal. Back then, the group comprised of Satyen Mitra, Ajoy Ganguly, Dipen Sengupta. Over the years, many thespians have put their blood and soul to make the journey of Nandikar spectacular. Later, Keya Chakraborty, Chinmoy Roy, Rudraprasad Sengupta joined the group. The early productions of Nandikar were primarily adaptations of non-Indian plays like Manjari Amer Manjari adapted from Chekhov's Cherry Orchard, Natyakarer Sandhane Chhati Charitra adapted from Luigi Pirandello's Six Characters in Search of an Author, Jokhan Eka adapted from Arnold Wesker's Roots, Tin Poyshar Pala adapted from Bertolt Brecht's Three Penny Opera and more.
The new era of Nandikar began with Rudraprasad Sengupta becoming the director after Asit Bandopadhyay and Ajitesh Bandopadhyay left the group in 1970. Under his direction, Nandikar was transformed into a pure-performance oriented theatre group. The horizon widened as the group started dealing with a wide range of projects which included National Theatre Festival. Presently, Debshankar Halder, Sohini Sengupta, Sataprish Moullick are some of the prominent actors of Nandikar. It performs various kinds of shows across the globe in countries like Bangladesh, Germany, UK, USA and Sweden. Nachni, Madhabi, Chokh Gyala, Dulia, Brechter Khonje, Feriwalaar Mrityu, Ei Sahar Ei Samay, Jaha Chai, Meghnad Badh Kabya are some of the most remembered and celebrated plays of Nandikar.
Apart from performing plays, Nandikar creates opportunities for the aspiring actors and spread the magic of theatre in every sphere of the society. In-house work-shops are conducted to train and recruit new members. Initiated in 1980, Theatre with the youth is primarily production-oriented training of members of the group, young and independent theatre troupes. Theatre in-education enables the school students to perceive the world through theatre. Kolkata Rescue is another noteworthy theatre project for handicapped children. Nandikar's notable contributions include theatre with poor Bangladeshi immigrants, sex workers and visually challenged.
As Nandikar steps into its 60th year, the group is all set to present their theatric celebration. Nandikar will be presenting the double show of their new play-Manush. The story is originally by Prafulla Roy. Sohini Sengupta is the director. Set in the backdrop of Bihar, Bengal border, Manush is a bilingual play where the characters speak both in Hindi and Bengali.