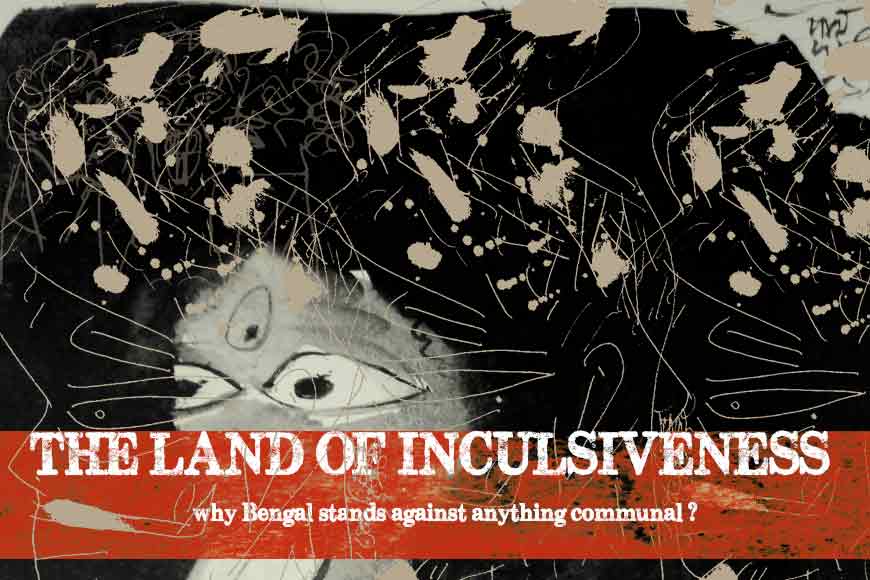 Saira Shah Halim is an educator and a civil and human rights activist who's actively involved with causes such as gender equality, safeguarding secularism, democracy and women's issues. She's a proud Calcuttan and takes pride in everything Bengali
There is something about Bengal that stands out from other states, its uniqueness has always stood the test of time. Today, as several parts of the country is consumed by communalism, it becomes all the more imperative to share stories of hope, positivity and oneness. As I returned home, bone tired from a hectic schedule of travelling, I looked forward to seeing my friends for Eid Brunch at our residence the next day.
Soon enough guests started pouring in from 10.30 am onwards, the first visitors were my dear friends Rajlakshmi and Jonathan Ward –who work with the US Consulate. Then the doorbell rang and we saw a sight that took me by pleasant surprise. In walked friends, Somnath Sircar, with his teenage nephews, all three attired in crisp white kurta pyjamas, complimenting the look with a 'Faiz Topi,' looking perfectly dapper for an 'Eid Soiree.'
Many would ask: 'What's the big deal?' After all, don't we all go 'Ho Ho Ho' joyfully attired in red and white all of Christmas season, happily flashing our sartorial choices during Christmas and Durga Puja? And we are more than happy to dress up in our traditional Bengali attire, red bindi matching to boot, while we go about 'pandal hopping' soaking in the revelry across Kolkata during the Puja. The only thing that has changed is that certain things that should be considered normal is actually a 'marvel' considering today's stressful and vitriolic times.
History has long been witness to the fact that West Bengal has been a state with an inclusive secular ethos. The Bengali culture for eons has largely been matriarchal revering the female form and the female divinity. Matriarchal societies to me are by and large progressive and forward thinking. Bengal also has a rich synthesis of two robust communities, the Hindus and Muslims. The Muslim population ratio is pegged at 30% --- which is a sizeable number.
Bengali Muslims take pride in calling themselves 'Bengali,' and they take immense pride in their culture, language and roots. Bengali - a term that denotes being a native of Bengal with reference to the Indic language of Bangladesh and West Bengal is widely spoken by 200 million people. Bengal always had a populist ideology, pro-poor, anti-fascist, anti-imperialist, and this ethos had been largely uncompromised. This land has also been known as the 'home turf' for communism and the revivalist movements like Brahmo Samaj, Arya Samaj etc has prided itself in being high on the moral compass. Infact this cultural, social, intellectual and artistic movement in Bengal started from the nineteenth century to the early twentieth century and ended with Rabindranath Tagore, the legacy of forward thinking. 'What Bengal thinks today,the rest of the country thinks tomorrow.'
It is in Bengal where Rabindrasangeet and Nazrulgeeti are sung with equal fervour, an embodiment of our Ganga-Jamuna 'tehzeeb,' people might ask what's unusual about guests wearing a Muslim attire on Eid, when we have done it for years. Well it is not unusual; it is laudable, when people from the majority community send out a pertinent message to all on board that this inclusivity is our culture.
A few months ago, it broke our hearts to see Ankit Saxena, a Delhi youth, who was brutally killed by his lover's family who happened to be Muslims. Ankit Saxena's father's magnanimity was heralded as laudable, considering his son was a victim of a heinous honour killing, as a strong message of solidarity and peace was sent out by him, despite his personal loss.
If one looks at the history of violence and communal clashes, a case in point comes to mind of the 1980's when Jyoti Basu was the CM of West Bengal. Anti-sikh riots had broken out throughout the country post the assassination of Indira Gandhi. Jyoti Basu stood tall in the collective conscience of the country, shielding the lives of the Sikh community that eventually saved India from civil war. The whole of Bengal stood by the Sikh community. Even, post Gujarat riots of 2002 the state government had given an open invite to displaced victims of the riot to settle in Bengal and to eke out a livelihood with the state government's support.
So much so that that Bengal didn't fall to provocation during Durga Puja and Muharram when both the occasions fell a day apart and brought the two communities together, both communities stood up resilient to any trouble mongering. In 1946, Bengal witnessed horrific pre-partition riots including direct action day and Noakhali, which in a way did puncture the myth of Bengalis not prone to physical violence. However, a lesson was learnt the hard way when humanity suffered eventually, since then we are proud to say that no major riot has taken place in Bengal post the partition.
People of Bengal have always come up with noteworthy examples of unity in diversity, we can only soar higher with confidence knowing that 'Yes, we are in it together for better or for worse, together we will fight the communal monster, together we will come out unscathed after the bloody fight, but fight we will for our collective shared values of unity, diversity, oneness and pluralism as in the end, India's voice and democratic spirit will always triumph over tyranny and fascism.'
With this spirit I need to laud my friends from Bengal who have displayed exemplary cultural sensitivity in the face of divisiveness.