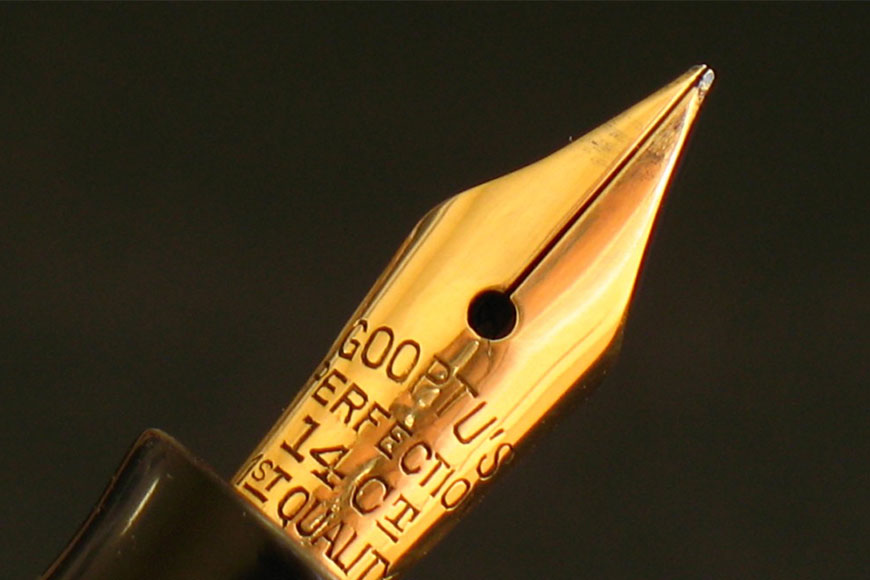 Do you still have that fountain pen in store? Tucked somewhere in a dusty corner of your book case or maybe displayed in pride on your shelf? We all know about Bengali business tycoons Prince Dwarakanath Tagore and Motilal Seal, who successfully conducted business with the East India Company and had tie-ups with European merchants as well. However, not many are aware of patriot and industrialist, Fanindranath Gooptu, and his vast business empire at a time when the country was under colonial rule.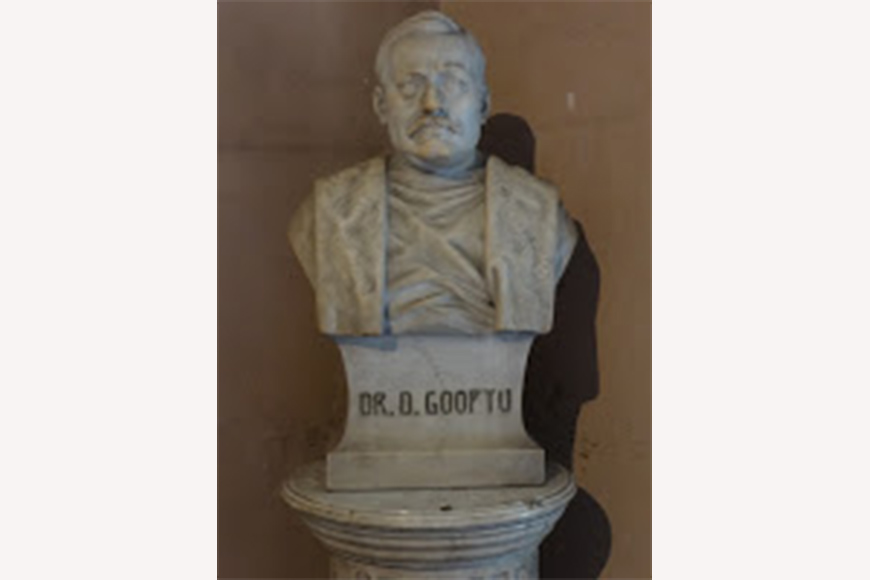 A half bust statue of Dr. Dwarkanath Gooptu
Better known as F.N. Gooptu, Fanindranath was born in the illustrious Gooptu family of Kolkata. His father, Gopal Chandra Gooptu was an industrialist. Fanindranath's grandfather, Dr Dwarkanath Gooptu was a student at Calcutta Medical College where he even assisted Professor Madhusudan Gupta in performing India's first human dissection at Calcutta Medical College in 1836 and created a sensation in the orthodox Hindu society.
Fanindranath completed his B.A. from Presidency College. This was the time when the Swadeshi movement had taken a strong grip in the country. Students came out in large numbers to propagate and practice Swadeshi, and to take a lead in organizing picketing of shops selling foreign goods. Fanindranath Gupta did not join the Swadeshi movement directly. He realized the importance of setting up indigenous industries to make the country self-reliant.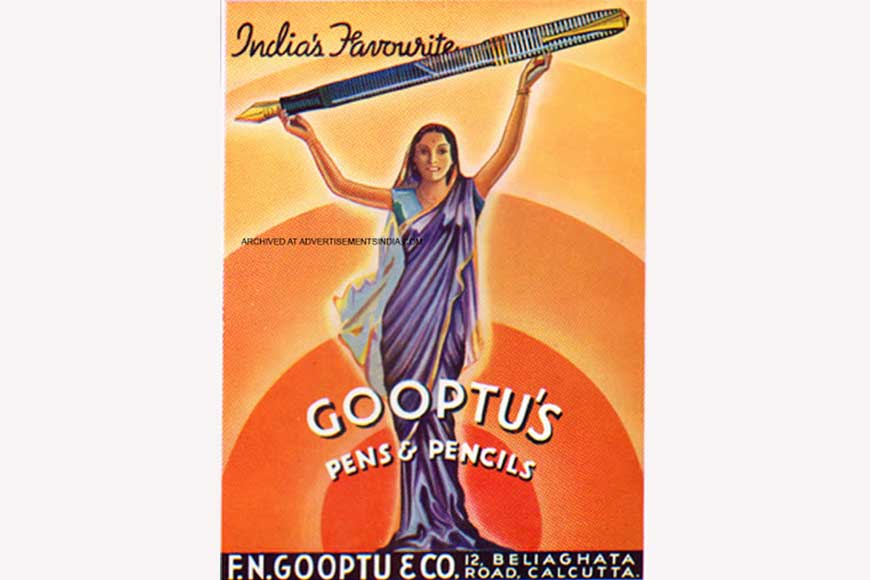 An ad poster
In 1905, at the age of 20, he established his own company, F.N. Gooptu & Co. and pioneered the manufacture of indigenous fountain pens and pencils in colonial India. In the initial years, his company was operating from his office at No. 5, Middleton Street. Meanwhile, the then-ICS officer and Commissioner of Chittagong, K.C. De and Government of India's Printing and Stamp Controller, M.J. Cogswell, were very impressed by Gooptu's honesty and his work ethics. They both highly recommended him and his products and referred him to the British government. After checking his credentials, the British government signed an annual contract with Gooptu's company wherein he was to supply them stationery items. There was no looking back for Gooptu. His business flourished. Soon he realized he needed more space for setting up manufacturing units.

In 1910, he set up a large factory on six bighas of land situated on 12 Beliaghata Road, in East Kolkata. The plot cost him more than a whooping Rs 2.5 lakhs! Gooptu imported state-of-the-art equipment from Great Britain to improve the quality of his products. Meanwhile, the British government sent its representative, J.A.L Swan, to inspect the factory. He was very happy with the machinery, the production units, quality of the products and the management and submitted a favourable report. In those days, it was a daunting task to get stationery items imported from other European countries. Hence Gooptu's monopoly in this sphere further strengthened his roots.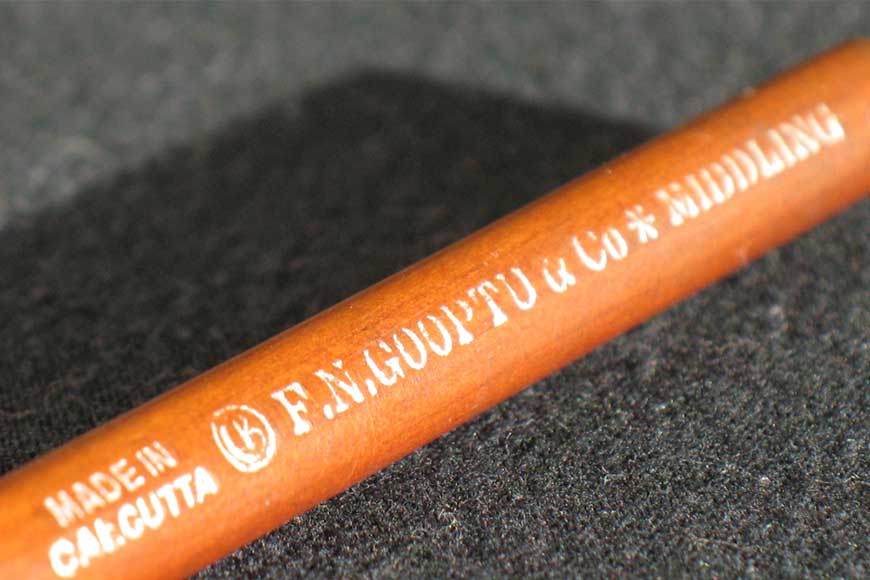 From the house of the Gooptus
Fanindranath diversified his business and began to manufacture personalized stationery items for the native rich aristocrat customers. These included the exclusive The Perfection Fountain Pen Series, where the nib of the fountain pen was made of 14 carat gold and its body was made of Mother of Pearl. The British Government conferred on him the title of 'Rai Bahadur.' He was equally popular with the anti-British nationalists.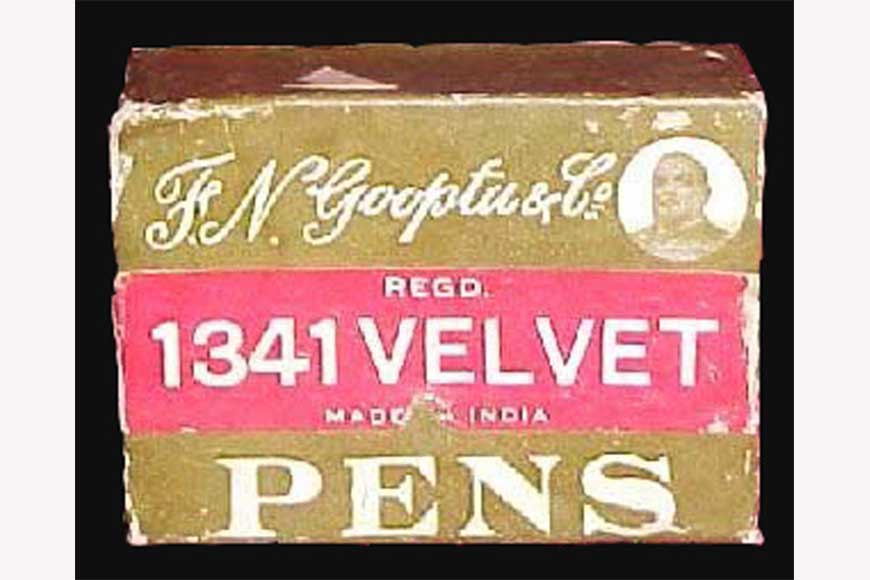 On August 28, 1925, Mahatma Gandhi came to visit his factory and was very impressed with Gooptu's enterprise. He said, "I am very happy after my visit to F.N. Gooptu's factory. I am elated to know that many of the equipment for manufacturing pens and pen holders have been engineered here. I sincerely wish all the best for the company." Gandhiji's words show Gooptu's nationalistic fervor was evident in his work despite his business interests with the British government. He was very particular about the quality of the products and no other European company could come anywhere near the stationery items manufactured at F.N. Gooptu's company.
Image Courtesy: http://www.fountainpennetwork.com/forum/topic/215897-gooptus-perfection-fountain-pen/
http://dgooptu.blogspot.com/