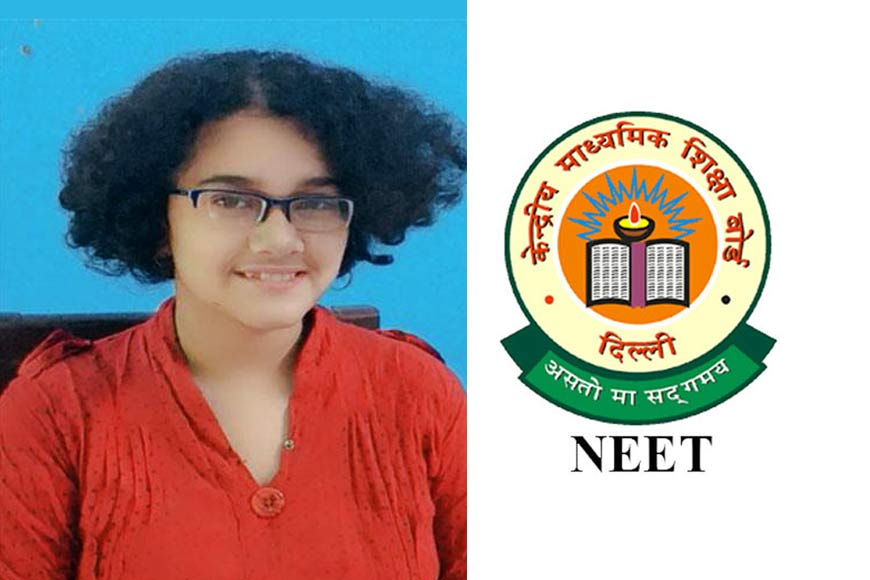 The results for the National Eligibility cum Entrance Test (Undergraduate) or NEET (UG) 2022, was declared on September 7, 2022. A red-letter day in the lives of all aspiring medical students in India who have been waiting with bated breath for the results that would make or mar their dreams of pursuing a degree in medical science. The NEET-UG is a single entrance test for admissions to MBBS and BDS colleges across India and is one of the largest examinations in India in terms of registered applicants.
This year 8,6607 aspirants took the test from West Bengal out of which 50864 students qualified. Debankita Bera of Mahishadal secured the 22nd position in the all-India examination and stood third from West Bengal. The total marks allotted for the examination is 720 and Debankita obtained 705 marks. This meritorious youngster has not only made the state proud with her brilliant result but has also proved that one doesn't need to study in a true-blue upmarket English medium school to succeed in competitive examinations. Debankita hails from Mahishadal, a small town in East Midnapore district. She studied in a local Bengali medium school throughout but that did not hinder her academic progress.
Debankita has turned the tables and proved that Bengali medium students are equally meritorious as their counterparts studying in elite English medium schools and they do not lag behind in all-India competitive examinations. Debankita was a student of Mahishadal Gayeshwari High Girls' School from class V to Class X. In 2020, she cleared her secondary examination and secured 11th position in the state. She did her higher secondary from Mahishadal Raj High School and cleared her finals in 2022, securing 12th position in the state. Meanwhile, Debankita started training for NEET right after her Class X exams.
Generally, candidates start their preparation for NEET at various stages of life. Some begin their preparation early, while some focus on the Class XII board first. The preparation strategy for all these levels is different. Every subject in NEET needs a different approach and those who assume that the same strategy will work for all three subjects often end up in a difficult situation. Due to the vastness of the syllabus, many students struggle to complete it before the examination. Only organized and disciplined studies help complete the syllabus.
Debankita is not a bookworm at all. She loves reading story books as well and it is one of her favourite pastimes. Both her parents are teachers. Her father is a mathematics teacher and her mother is a teacher of Bengali literature. Both of them have nurtured and supported her wholeheartedly in pursuing her dream. Debankita too, did not leave any stone unturned in her journey to attain her goal.

Being a doctor is a dream for millions and Debankita too, had set her heart on becoming a physician from a very young age and provide healthcare services to the poor in underserved and rural areas. She started her NEET preparations soon after she cleared her Madhyamik Board exams. She was determined to reach her goal and crack the NEET and consistently put in that extra effort and pushed her boundaries further. It was tough but as she has proved, not impossible. She studied routinely without worrying about the outcome. Her concentrated hard work stood her in good stead and after two years, she stands on the threshold of her dream after clearing the all-India medical entrance exam with so much flourish and panache.
Parmita Giri, the headmistress of Mahishadal Gayeshwari Higher Girls' School, is very happy with her student's achievement and feels she will be an inspiration for other aspirants from her school who plan to sit for any competitive exam. Local MLA, Tilak Kumar Chakraborty also commended Debankita's successful journey. Debankita has never felt awkward or self-conscious for studying in a Bengali medium school. In fact, she is proud of her heritage and grateful to all her teachers for believing in her and encouraging her to perform better. She has not only made her school and town proud but has negated the generally held opinion that students hailing from Bengali medium schools can never be at par with their counterparts from English medium. It is a myth and Debankita has proved this with her brilliant result in the NEET. The next five years are going to be crucial for her but she remains cool. The genius is oozing with confidence as she prepares for the first round of NEET counselling session to be held soon.