The many attractive designs created with this ingredient to serve as ornamental decorations and articles needed for ceremonial occasions can be counted among some of the rare instances of rich cultural heritage of Bengal's traditional folk art. It is amazing how sponge wood are trifling and much neglected aquatic plant is used to bring out such charming specimens of artistic creation. Sponge wood is an aquatic plant which grows on its own in wetlands and besides swampy marshes and shallow ponds of Bengal's villages. Greenish in colour when tender, this plant takes the shape of a thin or thick stick as it develops. The thickness or thin ness of sponge wood is determined by the quality of soil on which it grows but then both thin and thick varieties are utilized for making artistic objects.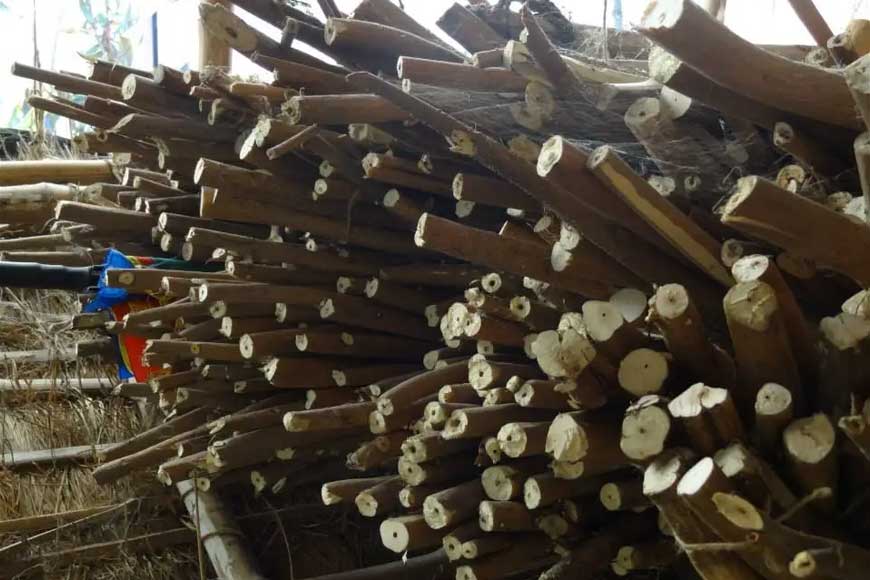 Plucked from the water, the sticks are tied up in bundles and sent to the sponge wood artists or to various wholesale merchants in Kolkata. The marshy areas of Bater in Nadia district were once known as an important centre for production of sponge wood. After drying up the sponge wood, its skin is peeled off with a sharp knife to expose a white stalk which is then used by artists for producing many articles. Like many other forms of folk art, the artistry which sponge wood was introduced in this state by the Malakar community who are recognized as one-time experts in the art of floral decoration. This could be the reason why the Malakar community finds a place even in the fairytales of Bengal as the Royal Gardeners who delivered flowers and garlands to the King's Palace.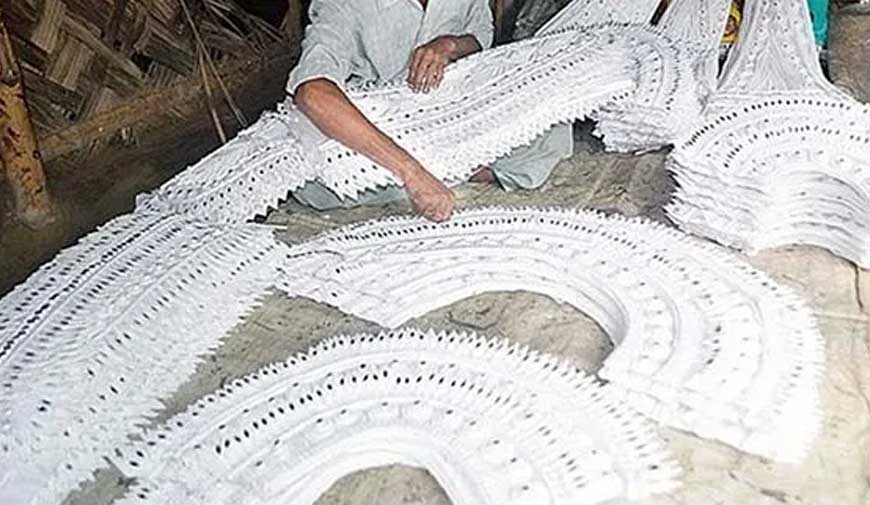 In Vidyasundar, the book of verses composed by poet Bharatchandra, we hear of Hira Malakar, known for his skill in stringing garlands and delivering the choicest selection of flowers to the Royal Palace and who used to send floral decorations of the most intricate designs to Vidya, the heroine of the novel. The Malakar community is also mentioned in Chaitanya Charitamrita and Manasamangal, books of verses composed by Bijoy Gupta. In addition to showing deft skills in producing exquisite floral decorations for weddings, the Malakar community was also known as experts in stringing garlands of flowers made of sponge wood. The Malakar artists are now settled in most districts of West Bengal. The large variety of sponge wood items produced by Malakar artists of Howrah, Hooghly, Purulia, Midnapore, Bankura, North and South 24Parganas, Nadia, Bardhaman, Murshidabad, many areas of Birbhum and 3 localities of Kolkata namely Notun Bazar, Kumartuli and Baghbazar are recognized as excellent works of art.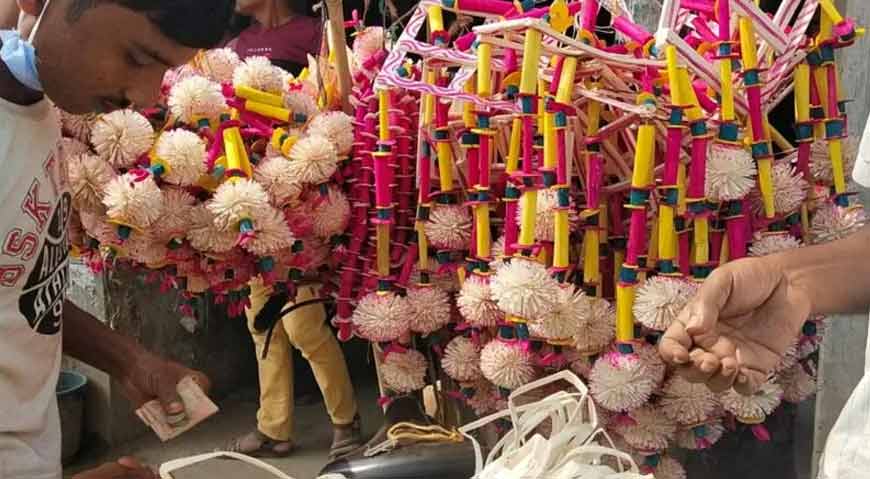 After the Partition, several Malakar artists of East Bengal had migrated to Coochbehar and Jalpaiguri districts and many artistic creations of sponge wood are now available in these areas. Now spread all over West Bengal, artists of this community have been continuing their creative work with sponge wood for several generations. The craftsmanship displayed in sponge wood artwork is quite original. Two common characteristics of folk art, simple set up and token effort are noticeable in this form of art as well. The ingredients needed are a few dried up sponge wood plants, one or two light and sharp-edged knives or scissors and some adhesives. The latter item used to be made earlier with a paste of tamarind seeds but has now been replaced by glue mixed with blue vitriol or gum. The knives used in this artwork are called Kath. They are made in different shapes as per requirements and are identified by separate names such as Dhosha, Kalso and Istiri. Besides this, iron pins of varying shapes are also needed. The artists uses the sharp knife to cut out the sponge wood in various shapes, sometimes paper thin and circular which are known as Kups and at times like thin strings which are known as Paturi. The artist then joins the Kup and Paturi with adhesive and by using his artistic skills and through application of colours as he deems proper, he creates a variety of charming objects.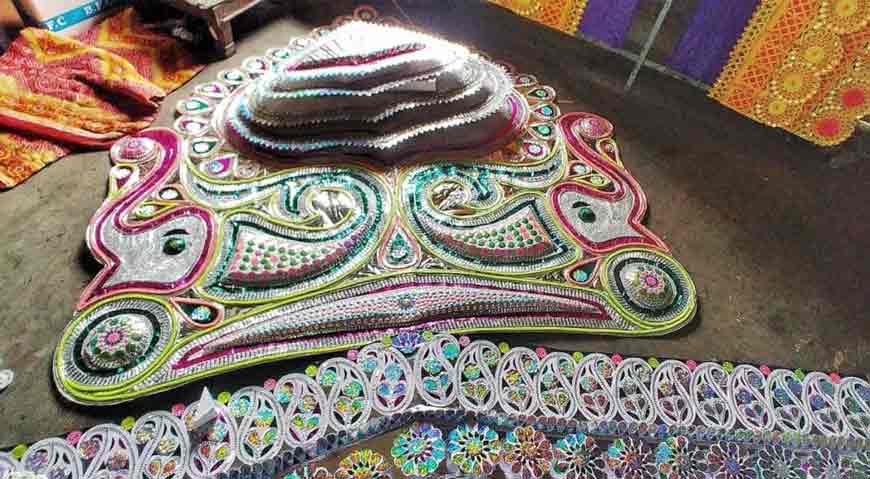 The procedure applied in sponge wood art work is quite different from that adopted in other forms of folk art. Sponge wood items related to social functions and religious ceremonies include simple flowers and garlands, lotus, swan, conch shell, specially designed garlands with leafy decorations, Kadamba flower for the Ras Festival, topor and Sinthi Mor (head dresses worn by the bridegroom and bride during a marriage ceremony), square frames fixed above the Ghots of popular deities with a Kadamba flower suspended from each of the four corners and square shaped balloons bearing many beautiful decorations for illuminating the sky. Apart from these, there are certain sponge wood items which are placed as offerings before deities at holy places. For instance, the Malakar artists of Howrah district make sponge wood boats which are offered at temples and sponge wood horses which are offered at the hermitage of Muslim saints. In North Bengal, particularly in the districts of Jalpaiguri and Coochbehar, sponge wood is used to make idols and portraits of Goddess Manasa, which are known as Karandia and also for making masks of Goddess Kali. In Midnapore district there is a practice of floating rafts made of the stalks of banana trees in village ponds for the peace of departed souls during their shraddha ceremonies. Beautifully decorated temples of sponge wood with five steeples which could be counted as brilliant instances of craftsmanship of the Malakar community are placed on these floating rafts. Sponge wood is used in making flowers like Kadamba, lotus and water lily, garlands of tuberoses, thick reeds, many varieties of leafy decorations, decorative crown and ornaments for idols of Gods and Goddesses. It may be mentioned here that Daaker Saaj for the special sponge wood decorations which are used for adorning the idols of Goddess Jagaddhatri at Chandernagar and Krishnanagar are produced by the Malakar artists of Bardhaman and Nadia districts. Currently the Malakar artists of the state have earned much acclaim by producing idols of sponge wood as a substitute for clay.
(Adapted from Folk Art of West Bengal and the Artist Community by Tarapada Santra)