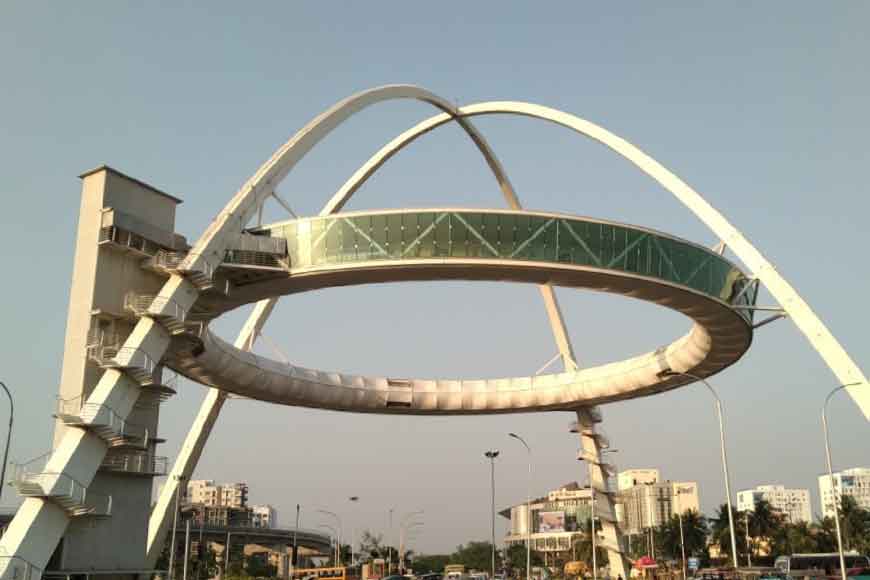 Ever imagined experiencing a surreal 360-degree view of the city while devouring scrumptious delicacies? The hanging restaurant at the Biswa Bangla Gate, Kolkata makes this possible. The trend of unique restaurants in the city is gradually on the rise. The concept of hanging restaurants is highly popular across the world. India was yet to catch up until Biswa Bangla Restaurant came up in city.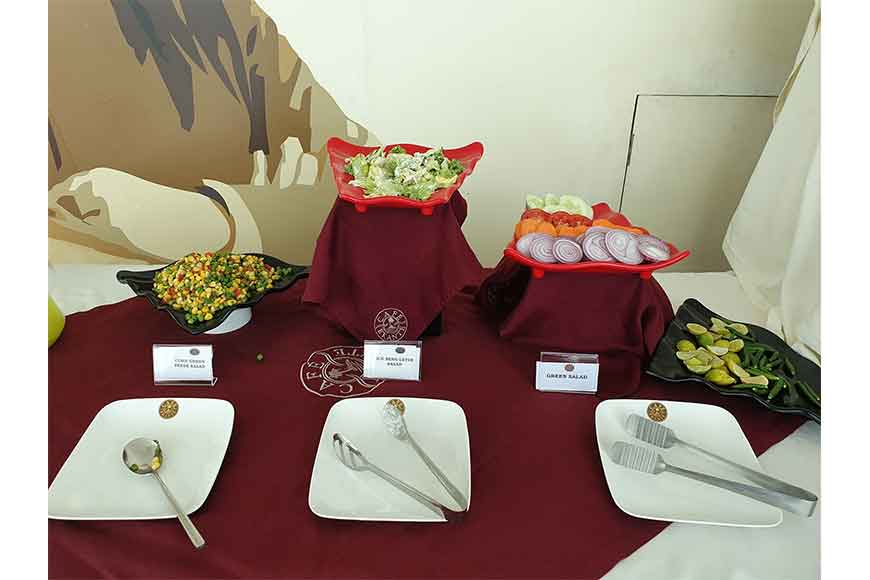 Assorted salad at the restaurant
The oval shaped restaurant high up at 55 metres, is truly a haven for fine dining, especially for food enthusiasts. The architecture is unique with steel and glass façade that adds a whole new dimension to the restaurant. The Biswa Bangla Gate, is already turning to a major tourist attraction, reminding us of the London Eye. Witnessing the sunset over Kolkata from here is truly mesmerizing. The exteriors of the restaurant are decorated with attractive lights which make the structure look breathtakingly beautiful in the evening after darkness. The tunnel-shaped gallery has beautiful artistic murals showcasing various aspects of Bengal's rich tradition and culture.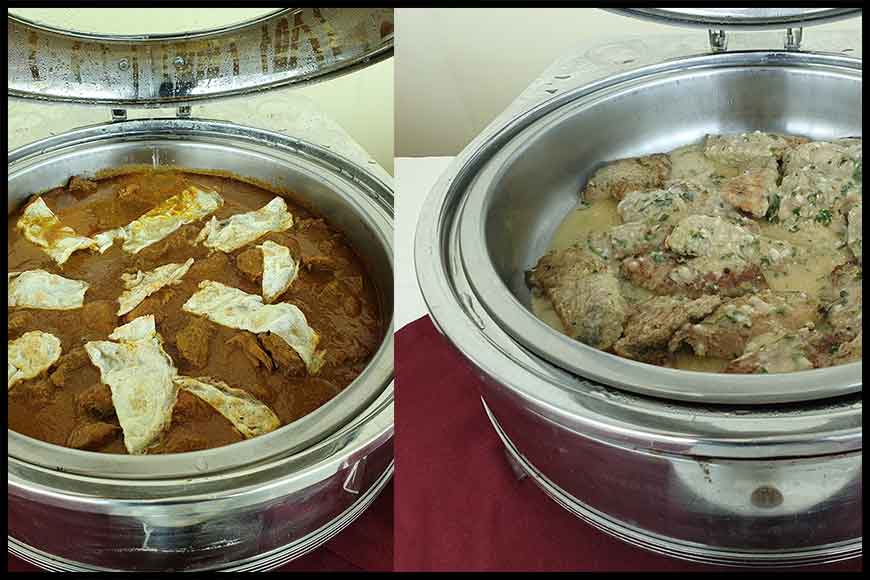 Delicious food of the restaurant
The two elevators from the ground floor lead you up to the restaurant. The restaurant is divided into slots. From 12 to 5pm, one can buy a ticket for Rs 100 and go up and enjoy tea or coffee along with delicious snacks that are served while you witness the panoramic view of the city. The ticket is valid for just one hour. The place transforms into a fine dining restaurant after 7pm. The restaurant can accommodate 72 people at a time. But for now, it is open to only 50.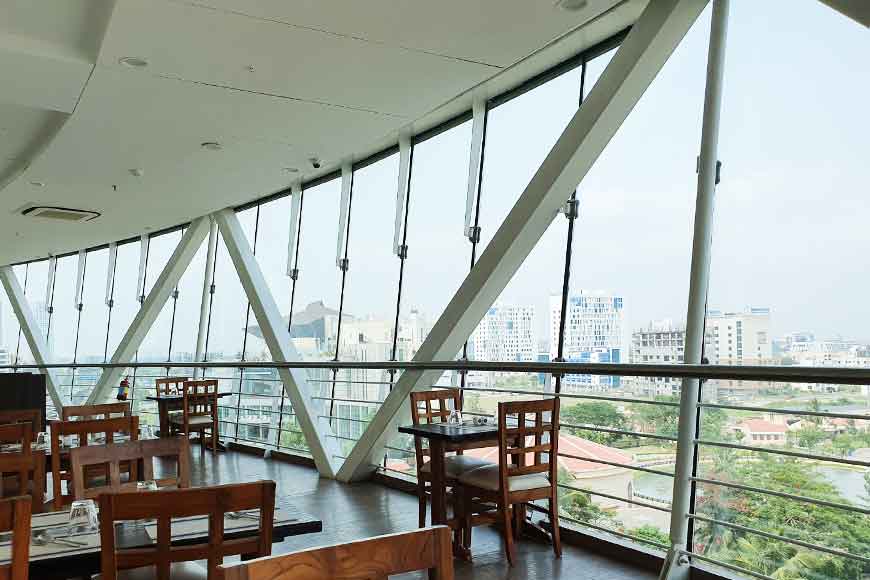 The restaurant
The multi-cuisine dinner has everything from pasta, to kebabs to Chinese delicacies. For starters, you can try Achari fish Tikka or Chicken Reshmi Tikka. If you are a soup lover, make sure that you try out the chicken soup with diced pieces of chicken. In main course do not miss out on Grilled Chicken, Mushroom Risotto or Chicken wings. Round off your dinner with deserts including Daab ice-cream. The battery powered candles make a 'hanging' dinner even more romantic.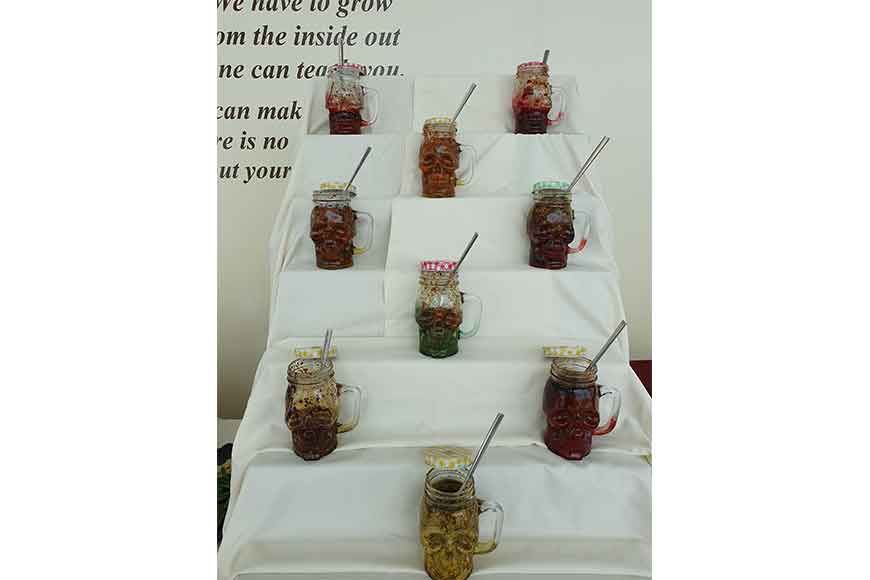 Varied pickles
Before you visit the restaurant, make sure that you have a prior booking to avoid disappointment. There is ample parking space for the convenience of guest cars. But we strongly recommend you to soak in this awe-inspiring new jewel in Kolkata's crown. Make Biswa Bangla restaurant your foodie destination.