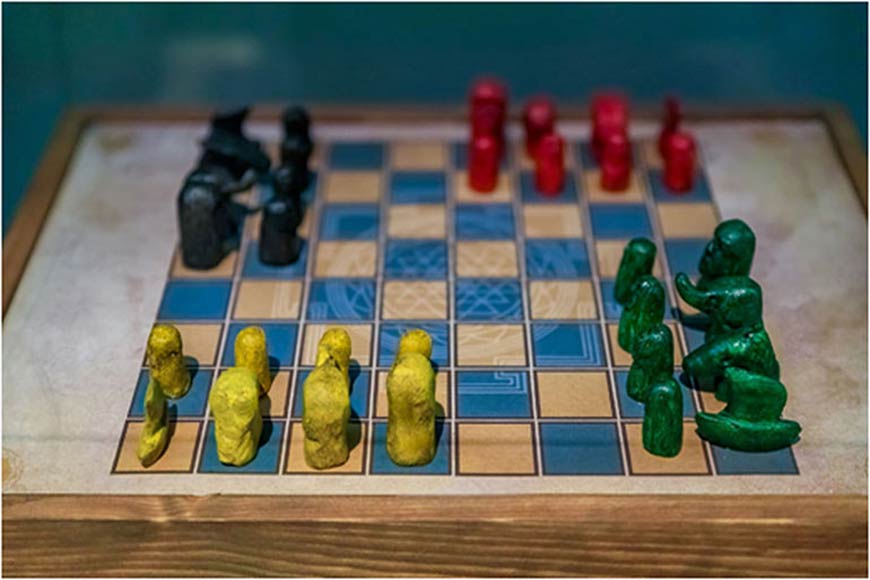 The future, which cannot be seen, has been the subject of great interest for humans who, perhaps, have tried to ascertain it since the very beginning of human civilization. Their unending imaginations and insatiable queries gave birth to a particular game, which later became part of a nation's culture. The Royal Game of Ur is one such game of ancient Mesopotamia, a game of predicting the fate of the next life by playing alternative turns on a 20-hole board. Such and more board games, which are now extinct, are found at the offbeat Boardgame Museum of Kolkata. This unique museum is situated in Professor Souvik Mukherjee's residence on Ballygunge Circular Road. There are nearly one hundred board game replicas, both old and new, that belong to different time periods and different countries. The museum is called the Gautam Sen Memorial Boardgame Museum.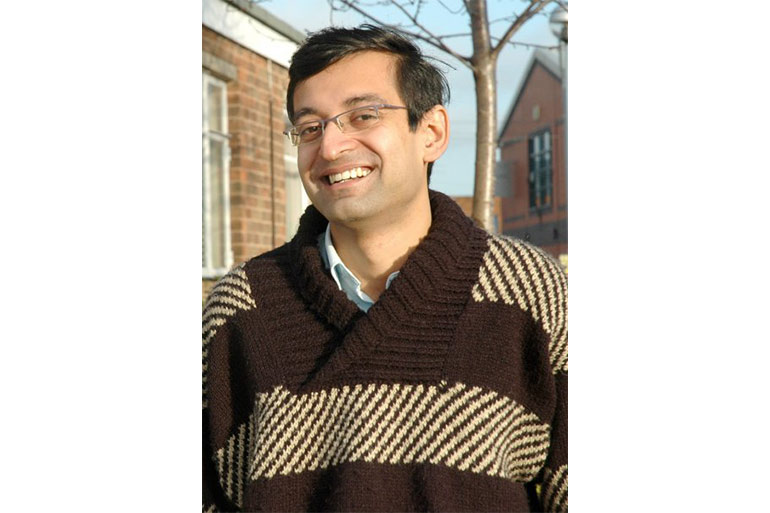 Professor Souvik Mukherjee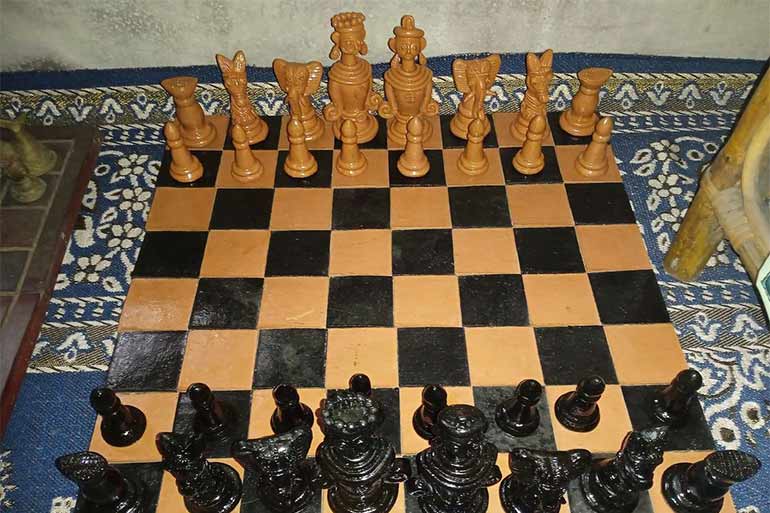 vintage wooden chess set

Souvik Mukherjee mentioned that his father-in-law was a skilled chess player, who also had a passion for various board games. He did a lot of research on chess and other board games in different countries when he travelled abroad. Unfortunately, his father-in-law died due to COVID-19. Souvik has created this museum in his name as a memorial. The oldest board game in his collection is The Royal Game of Ur, which was popular in 2400 BC. Souvik said: "The Royal Game of Ur was found by Sir Leonard Bulley, while excavating at a site in Iraq. He found a plaque in 1930, and from that, the game got its name. The rules of the game were discovered by Edwin Finkel in 2000, from a Jewish woman of Indian origin in Israel. When they were in India, they used to play a game called "Asha" in Cochin, Kerala. Souvik has collected a replica of the game. The original one is in the British Museum.
"Golakdham," an ancient game of Bengal
Cultures of different civilizations get handed down from generation to generation and from one civilization to another. The museum has another interesting game called Mancala, called Pallanguzhi in South India. The game came to India from East Africa. It is played on a wooden board with stick-like tools. In villages, it was played with seeds dug into the ground. The board games are not only about culture and history, it also include mathematics, and even war strategies are linked to them. One such example is "Go", a Japanese game. By the 1990s, people had lost chess to computers. Before 2010, no computer could beat a Go player. It proves how complex the game is. There is also a famous novel about this game called, "The Master of Go."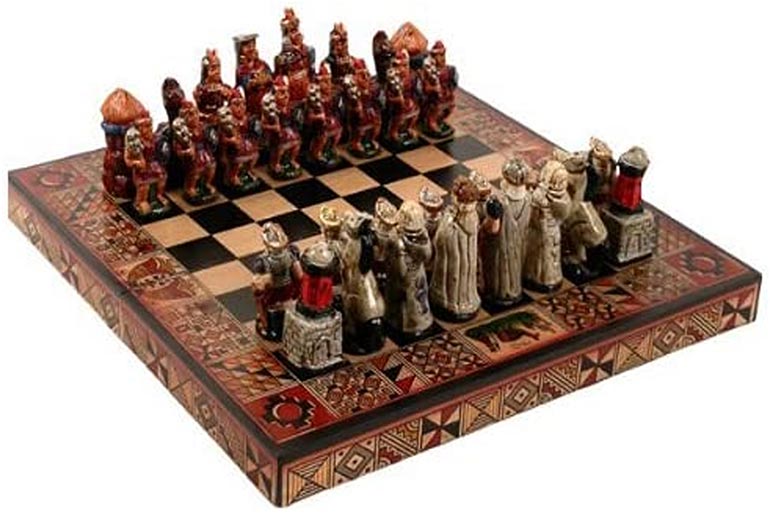 Hand-painted wooden chess board with pre-Columbian emblem
Souvik Mukherjee, who is also Professor of the Kolkata Centre for Studies in Social Science, has the national game of Nepal, called "Baghchal". In Bengal, it is known as "Baghbandi". He also has different sets of chess from different countries. The chess set from Peru is a collector's pride. The white and red pieces are shaped like warriors. On the battlefield stood the Spanish Conquistador Pizarro on one side and the army of Atahualpa, the last emperor of the Incas, on the other side. According to Souvik, this game is an extraordinary symbol of history. In fact, the Incas were defeated by Pizarro's trickery. In the game, the Incas can defeat all tricks and win. Souvik said: "The history, society, and economy of different periods are mixed with each game." The similarity of one game with another shows the relationship between two civilizations, they capture the politics, religion, and myths of a particular period.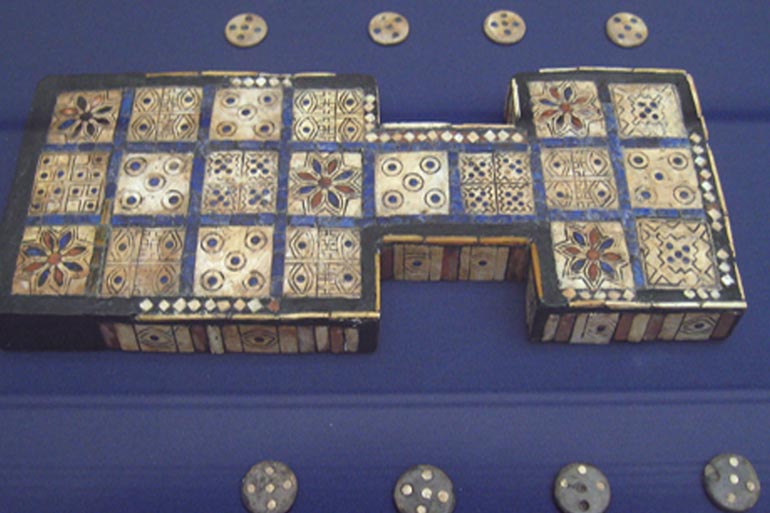 The Royal Game of Ur
An indigenous game of Bengal is "Golakdham" which has a paper naming various religious sanctuaries with pictures of temples. It includes Hindu holy places like Golakdham and Muktidham. While playing, one understands the number of virtues they have earned. Souvik informed us that there is also a game similar to Ludo named Gyan Chowpar. In this game, there are snakes and ladders. But unlike Ludo, it also includes birth, death, names of different holy places, etc along with the ultimate freedom in heaven. The museum also houses Indonesian Surakarta, Aztec chess sets, Indian Dashabataar​ cards, Japanese game- Sogi, Chinese, Burmese chess sets, and more.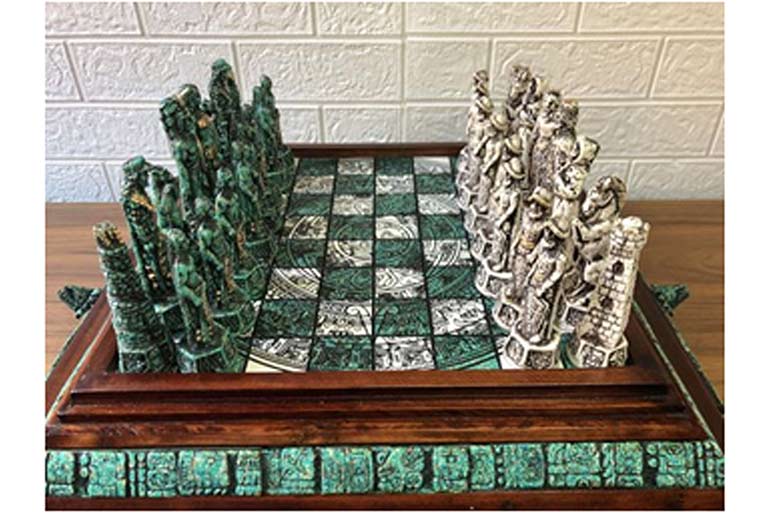 Aztec Wooden Chess Set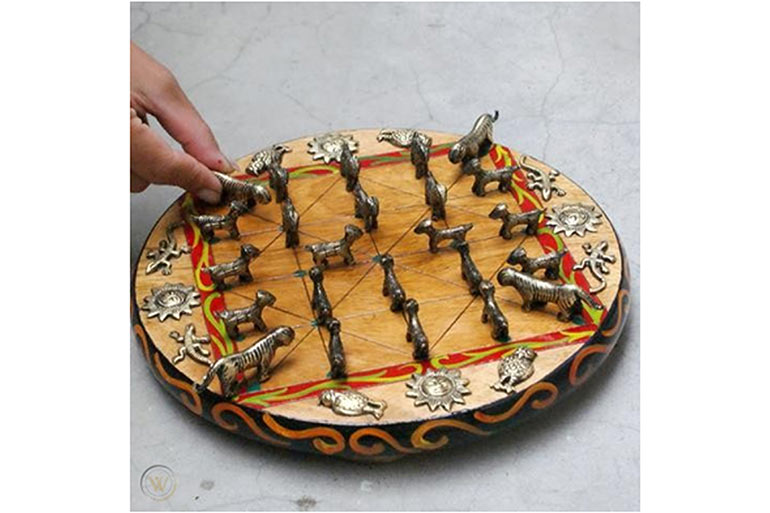 Baghchal
Souvik researches on video games, telling stories through video games. He has written books on games. He says: "Board games or video games are not given as much importance, especially in this country. But the games capture the overall tone of a particular era. Like the game called 'Business,' often played by many in their childhood, it is a capitalist game. In the beginning, the game was anti-capitalist, which shows a shift in power. This helps to understand the relationship between civilizations. The games tell the story of the time in which they were played. Souvik aims to preserve such board games and spread their knowledge far and wide. Many researchers, game designers, and developers visit the place. Souvik plans to conduct a workshop on board games with students. Apart from this, seminars and conferences on games continue.
Address: 57/13, Ballygunge Circular Road, Near Ballygunge Science College.