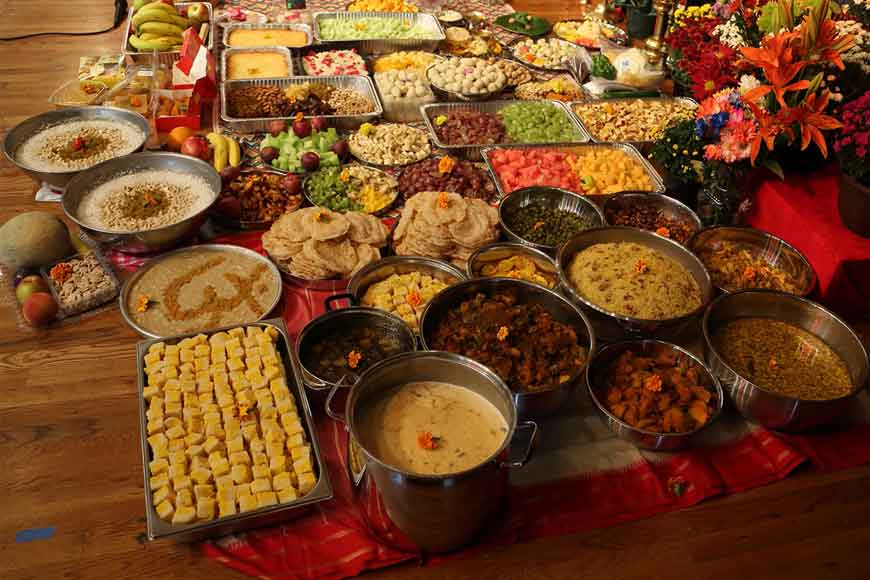 In these days of reinventing and creating new rules out of old traditions, it is equally important to remember our roots, to re-examine the conventions, and norms from which new rules and rituals are created. A way of solidifying our history, if you will, and remembering our beloved heritage. What better way to do that this Durga Puja, than to visit Bakulia House for a trip down memory lane?
Bakulia House situated in Watgunge of Kolkata stands testament to the Durga Puja first started by the eminent Bengali entrepreneur, Bishweswar Mookerjee, almost two centuries ago. Traditionally, artisans are brought from Krishnanagar right after Janmashtami, to start on the idol of the Goddess. Age-old rules and rituals of the festival are strictly followed by the members, and much pomp and ceremony is attached to the making of bhog offered to the Mother -- from naibeddya, bhog, shetal, mishtanna and panta-prasad, each one has a specific set of rules. Naibeddya comprises of rice, pulses and fruits. This offering signifies worship of the deity in the form of the Goddess of Vegetation or Naba-Patrika.
Only vegetarian food items are offered to Durga on all Puja days. On Mahasaptami, the anna-bhog is accompanied with lau-ghanto (a special curry of bottle gourd), cabbage curry, arhar dal, aloo-potol-note-shaak chochhori (green amaranth fried with potato and striped gourd), aloo-potoler dalna (a potato and striped gourd affair which is more special than the usual curry), and payesh.
The Mahashtami menu comprises of mochar-ghanto (banana blossom curry), Maan-kochur dalna (colocasia curry), chholar dal (thick split Bengal Gram curry made sweet with raisins and nuts), mixed vegetables with pumpkin, aloo-phoolkopi (potato and cauliflower curry), panipholer kaliya (rich spicy curry made of potato, cauliflower and water caltrop) and tentul-amsatto chatni for dessert (a sweet and sour cold sauce made of tamarind and mango).
On Mahanavami, the Goddess is offered koraiyer dal (split white Urad dal), chhanchi kumro (ash gourd), kochu shaak (taro leaves), and meat is seapped for aloo-potol-enchorer kaliya (spicy curry of potato, striped gourd and raw jackfruit), thor-bhaja (fried banana pith) and chaltar chatni (chutney made with elephant apple). In the evenings, the Goddess is offered luchi with deep-fried seasonal vegetables, and variations of kumro (pumpkin), bandhakopi aloo, aloo-phoolkopi, aloo-potol and chhenchki (light curry), and natural digestives to aid Her 'digestion.'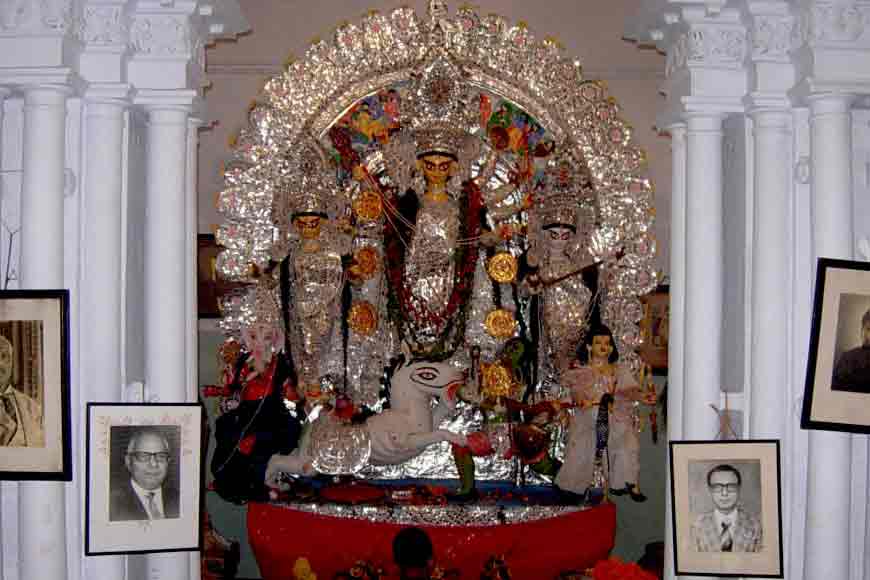 On Dashami, the Goddess is served panta-bhog. The sub-tropical heat in this region of the country is often unbearable during autumn and hinders digestion. So, to aid digestion after a heavy meal, locals seek refuge in cold (panta) meal. It is prepared by soaking rice and slightly fermenting it in water overnight. This is offered to the Goddess to cool off after heavy meals.
The offering of cooked parts of plants and various types of leaves other than traditional vegetables like kochushhak, kochu(colocasia), thor, mocha, noteyshaak (colocasia, banana pith, banana bloom etc) are symbolical as a way of expressing gratitude to Devi Shakambhari, Goddess of vegetation. Offering narkel naru (coconut and jaggery dumplings) symbolizes the offering of thanks to the Goddess.
Durga Puja is an important religious, as well as a social tradition, and these traditions might as well hold the key to who we are, and our place in the leaves of history as a culture.