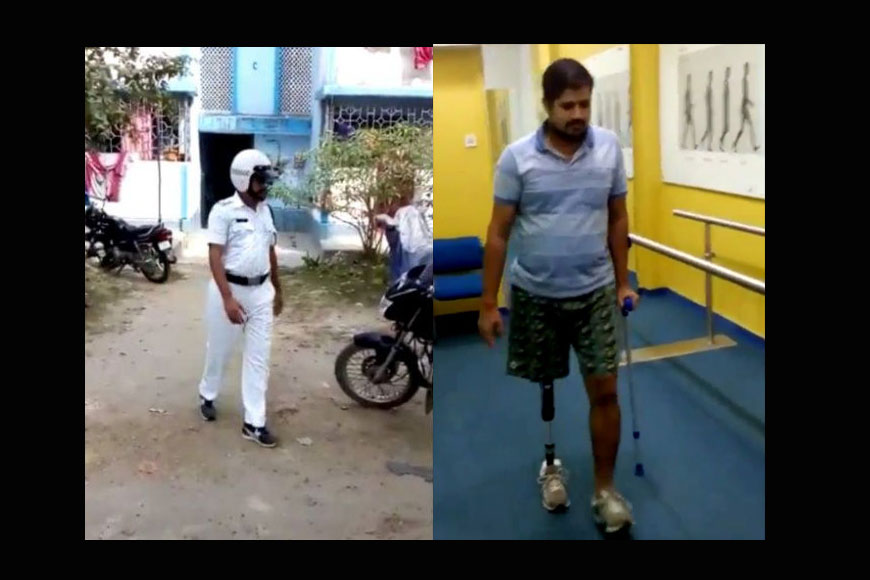 Sergeant Sudip Roy is not just an inspiration for the police force but for the whole of humanity. He even proved there cannot be anything more important for police officers than their uniform. Roywas inducted into the force in 2014 and deputed to the South Traffic Guard. He was on duty on June 7 this year near the busy Dufferin Road intersection. Suddenly a speeding minibus hit him from behind and ran over his right leg. He was knocked down with multiple fractures and a severely damaged right leg. The heavily bleeding cop was whizzed to the hospital for an emergency operation. However, despite timely surgical intervention, the doctors could not save his right leg, which had to be amputated and a metal plate was fixed at his pelvis joint.
This devastated Roy's family,but the Sergeant did not give up! Instead of wallowing in self-pity and drowning in depression, it toughened Roy's resolution to get back on his feet and join the force in his official mufti as soon as possible. For four months, he lay in bed as physiotherapy and other rehabilitation process continued.
He was equipped with a prosthetic leg this October and rigorous training sessions started. He has progressed in leaps and bounds and has now started walking, is climbing stairs comfortably and even riding his motorcycle for short distances. The doctor expects him to resume duty on the streets by next February.His superiors and well-wishers in the force advised him to choose a job that would suit his disability.But he was determined to return once again as a traffic cop, a dream that he had been following since he was a child. He always wanted to be a traffic sergeant and insists he cannot possibly live without doing that. It was the one single goal that helped him in his recovery and he is now keen to resume duty.
The Kolkata Police has nodded approval to Roy's plea to get back to active duty.He will be the first cop in the country with a prosthetic leg who will handle rush-hour traffic in a crowded metropolis like Kolkata. So, come February 2018 and Kolkatans will witness traffic sergeant Sudip Roy back on the road, standing on his feet — one of them a prosthetic limb.