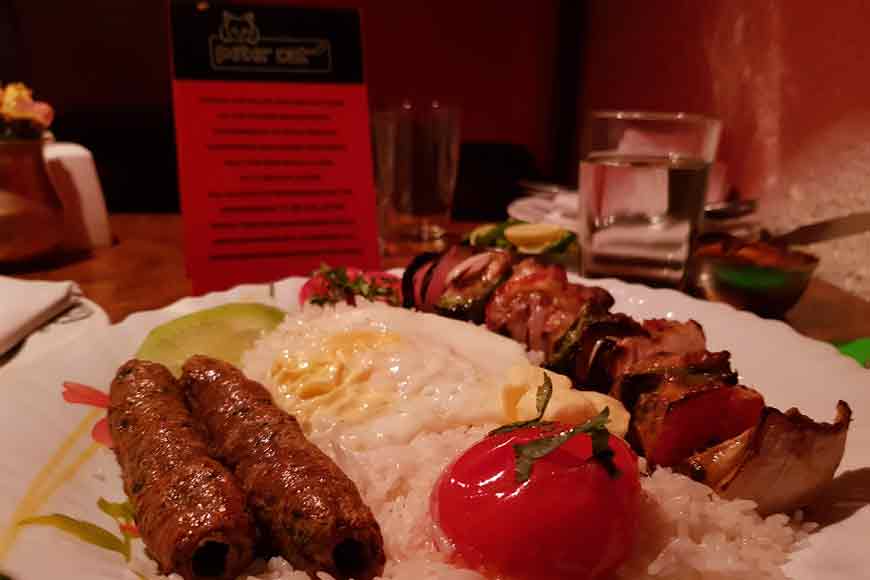 The queue infront of Peter Cat never ends. Even on weekdays, food lovers do not mind waiting for hours on Park Street and Middleton Row, just to have a taste of that legendary Chelo Kebab, a speciality that has been handed down generations, tickling taste buds of grandma, ma and grandson, displayed to perfection on that designer plate before you. As you recline on the cushy old red sofas, with the dim light hovering on you and well-mannered attentive attendants in sherwanis smiling down, with not a single iota of post-modern Kolkata's changing culture, you feel your City of Joy hasn't changed much. This age-old heritage restaurant is a namesake of a much-loved cat that used to reside on the Lord's Cricket Ground during the 1950s. Even their menu card comes in the shape of a cat's head with rare and choicest dishes that only Peter Cat can think of serving for decades.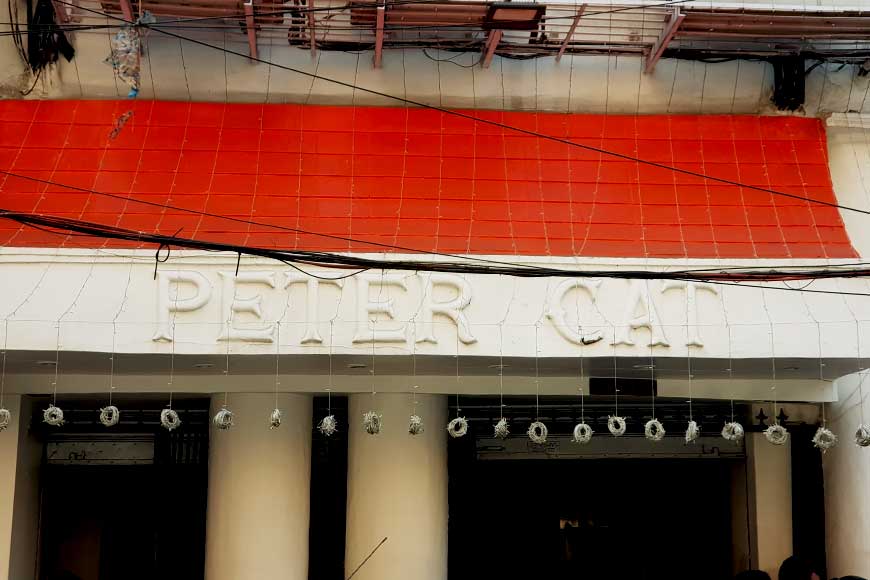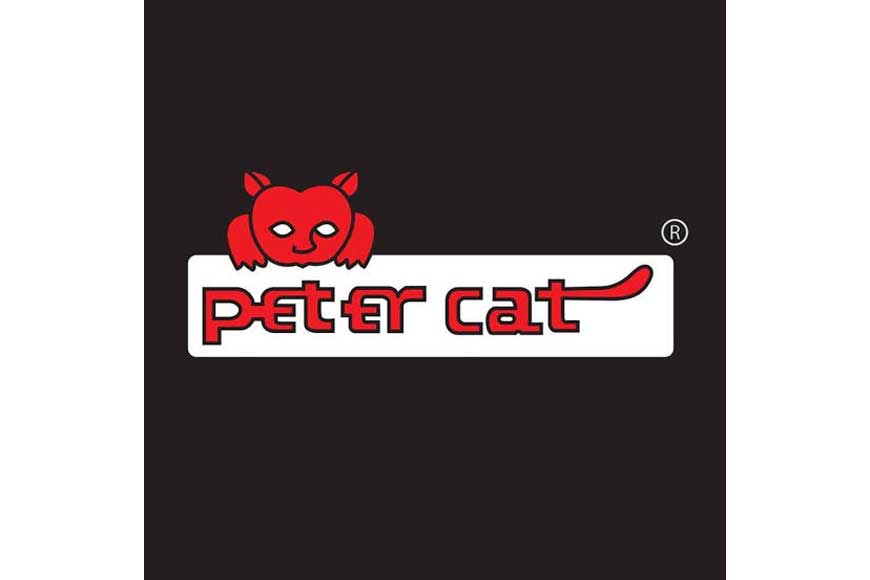 When many well-known eateries on Park Street like Blue Fox, Skyroom, Waldorf (in its sprawling format) have shut shop, Peter Cat has survived the test of time in the face of several gourmet inroads made by Mall Restaurants. And it has undergone little change in décor or otherwise. It does not have a grand architectural splendor, rather its exterior is pretty unassuming, the interiors are quite chaotic, anything short of a noisy drink joint, with your next table diners almost jostling for space to take a seat. Yet, there is something very unique with that vibrant fervor that draws hundreds of food lovers daily not just from different parts of India, but even the globe. I remember my friends who live abroad stating at times: 'Going to Kolkata, one day keep a date at Peter Cat, need to try their Chelo Kebab!' That's the popularity of the place.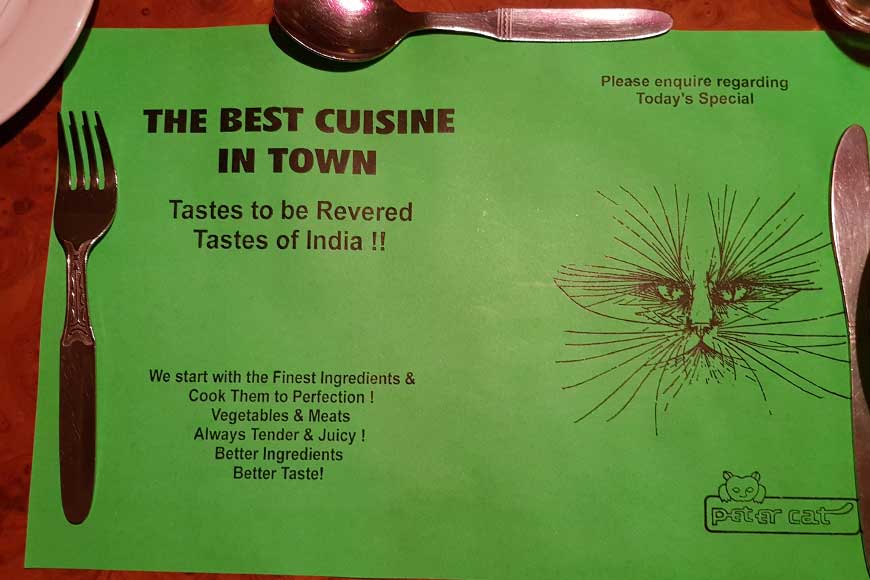 The Chelo Kebab that is originally an Iranian dish, comes as a complete meal, with juicy kebabs, served along with buttered rice, vegetables and also an egg to top it. The flavor is heavenly and so are the crackling sizzlers that come in both vegetarian and non-vegetarian form. If Chelo Kebab rules the roost, the lesser known fish dishes of Peter Cat are also to die for. The 'Betki Muenier' and the Grilled Fish are perfect blend of sauces and the Kolkata Bhetki.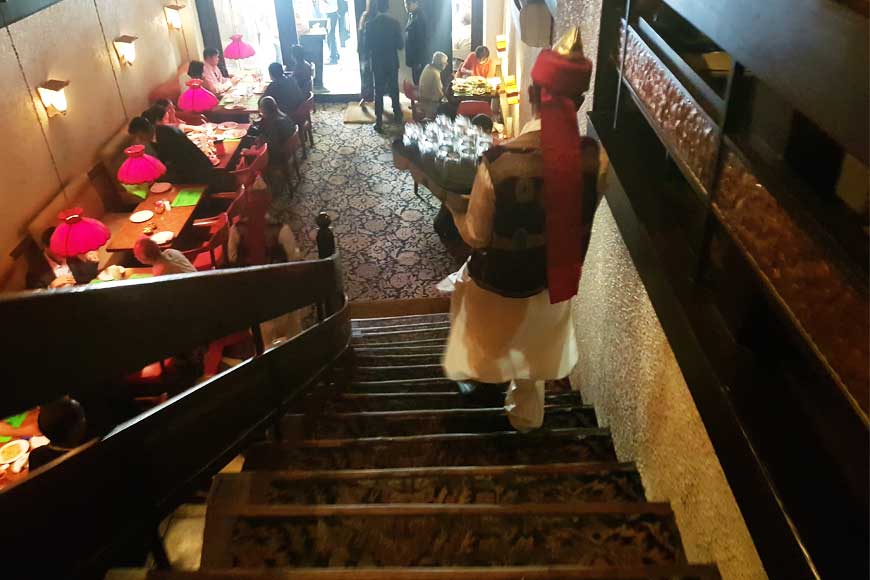 What is more, Peter Cat will never burn a hole in your pocket. Extremely pocket-friendly, despite its ambience and elaborate menu and its vintage tag.