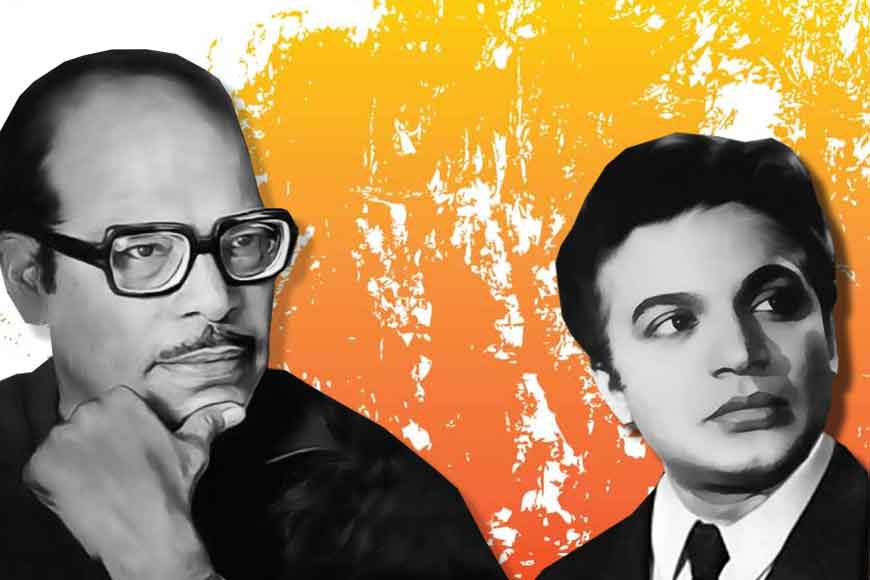 'I listen only to Manna Dey's songs….' That's what legendary singer Mohammed Rafi once told his fans. Indeed, Manna Dey was the soul of Bollywood's playback circuit and still rules 100 years later. Such versatile and melodious voice laced with classical nuances made a niche for this legendary singer.
But his entry to Bengali movies and that too lip-synced by Mahanayak Uttam Kumar was quite interesting. Once upon a time, superstar Uttam Kumar's voice was synonymous to Hemanta Mukherjee and none other than Mukherjee lent his voice to the actor. When Sudhin Dasgupta, music director for the Uttam Kumar-starrer Shankhabela (1966) wanted to use Manna Dey, everyone was aghast. "It was a calamity," Dey would say, smiling. "The producer and distributor said, 'Impossible. It has to be Hemanta.' But the music director was adamant. And who doesn't know what a big hit Ke prothom kachhe eshechhi was! The sheer romance that flowed down that voice of Dey was stunning. Later in the film Stree, Dey sang for Uttam Kumar while Hemanta Mukherjee was the voice of his co-star Soumitra Chatterjee!
In one of his interviews Manna Dey once said: "I remember when I started singing for Uttam, it was the film, Goli Theke Rajpath and music director Sudhin Dasgupta in 1959 made me sing Lag lag lag bhelkir khela. I was in doubt whether I could reach the level that Hemanta Mukherjee had set as Uttam's voice. He, after all, was the ghost voice of Uttam Kumar. But after I rendered the songs of Antony Firingee for him, Uttam said, 'No other singers could have given the effect you gave to these songs. There can be no comparison between Hemanta Mukhopadhyay and you, as both of you are equally great in your own ways.'
Manna Dey might have been feted across the country, but Calcutta was always his home and hearth. "I used to stay in Bombay and later in Bangalore. But my heart was always in Calcutta. I used to look for work in Calcutta, especially during the Durga Pujas, so I could visit. The cultural atmosphere of Calcutta in the '50s, '60s and '70s was the best in India — far better than the commercial atmosphere of Bombay."
The trio --- Sudhin Dasgupta, Uttam Kumar and Manna Dey produced several superhit combination in films like Kokhono Megh (1968; Ek dui tin), Manjari Opera (1970; Maron tomar Har), Chhadmabeshi (1971; Ami kon pathe je choli, Banchao ke achho morechhi je prem kore), Har Mana Har (1972); (Eshechhi Alladin, Eshechhi ami eshechhi) and many more.
Manna Dey and Uttam Kumar worked together in 54 movies. He sang for other music directors as well and all of them went on to top the charts. The best ones were anytime Antony Firingee (Ami je jalshaghare or Ami jamini tumi shahsi hey), Nishi Padma (1970; music director Nachiketa Ghosh; Na na na aaj rate aar jatra or Ja khushi ora bolay boluk), Alo Amar Alo (1972, music: Pabitra Chatterjee, Ei eto alo, eto akash), Mouchak (Pagla garod kothai acche), Debdas (1979, Shawano raate Jodi). The cult of Manna Dey and Uttam Kumar jugalbandi works even after 100 years!