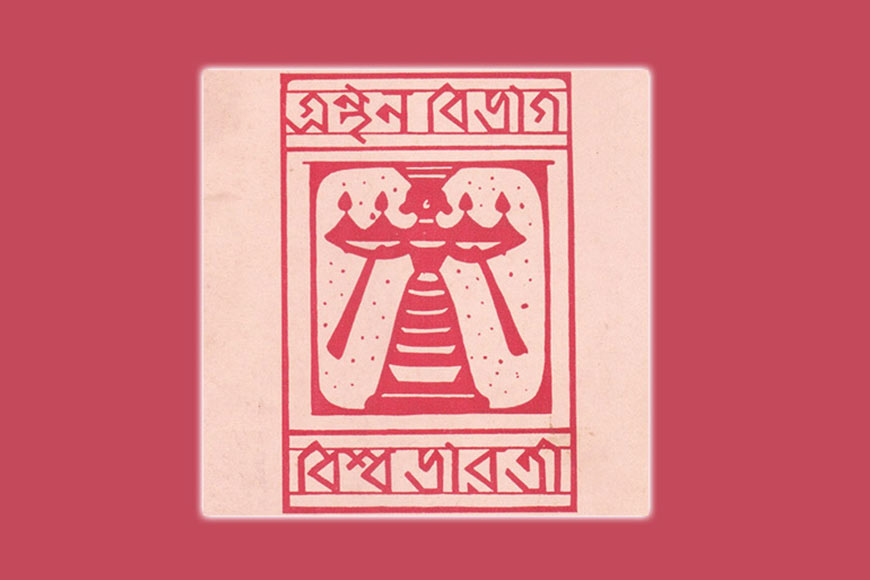 The dream called Santiniketan was not just about world poet Rabindranath Tagore. It was also about Visva Bharati Publishing house that over a century published some of the most prized books of India. As the house celebrates its centenary year, GB brings you an exclusive 2-part series on the publishing division of Visva Bharati
Santiniketan was a dream of Maharshi Debendranath Tagore that was later on nurtured by Gurudev Rabindranath Tagore. The very word "Santiniketan" denotes "the abode of peace". Santiniketan was earlier part of Bhubandanga (after Bhuban Mohan Sinha, the Zamindar of Raipur), and was owned by the Sinha family. Maharshi Debendranath liked the place and bought a seven-acre plot in 1863 and built a small retreat for meditation. He called his home Santiniketan. Santiniketan became a spiritual centre where people from all religions were invited to join for meditation and prayers. He founded an ashram here in 1863 and became the initiator of the Brahmo Samaj. In 1888, he dedicated, the land and buildings to establish a Brahma Vidyalaya and a library. The school which started functioning formally from December 22, 1901 with no more than five students on the roll, was, in part, a fulfilment of the wishes of his father who was a considerable figure of his time in the field of educational reforms. From 1925 this school came to be known as Patha-Bhavana.
Rabindranath Tagore founded Visva-Bharati University on 18 September 1922. He donated his Noble Prize earnings and royalties for setting up the institution. But he needed huge funds to run the institution and he was forced to hunt for other avenues of income that would ensure a steady flow of cash and help sustain the functioning of the university. But funds were a perennial problem. Rabindranath pumped in cash from the earnings of his zamindari, his income from lectures given in Europe and America, and even his wife's jewellery. It was not enough, and he had to seek help from the rulers of princely states like Tripura and Porbander, among others. At this juncture, he sought his publisher and friend, Babu Chintamani Ghosh's advice. Ghosh was the proprietor of The Indian Press from where both 'Prabasi' (a monthly Bengali literary magazine edited by Ramananda Chattopadhyay) and 'Modern Review' (a monthly review and miscellany founded and edited by Chattopadhyay) were printed.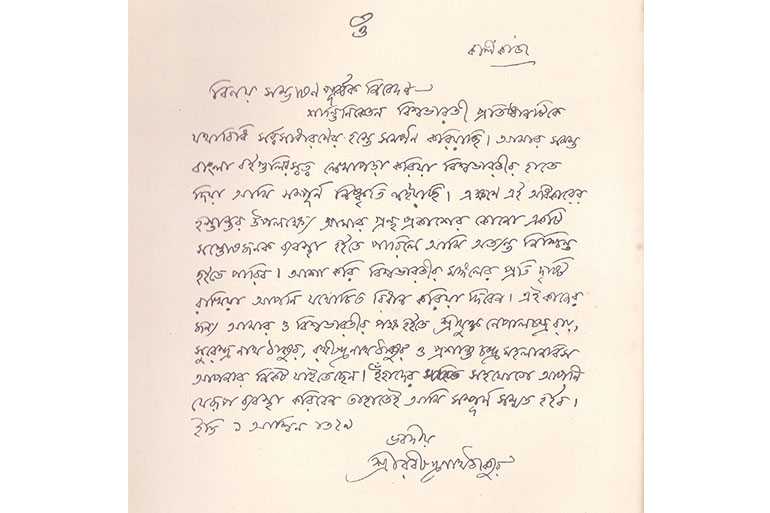 Rabindranath's historical letter to Indian Press proprietor Chintamani Ghosh
Tagore had heard about Ghosh and The Indian Press through 'Prabasi' where he was a regular contributor. He was very impressed with the high standard of printing and assigned Ghosh the sole right of printing, publishing and sales rights of his works against biennial settlement of royalty to the author. 'Gitanjali' – the book that fetched him the Nobel Prize in 1913, was also printed from The Indian Press. When Tagore sought Chintamani Babu's advice, the latter counselled the poet to establish a publication division at Visva Bharati from where Tagore's works would be published. He was confident the project would be self-sustaining and viable for Visva Bharati in the long run. The poet could channelize the royalty amount from his books for the smooth operations of the university.

Towards the end of 1922 (1329, according to Bengali calendar), Tagore was travelling in Colombo when he sent three delegates, namely Prasanta Chandra Mahalonobis, Nepal Chandra Roy and Surendra Nath Tagore to Ghosh with a letter requesting him to help the varsity gain financial stability. He promised he would abide by whatever decision Chintamani Babu took. Tagore wrote if Chintamani Babu was willing to transfer the copyright of all the Tagore titles published from The Indian Press to Visva Bharati so that the profits could be accrued for the building of the new University and requested him to join hands for a satisfactory arrangement of printing the books henceforth.
Chintamani Babu was a successful businessman but he did not hesitate to ignore his business interests and help when Rabindranath needed his assistance. He relinquished the publishing right in favour of Visva Bharati and also transferred the entire printed stock for Rs 26,000/- which was equivalent to 33.33 per cent of the actual sale price. Indian Press had been publishing Tagore's works from 1908 till the copyright transfer in 1923. At the time of stock and copyright transfer, the company had more than 100 titles of Tagore's works under its belt. 'Shishu Bholanath' was the last title published by Indian Press in 1922. Tagore's books were very popular and were lifted off the shelves as soon as they were out in the market. It was Ghosh's magnanimity that he readily agreed to transfer the copyright of a lucrative venture to Visva Bharati. Thus, the foundation of Visva Bharati Publications was laid in July 1923.
(To be continued)