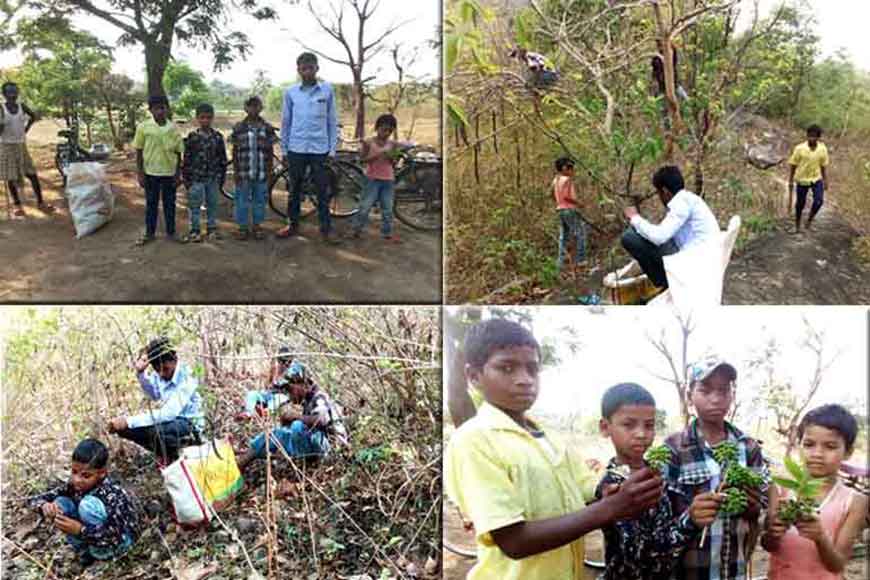 Children of today are more environmentally conscious and aware than we were decades ago. They are not reluctant to try and save the world from the clutches of any ongoing turbulence. If you happen to pay a visit to Ayodhya in this scorching heat, you might come across little ones striving to save the greenery of Ayodhya. Students of Class 6-8, these children have come up with a distinct vision and are simply indomitable. The scorching heat does not pin them down.
The group sets off from homes every morning and keep on wandering in every corner of Ayodhya to collect polythene, plastic, thermocouple dishes lying here and there which diminish the beauty of the place and lead to pollution and land degradation. With every passing day, the amount of pollution in Ayodhya is increasing, primarily due to the abundance of plastic left by the picnic goers. Though the adults are hardly conscious, the little ones have united to eliminate the plastic mountains from the blue rugged hills of Ayodhya. They are also collecting seeds for the forthcoming afforestation festival during monsoons.
Students of Sidhu Kanhu Mission of Bhalidungri at the foot of Ayodhya Hills are part of this mission. Some adults are also supporting them. The collection of seeds is also another important aspect of this initiative. During monsoon, various trees will be planted in Purulia. The little ones of Ayodhya are collecting seeds of mahul, palash, shaal, ked, kuchri to bring back the greenery. The temperature is slowly rising with each passing day, but the child brigade is working hand in hand to rekindle the beauty of the hills, and restoring the environment. After all, that is the need of the hour.