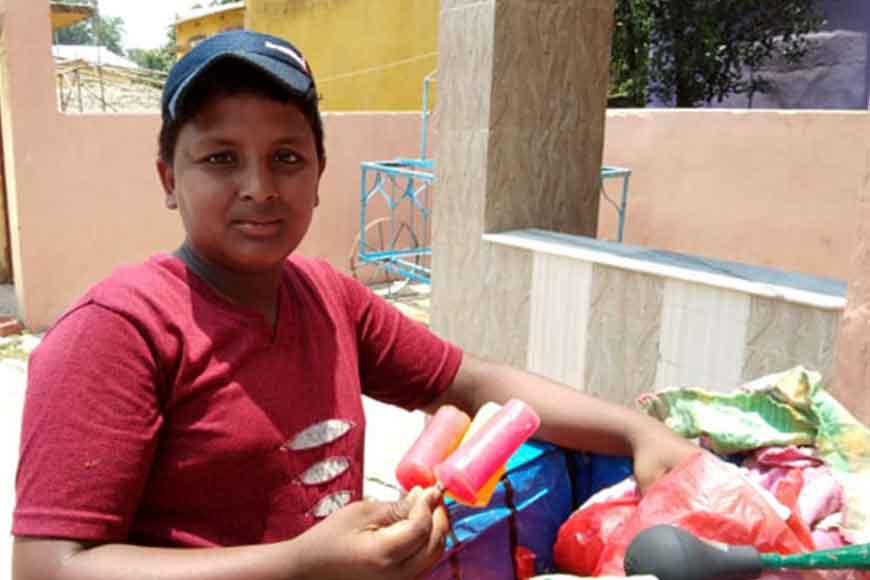 He is Atikul Sheikh, and he is a student of class VII. Yet on a hot summer noon during his school vacation, you might see this young boy, a resident of a Birbhum village out on his cycle with an ice-cream box. What for? Why does he travel 20 kilometres most of the days, even till Durgapur at times in this scorching heat? Well, he has to sell ice-creams, and that too not for fun, but to fund his father's treatment. Atikul's father, Sheikh Nizam is suffering from a serious ailment and there is no other earning member in his family. So, when most children of his age enjoy having ice-creams, this boy rides the length and breath of his district selling them for money.
His father's deteriorating heath does not permit him to go to work. His mother is into sewing work, but her earnings are not enough to run a family. She earns only around Rs 500 in a month. Atikul also has a younger brother. This led Atikul to take up the entire responsibility of the family. Even when his school is open, he often misses his classes and goes out to sell ice-creams. With a bag full of colourful icecreams, he calls out to his customers and feels elated when he can sell them off to the children of his age. Atikul is happy about his two-month long summer vacation and is hopeful about earning well during the vacation.
Atikul's father was a mason previously. But it has been two years that he has lost the ability to walk. The family hardly has any money to give him a proper treatment. So, the boy wants to save a lot of money and fund his father's treatment. But half of the money that he earns is spent for the sustenance of the family. The rest is saved for his father's treatment. Atikul buys ice-creams from a factory in his locality and sells them to different areas. Previously, he used to sell ice-creams in his locality. But ice-creams are not highly in demand in remote villages. This led him to step out of his territory and sell ice-creams in areas like Maladighi and Phuljhor.
Despite all the odds, this brave boy wants to continue his studies and land up with a decent job. Atikul's father does not want his son to sell-ice creams but is helpless. He sells ice-creams throughout the day and eats whatever he can lay his hands upon in the streets. After a hard day, he comes back and sits with his books. His only dream is to see his father back to normal life. Every evening, when the little ones have a fun time playing, Atikul goes around selling ice-creams hoping for a better tomorrow.